The Importance of Being Prepared For International Success
So, you signed your first international Master Franchise and received your first initial Master Franchisee Fee.

Now what?
More than likely you have commitment to train and support your new international Master Franchisee. Will this be like a large multi-unit Franchisee in the US or Canada?

Probably not. Cultural differences, language differences, time zones, local regulations, start-up travel and cost differences are some of the issues that you need to consider when helping your new Master Franchisee start its business. This article presents a brief checklist of topics, based on experience in more than 50 countries, for you to consider when taking your new Master Franchisee to the star-up point.

Training - Take the US idioms out of your training programs. Most do not translate well and complicate getting your message across to the new Master Franchisee team. Franchisors find this makes it easier to train US Franchisees.

During the initial training of your new Master Franchisee, arrange for the to meet all your staff outside the training sessions. Meeting with each department head are essential so everyone knows whom they will be working with in the future. And social events are important to establish relationships between your team and the Master Franchisee team.

Manuals - US idioms again. For non-US versions, take out sections that deal with US laws and regulations. Be aware of operating hours and days being different in other countries. Most business in Germany are not open on part or all weekend days.

Early Support - Consider sending support staff to the new country before the Master Franchisee comes for training. This gives you the opportunity to help them create a business plan based on your "local" input.

Technology - Your Intranet will have to be changed to cover international topics and be usable by Master Franchise and Unit Franchisees who want to visit 24/7/365. If you have an e-commerce website, it will have to be transported to a new country to help build revenue for the new Unit Franchisees. Having a good Intranet means you show the international part of your business just what you want them to see without variations.

Start-Up Cost - Expect travel costs to provide training and start up support to be higher than you have budgeted. At the start, you want to transport your business as completely as possible to the new country. This means time in country with the Master Franchisee and their Team. More days in their country at the start translates into higher revenues for you in franchise fees and royalties.

Translation - Manuals, training programs, marketing materials and Intranet sites may all have to be translated. While the new Master Franchisee should pay for this, you should help them in anyway you can to get this done correctly and as soon as possible.

Communication - Expect to have lost and lots and lots of communications with the new Master Franchisee to ensure thy get started the correct way an duplicate your US business a much as possible and in the best way possible. Email is very good, given time zone differences. Phone calls are better.

Time Line - Expect the challenges you have opening a US Unit Franchise to more than double for the first unit in another country. Systems and procedures are fine and required. In reality, a team of people new to your business is starting your franchise in a foreign land. Real estate, hiring, training, marketing all take more time then here at home.

Yes, this all takes time and money. But consider that your new Master Franchisee is starting your business again in their country, Early investment of at least part of the initial Master Franchise Fee will pay off short, near and long term in your relationship with the Master Franchisee AND in the fee and royalty revenues you get from the country over time.

William Edwards is President of EGS, Inc., an international development firm based in Irving California. Mr. Edwards can be contacted at 1-949-375-1896.
Published: September 27th, 2005
Share this Feature
Recommended Reading:
Comments:
comments powered by

Disqus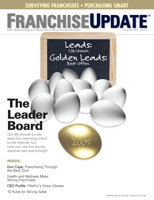 Franchise Update Magazine: Issue 3, 2005
Conferences
InterContinental, Atlanta
OCT 18-20TH, 2022
Our company is focused on helping entrepreneurs and companies that are looking for a new opportunity or to expand in new markets.
Oct. 18-20, 2022. Atlanta, GA. FLDC is an exclusive event for franchisor CEOs, Presidents, COOs, CDOs and Development Executives. The conference...