The New Old Chicago: Transforming a 37-Year-Old Brand
In the restaurant world, if you survive 3 years, you have essentially beaten the odds. Before rebranding to Old Chicago Pizza & Taproom in 2013, Old Chicago Pizza & Pasta had a successful 37-year history that served three generations of guests. The neighborhood restaurant, founded by a few buddies in Boulder, Colo. steadily grew to 96 restaurants in 22 states.
The brand made a lot of loyal friends along the way, but though longtime pizza lovers enjoyed the familiar comfort of the traditional beer and pizza combo, the American food scene was quickly evolving. Diners were becoming more knowledgeable about food and drink, and they were hungry for more upscale options with an emphasis on artistry and a passion for all things craft.
In November 2010, Old Chicago evolved into part of CraftWorks Restaurants & Breweries, the nation's largest brewery restaurant. The timing was finally right for a brand refresh and repositioning.
Many companies completely lose their identity during rebranding, but our main priority was staying consistent with the genuine, likeable character that made Old Chicago great. It was essential to maintain close relationships with our fan base, but we were also ready to attract a diverse group of guests with more sophisticated tastes.
Brand repositioning is a journey
Our journey wasn't a sprint, but a marathon that demanded a balance between being patient and proactive. It took more than 2 years to carefully evolve our name, logo, restaurant design, server sequence, and menu.
While running our restaurants in the day-to-day, our team talked to longtime guests, one-time guests, and potential guests. We tasted a lot of pizzas, sampled amazing beers, and met with local and big-name breweries to understand the intricacies of how each individual beverage was meant to be presented, tasted, and savored.
To discover objective opinions on our brand's current style and future goals, Old Chicago used several resources in the refresh process: research and planning with leading business strategist Boston Consulting Group, consumer research and testing with Food Perspectives, concept and menu development with restaurant giant Lettuce Entertain You, and architecture and design advice from customer experience leader WD Partners.
Quality, not just quantity
Old Chicago invested big in our multi-million dollar refresh and repositioning, but the commitment to test and re-test is starting to pay off for us. The first restaurants to debut the revitalized concept in Minnesota and Colorado last spring enjoyed positive results and guest feedback. Sales and traffic goals have continued to meet our goals for these test locations for the first year, proving the rebrand is reaching different audiences while retaining longtime supporters.
In March of this year, the first restaurant representing the "new Old Chicago" design built from the ground up opened in Chapel Hill, N.C. The restaurant is a hit in The Triangle (Raleigh, Durham, and Chapel Hill) and will become a launch pad for Southeastern expansion over the next 1 to 2 years.
Guest responses are positive, and these beta test units and newly opened restaurants are meeting or exceeding projections with top-line sales performance. Our 36 franchised units are now preparing to remodel; they waited only because we wanted to test everything to ensure perfection before franchisees invested a dime.
Our commitment to craft philosophies extends beyond our love of outstanding food and drink. We aren't afraid to create a flexible, custom business model that serves everyone with an interest in Old Chicago. Our brand is absolutely open to further franchising, but investment in corporate locations will continue because that's how much we believe in the new Old Chicago. Fifteen corporate locations are scheduled to open in the next year.
"Good" is not good enough
Our food was always good, but "good wasn't good enough." Old Chicago went from baking exclusively deep-dish pizzas to a signature Tavern Thin crust with dough made in-house every single morning from nothing but water, sugar, yeast, virgin wheat flour, and salt--no cut corners, just all-natural ingredients and the drive for perfection. Our classic deep dish is now the Chicago thick crust, a butter-brushed wheel of pure pizza pleasure.

Appetizers are shareable to bring people together at the table, and salads are substantial enough to be a stand-alone meal. The menu of 40 new choices isn't just "good." We wanted them to be "craveable.

"

Beer enthusiasts looking for a cold one will discover 36 brews on tap. Each undergoes a 10-point process to evaluate every component and ensure each delivery is a top product. Our certified beer servers are authorities thoroughly prepped to educate every guest on scent, taste, mouthfeel, and pairings. Glasses shaped for each style of suds are frozen, then spritzed with chilled water seconds before pouring to clear out any ice or dust inside the glass and keep every flavor at the forefront. Our European glass-washing system ensures that no two glasses are ever washed in the same water. We built relationships with the best local, national, and international brewers to deliver amazing handmade products that offer guests the freshest possible flavors of familiar classics, seasonal offerings, hard-to-find craft beers, and exclusives tappings made just for Old Chicago.

Repositionings can easily derail, so we took our time to thoughtfully reshape Old Chicago. We kept what made the brand endearing, while introducing contemporary favorites that would please our forever-fans and draw the interest of first-time diners. By delivering a higher-end casual dining experience at a casual price point, we found common ground to please everyone. The restored restaurant is serving up an exciting era of good times around the table that will satisfy cravings for big flavors and warm communities.

Mike Mrlik is the brand president of Old Chicago. He joined Old Chicago in January 2013 to help expedite franchise growth opportunities. Before that, he held operational, management, and growth-related positions at Bennigan's, Fair Lanes Entertainment, Boston Chicken, New World Restaurant Group, and more recently was president and CEO of Mr. Gatti's Pizza.

Published: February 20th, 2015
Share this Feature
Recommended Reading:
Comments:
comments powered by

Disqus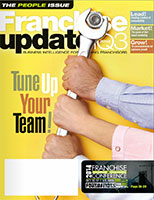 Franchise Update Magazine: Issue 3, 2014
The Titus Center for Franchising, one of Palm Beach Atlantic's Centers of Excellence, offers a concentration in franchising to business students.
Sociallybuzz, founded in 2009, is the #1 Social Media Marketing Agency to help franchisors and franchisees increase their revenues, drive sales, and...