The Next Consumer Normal Is Already Here – Adapt or Die!
Covid-19 was a significant disruptor for franchises. With mandated shutdowns, social distancing safety restrictions, and limited consumer demand, most franchises were forced to operate on reduced hours and with limited product and service offerings this spring, while others faced the hard decision to shut down completely. Now franchise owners and managers are tasked with understanding "What's next?" This entails not only managing their locations, staff, and business models in a post-Covid world, but also contending with a new economy that is constantly fluctuating.
The good news is that consumer confidence, which hit all-time lows during the onset of the pandemic, is making a slow rebound. Our data shows that while demand is not fully back to pre-Covid norms, there is an uptick in job postings as employees want to get back to work and consumers venture out to safely shop, dine, and more. But at the same time, consumer behavior is shifting as people adapt to virtual appointments and events, embrace contactless delivery, and become more aware of safety and social boundaries.
With this in mind, here are three ways franchise owners can adjust to this "next normal" of consumer behavior and, in the process, create a more sustainable, strategic business.
Maximize pickup and delivery options
Takeout and pickup from quick-service restaurants have been online options for years, so the increase in deliveries to housebound customers during the pandemic is an acceleration and extension of well-established consumer behavior. And it's been great for job growth. Papa John's and Pizza Hut, for example, recently hired tens of thousands of new employees: managers, shift leaders, cooks, call center agents, and drivers. Using these new personnel, restaurants are able to better meet consumers where they are and where they feel most comfortable.
The most agile and adaptable full-service dining rooms shuttered by health orders also have turned to takeout. When full-service restaurants reopen, social distancing and other precautions will likely reduce seating capacity and increase costs in an industry that has traditionally operated on thin margins. Replacing some of that lost revenue may mean these establishments continue food preparation for takeout and home delivery, which could translate into more jobs for cooks, and redeploying servers idled by reduced dine-in capacity as delivery drivers. These changes to operating models are not just limited to food service. All franchisees should evaluate how they can modify their delivery services to best match consumers' comfort levels and the increased need for social distancing.
Prioritize safety and hygiene
Consumers will continue to demand higher standards of hygiene and safety when shopping, dining, and traveling. Given that some pandemic-boosted behaviors have already become widespread, such as wearing masks in public and wiping down shopping carts and other surfaces, the public will expect the same standards from stores, restaurants, and other public venues.
As franchises look to reopen, they must consider the need to maintain (or increase) the positions required to uphold these new standards for cleanliness. For many, this could simply mean hiring additional staff who have extended sanitation duties and training. Others may choose to implement staggered start times and technologies such as virtual menus to reduce customer touchpoints and direct contact with staff. One restaurant owner in Seattle has even adopted an ultraviolet air scrubber to decontaminate the air customers will breathe in his dining room.
Experiment with flexibility and convenience
Now is also a good time to re-examine what services your franchise offers to customers, and further, the value and ROI each of these offerings provides. One obvious industry where this has already become reality is food service. Many restaurants have instituted "limited menu" options for easy carryout and have found that most customers simply don't miss some items the business used to offer. Streamlining operations, even if it means removing some less-popular items from the menu, can help to reduce overhead, simplify back-office support work, and create more capacity to increase traffic and/or volume for the most profitable aspects of the business.
Whatever your business needs and obligations, take advantage of this time to experiment with new operational models such as restricted hours, free delivery, limited menus, "bespoke" services where customer requests are made to order, and so on. Most customers will appreciate the flexibility and convenience. They're also likely more willing than normal to be flexible as businesses try new methods of operation. Simply pay attention to what customers are most interested in and you can emerge from the quarantine prepared to deliver the precise services they want – while reining in spending at the same time.
Looking ahead to the next normal
While we're all eager for the day when the viral coast is clear, how consumers will act long-term during the post-pandemic rebound is uncertain. Moving forward, franchise leaders will have to continuously assess the changes they made in response to the crisis and see which serve their operations, workers, and customers best in the weeks and months ahead.
One thing that is clear is the need for flexibility – in business models, technology, personnel, and every other touchpoint used to demonstrate value to the consumer. Each day, new efficiencies are created and old standards are thrown away. For franchises in particular, this is an inflection point. Those who respond appropriately and strategically will continue to thrive in the long term.
Mathieu Stevenson is CEO of Snagajob.
Published: July 10th, 2020
Share this Feature
Recommended Reading:
Comments:
comments powered by

Disqus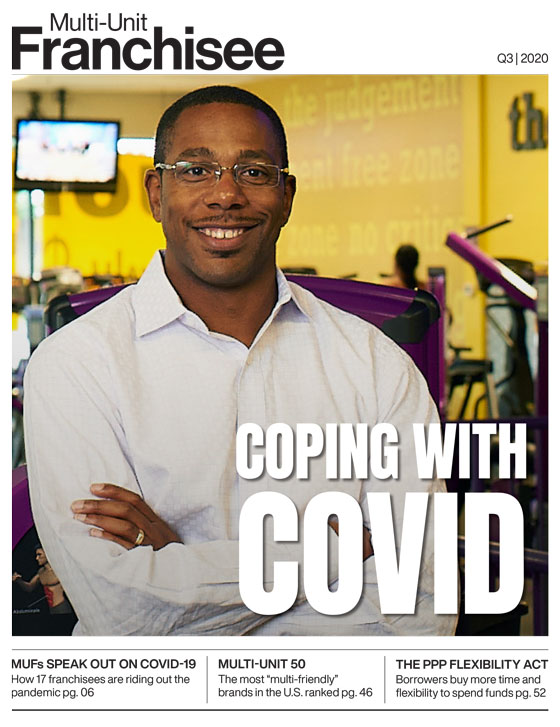 Multi-Unit Franchisee Magazine: Issue 3, 2020
June 20-22, 2023 Marketing-Operations-Technology. Be a part of this ground-breaking new space for ideas, inspiration and networking for Franchise...
More than 15 years of passion and fascination with the franchise system. Thanks to having met many Franchisees, today I can help new ones and those...