The Power of Belief: Breaking barriers, building success
Name: Vicki Dunn-Marshall
Title: CEO
Company: VDM Management Group
Units: 24 Little Caesars, 1 Dog Haus Biergarten
Age: 62
Family: Husband Ross Dionne, daughters Kendall and Carissa Marshall
Years in franchising: 40
Years in current position: My position has always been the same. I do whatever I see as necessary and don't have someone on my team who covers that responsibility.
Vicki Dunn-Marshall believed she could do it. When she started working at Little Caesars at the age of 15, operating your own business was pretty much a man's world. But she believed she could do anything a man could do... and she was right.
Today Dunn-Marshall is the CEO of her own VDM Management Group, which operates 24 Little Caesars restaurants and 1 Dog Haus Biergarten throughout West Virginia, Kentucky, and Ohio.
"I started as a crew member in the most entry-level position," she says of her first job. "I worked my way up and became one of the first female supervisors for Little Caesars' corporate office, and the first female in franchise sales."
Dunn-Marshall's journey is impressive. In her four decades in franchising, she's gained business knowledge from working both sides of franchising—as a corporate executive and multi-unit franchisee. Beginning as a store crew member, within 8 years she'd worked her way up to a position in the Little Caesars' corporate franchise development department before becoming a franchisee herself.
Operating two dozen Little Caesars is no small task. But Dunn-Marshall has succeeded, running a profitable business and providing jobs for more than 500 people in her stores. Over the years, she has even helped five of her former employees open their own stores, either by selling them a store or by sponsoring them through their application process with the brand. She's also deeply involved in charitable efforts in the communities where her stores are located.
In 2019, she and her daughter Carissa became franchisees with Dog Haus Biergarten and signed a development agreement to open three locations in the southern West Virginia market. The first is up and running.
Like so many entrepreneurs, Dunn-Marshall is not content to rest on her current business success. She recently signed her latest development deal to bring 10 Little Caesars to the Charlotte, North Carolina, area. (By the way, all of her franchise endeavors are in addition to the large commercial and residential real estate business she also runs.)
"I always believed I could do it," she says. "I worked hard to overcome obstacles to achieve my dreams and goals and I know other women can do it, too."
PERSONAL
First job: Little Caesars at 15. I interviewed with Burger Chef and Little Caesars when I decided to get a job. Little Caesars offered me five cents more per hour. My fate was sealed!
Formative influences/events: I worked for corporate Little Caesars for seven or eight years before becoming a franchise owner. My two mentors at corporate Little Caesars were founder Mike Ilitch and Bob Massey, VP of franchise sales. Both men were a wealth of knowledge. They loved to share, encourage, and watch young employees grow. I wouldn't be where I am today without both of them.
Biggest current challenge: Managing cash flow in today's environment.
Next big goal: Develop 10 new Little Caesars locations in North Carolina and develop four new Dog Haus locations in West Virginia.
Best business decision: Pulling the plug to hire experienced upper-level team members. I've always promoted from within, but realized that was slowing down my ability to grow and accomplish the bucket list of dreams I've accumulated.
Hardest lesson learned: Wow, that's easy. It's choosing your partners carefully. I put a lot of weight on character, passion, integrity, work ethic, morals, and respectability these days.
Work week: Before Covid-19, I took a lot of long weekends for travel. Now I miss travel. I try to keep a basic work week. Technology has helped to keep the plates spinning for me wherever I am.
Exercise/workout: I'm the so-so girl with exercise, mindful but not consistent like I want to be.
Best advice you ever got: Do not let availability distort your better judgment. In other words, trust your instincts.
What's your passion in business? I've always dreamed of having a very large empire with a lot of different or diverse divisions. Where I'm at today isn't that dream, so I need to say, I'm not finished quite yet.
How do you balance life and work? When you love what you do it's not work, it's more like responsibilities. Balancing responsibilities is time management. I'm probably a B-student at time management. I tend to run out of day before my to-do list gets done.
Guilty pleasure: Shopping, shopping, shopping, of course!
Favorite book: The Bible. My husband Ross is a Bible scholar and a fabulous teacher.
What do most people not know about you? That although I finished cosmetology school while in high school, I've never been to college. It was always on my list, but I was always so dedicated to my career at Little Caesars that it never happened.
Pet peeve: People who take advantage of others.
What did you want to be when you grew up? A lawyer, and I was determined to condense the eight years of education into six. I don't regret that I didn't get to test that theory.
Last vacation: June 2022, a wonderful honeymoon that started with a coastal train from Los Angeles to Seattle then a flight to Vancouver to board a cruise through Alaska's Inside Passage.
The person I'd most like to have lunch with: If I could have a real open conversation, I would like my lunch to be with two former U.S. presidents from both sides of the aisle, to get a better idea of where we all share common ground.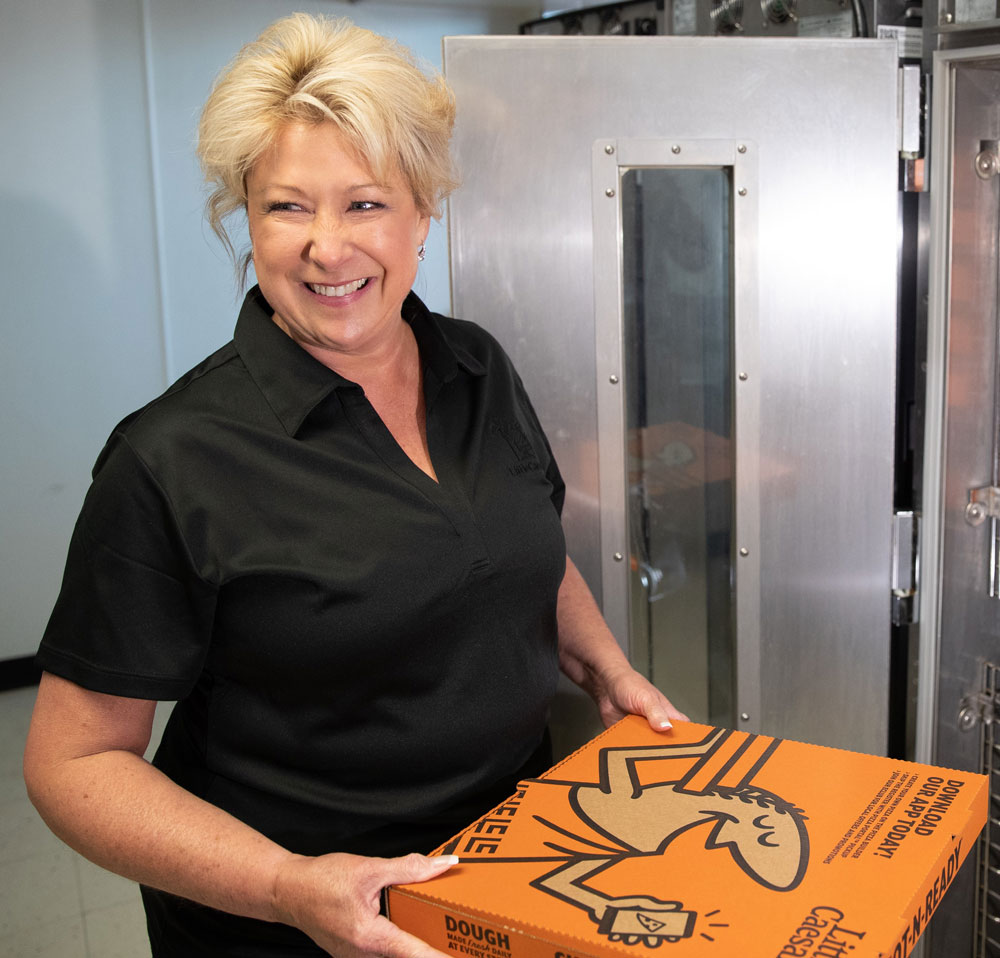 MANAGEMENT
Management method or style: Lead by example and leadership from the front.
Greatest challenge: To achieve my goals (bucket list) before I die.
How do others describe you? A motivated dreamer/doer.
One thing I'm looking to do better: Improve my communication skills. I'm a quiet listener too often.
How I give my team room to innovate and experiment: Give them the training for the position and history of the past. Past wins and losses can teach the best of us.
How close are you to operations? For the last 15 years, I spend most of my time with accountants, lawyers, bankers, and insurance agents. But my true love is in the restaurants with my team.
What are the two most important things you rely on from your franchisor? Open communication—even the bad stuff franchisees don't want to hear—and strategic long-term planning with the "why."
How is social media affecting your business? I wish I could answer this better. This is so new and is evolving so fast that I really feel uneducated about it... and I'm a good marketer.
How do you hire and fire? We coach people to hire for work ethic, hire for integrity, hire for personal morals. We can teach the necessary skills.
Fastest way into my doghouse: Not doing what you say you will or any integrity issues.
COVID-19
How did Covid-19 affect your business? How have you responded? It had us all fighting to survive and maintain jobs. My ability to adjust rapidly at any moment has been perfected!
What changes do you think will be permanent? I wish I knew, so I didn't have to adjust rapidly!
BOTTOM LINE
Growth meter: How do you measure your growth? Are we better than we were a year ago?
Do you have brands in different segments? Why/why not? Yes, Little Caesars has price leadership, which is especially important in this economy. Dog Haus Biergarten is in the craft casual space. I also operate a large commercial and residential real estate business for diversity.
What are you doing to take care of your employees? Compassion when needed, bonus programs for the achievers, solid training for the underachievers, recognition programs, swag and cupcake parties, and any other fun or motivational ideas we can brainstorm. We're a team, and there isn't an "I" in "team." The team wins together or loses together.
How are you handling rising employee costs (payroll, minimum wage, healthcare, etc.)? Squeezing everywhere we can and bidding out all services looking for any rising cost pressure relief to have room for employee wage increases.
How do you reward/recognize top-performing employees? Bonus plans, individual and group awards, and most recently, special rally days. Always looking for new ways.
Published: November 28th, 2022
Share this Feature
Recommended Reading:
Comments:
comments powered by

Disqus

Multi-Unit Franchisee Magazine: Issue 4, 2022
Bonchon is an internationally recognized Korean Fried Chicken concept. Bonchon means "my hometown" in Korean, and represents our...
Cash Required:
$250,000
PetWellClinic is a walk-in veterinary clinic offering basic health and wellness services to dogs and cats. PetWellClinic is the first vet clinic...
Cash Required:
$250,000