Three Golden Nuggets: Essential Ingredients for AR Success
Recently, I had a discussion with a CEO of a franchise company, which I will call ABC Franchise Systems. The CEO was telling me about his company's area representative program, which was having problems. As I listened to the litany of issues he was facing, I began to reflect on my own experience as an area representative and how the same issues seem to exist in most area representatives programs. To understand how to solve these issues let's look at some of the mistakes franchise companies make when implementing area representative programs and explore solutions.
The CEO was convinced that his area representatives were at fault for most of the dissatisfaction of the franchisees. He asked me to interview the area representatives to see if I could uncover reasons for the problems. During my interviews, I discovered that the area representatives felt under-supported and betrayed because they felt the franchisor had not delivered on promises made to them.
How do situations like this get to the point where all parties in the franchise relationship feel that the other parties are at fault?
Unrealistic expectations
Franchise companies should take great care in setting realistic expectations with everyone involved in the franchise relationship so that they don't promise more than they can deliver, which can happen as a result of the excitement generated during the recruitment process. In an area representative program, since the franchisor is a step removed from the qualification process, it is essential that area representatives set realistic expectations with the franchisees they recruit.
I have been an area representative in multiple franchise concepts, and over the years I have learned to take precautions to minimize misunderstandings. Understanding franchisees' expectations is key, and one way to make sure that area representatives understand these expectations is to record them on either video or audio at the signing of the franchise agreement. I know of at least one lawsuit that was avoided when an issue arose nearly two years after a franchisee had joined my regional franchise group.
In that situation, when the franchisee began to struggle, he requested a copy of the videotape I had made when he signed his agreements. I am sure that after his attorney reviewed the tape he told the franchisee that he would have an uphill battle proving there had been the level of misrepresentations he had claimed. Since memories tend to be selective in nature, this simple step of memorializing a set of 100 questions on a videotape saved everyone involved a lot of grief. It was evident that I had set proper expectations and documented them for posterity.
Golden Nugget #1: Document expectations at the beginning of the relationship while they are fresh in everyone's minds.
Flawed or nonexistent systems
Emerging franchise systems often create their support systems on the fly. This is not necessarily a bad thing, since some of the best systems are born out of necessity. The key, however, involves input and understanding at all levels in the franchise network when creating these systems. Since there are numerous vendors that offer excellent out-of-the-box solutions for emerging franchise companies, there is no need to create many of these systems from scratch. It is important to begin the process of establishing support systems early, before too much momentum is created.
At ABC Franchise Systems, franchise growth trumped nearly everything else, and the momentum accelerated like a freight train without brakes. Franchise growth fueled even more excitement and further growth. This resulted in a sprawling network of area representatives and franchisees with little franchisor visibility into their operations. This is a recipe for failure and disaster.
Golden Nugget #2: Creating franchise systems on the fly works if there is a high level of collaboration.
Poor fit
An area representative needs a unique set of skills, including sales aptitude. Since many emerging franchise companies capitalize their operations with fees from the sale of regional franchise territories, franchise systems often end up with well-capitalized, highly qualified executives as area representatives with little direct sales experience. Couple this with aggressive franchise development schedules, and too often the result is those schedules in default.
Slow franchise development results in fewer franchisees, leading to royalty revenues below expectations. Reduced royalty revenues lead to a lack of franchisee support and unhappy franchisees. It is not unusual for under-supported franchisees to create poor validation, further retarding franchise development. The result is a franchise system in decline.
Golden Nugget #3: Sales aptitude is far more important than operational ability because recruiting field operations personnel is easier than finding skilled salespersons.
If a few simple tactics are implemented, area representation is one of the most powerful franchise growth strategies available to emerging franchise systems. The key to success is understanding and implementing the Three Golden Nuggets of area representation.
Marvin L. Storm is managing director of Blackstone Hathaway, which specializes in using area representatives as a franchise growth strategy. He can be reached at 925-376-2900 x201 or mstorm@blackstonehathaway.com.
Published: December 6th, 2010
Share this Feature
Recommended Reading:
Comments:
comments powered by

Disqus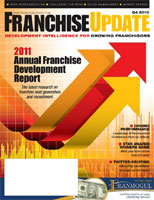 Franchise Update Magazine: Issue 4, 2010
919 Marketing Co. is a national content marketing, PR and social media agency serving franchise brands. Our proprietary social relations approach...
Clayton Kendall provides franchise communities nationwide with comprehensive branded merchandise programs leading to greater brand exposure,...