Too Much Fun!: Navigating Through The Winds Of Change
Tom DiMarco knows his numbers--and they're getting bigger every year.
When he was recruited 27 years ago as controller for Salo Inc., a franchisee of Interim HealthCare, the company had only four locations. As Salo has grown, so has DiMarco's career. Seven years ago he was tapped to become the president of the organization, and today the fast-growing business has 45 Interim HealthCare locations in 5 states.
Salo, based in Columbus, Ohio, offers full- and part-time work to 8,300 employees, up from 6,600 people just a few years ago. The company is still growing steadily--along with a healthcare industry that continues to expand even as the economy languishes--and has become the largest provider of home healthcare Medicaid services in Ohio, providing everything from pediatric to geriatric and skilled nursing services.
In fact, says DiMarco, a bad economy has been a boon to Salo and other Interim franchisees. "There are a lot of skilled RNs and licensed practitioners who stayed at home, taking care of their kids," he says. "With the downturn, there was a huge influx of these professionals. They were brought back into the workforce, looking for work."
Interim HealthCare, a 40-year-old brand with 325 home healthcare franchise locations in the U.S., brings plenty of name recognition--and a crucial national contract to provide Medicare and Medicaid services to the elderly and families getting by on low incomes.
Despite all the uncertainty about healthcare reform at a time financially strapped states are cutting back on hours for home healthcare providers (one of their healthcare professionals who may have needed six hours to provide a service may now be lucky to be approved for four), DiMarco has no plans to slow down.
"We've set a goal next year of $200 million in revenue," he says following a goal of $174 million for 2011. And the company, which billed for 5.5 million hours in 2010, has its sights set on 6 million hours in 2011.
Given the budget cuts he's seeing in the five states he operates, those figures may be ambitious, says DiMarco. But he would rather set a goal and fall short than be too conservative and fail to expand as quickly as the organization is capable of doing. He also knows that the stronger Salo becomes, the better his chances are of navigating the turbulent changes ahead for the nation's home healthcare agencies.
"The upside is the strong will survive," he says. With some 13,000 home health agencies scattered across the country, government officials have made it clear that they want that number reduced to a more manageable level.
At the same time, anyone familiar with the country's demographics can see a tidal wave on the horizon of people to care for on the Medicare side of the business, while healthcare reform has promised to boost the numbers of people in Medicaid with millions of new beneficiaries.
There's another side to the healthcare reform initiative, one that worries DiMarco. In a large service company like his, he has quite a few people on the payroll who don't receive insurance coverage. Under the reform act, companies will either have to pay for those benefits, or face a stiff fee from the government. That can hit the bottom line in a big way.
Still, DiMarco says that his seven years at the helm of the company have been a lot of fun--and he plans to keep on doing it as long as it remains that way. In the meantime, he has a vacation home at Lake Las Vegas and a team of managers he's confident can handle the challenges and opportunities ahead.
Name: Tom DiMarco
Title: President
Company: Salo, Inc.
No. of units: 45 Interim HealthCare locations in 5 states
Personal
Age: 60
Family: Married for 36 years with 3 kids and 3 grandkids.
Years in current position: 7
Years in franchising: 27
Key accomplishments:
Being able to grow significantly. When I started 27 years ago we were a $10 million company with four locations. Because of the great people here we now have 45 locations providing 5.5 million hours of service with $165 million in revenue.
Biggest mistake:
Operationally there were a couple of locations we opened and closed. But that happens in business. We have a small-business mentality and we're trying to grow a large corporate mentality.
Smartest mistake:
There was a manager in the northeast region of Ohio who didn't look like she was going to make it. After discussions with her and the team in Columbus we kept her, and she turned out to be a star.
How do you spend a typical day?
I watch the items on my to-do list grow. You have items you want to accomplish and as you get into the day a lot involves impromptu meetings and conversations, and it's fun.
Work week:
I like to do all the stuff I mentioned and allow an hour to 90 minutes each day to regroup and respond to emails, do business reviews, and put things together. I'll spend half a day on Saturday doing the same thing.
Favorite fun activities:
I pretend to golf.
Exercise/workout:
I like to walk as a stress relief. It's not exercise.
Favorite tech toys:
I'm technologically incompetent. I have a Droid, I know the basics.
What are you reading?
Just news publications, magazines, but no books.
Do you have a favorite quote or advice you give?
The quote I use many times is that we push people to reach their level of incompetence, because you don't know where it is until you get there. I started as a controller, and here's where I wound up.
Best advice you ever got:
The best advice is hold your goals and objectives high but don't be afraid to fall short.
Formative influences/events:
When I was first hired, Harry Salo was president. He talked at a much higher plane than I could comprehend. Now I understand what he was talking about.
How do you balance life and work?
Travel. We have a place on Lake Las Vegas. It's a great balancer, mentally and emotionally.
Management
Business philosophy:
Just continue to move forward. Integrity is the company's number-one asset.
Would you say you are in the franchising, real estate, or customer service business? Why?
We're in the customer service business. Our success is based on how we treat customers.
What gets you out of bed in the morning?
It's fun. You have to be happy at work, because you're spending most of your waking hours doing it. I love the people that work with us.
What's your passion in business?
To make sure that our people are treated fairly, that we provide good service. Financials don't drive the business, the business drives the financials.
Management method or style:
We have a management style based on a unit president. Each department head is president. They have a right and ability to make decisions that benefit the company. That depends on trusting people. In my position I oversee everything but I'm not hands-on. Trust is built over time.
Greatest challenge:
Right now in our business it's really what the ultimate outcome of healthcare reform is going to be. It will have a dramatic impact on our business and our ability to continue the services we're providing. The service and reimbursement side we can handle. But our business is more or less run on a per diem basis. We have lots of full-time workers, but others don't get benefits. Under "pay or play," you have to pay $2,000 per full-time equivalent if they don't get insurance coverage. In the situation we're in, that could knock 40 percent off the financial value of the company.
How close are you to operations?
We have an open-door policy. I receive phone calls on an as-needed basis. We have a CFO and COO who handle the day-to-day operations.
Personality:
Much more mellow than I was before being in this position. I still get fired up about good and bad things, but that happens.
How do others describe you?
Probably the same way. But I probably don't get fired up as much as they think I do.
How do you hire and fire?
We have a process. I'm not directly involved unless it involves a member of the management team. We do interviews by committee. We check references, do background checks. And it works. We have a lot of longevity in our company. Our COO will be celebrating his 40th year in January.
How do you train and retain?
Probably not as well as we should. Training is often on-the-job. We do have continuing education classes we send people to. A lot of our business is assignment-based, so there is a lot of turnover, more than we would like.
How do you deal with problem employees?
There are different levels for handling them. They can be treated at the local level, with involvement from HR. Complaints are investigated and we try to sit down and resolve any complaints. There are instances where if they violate a policy, depending on the severity of the issue, they can receive an oral and written reprimand, up to termination.
Bottom Line
Annual revenue:
$165 million in 2010
2011 goals:
$174 million, with 6 million hours of service.
Growth meter: How do you measure your growth?
We do it the financial way, but it's also very subjective.
Vision meter: Where do you want to be in 5 years? 10 years?
I ask myself that same question. People ask me about retirement plans and I say, retire to what? This is what I like to do. I have the flexibility to be here and elsewhere and there may come a time when it doesn't fit anymore. But it would have to be retirement to something, not just retirement.
How has the most recent economic cycle affected you, your employees, your customers?
From a hiring standpoint it has benefited us. With reimbursement cuts it's forcing us to look deeper, whether we can do things better and more cost-efficiently. We're able to absorb cuts, and growth also helps offset cutbacks.
Are you experiencing economic growth/recovery in your market?
On an overall basis we're still growing. This year we're at 8.5 percent, but at the end of this year we may be down to 7 percent.
What did you change or do differently in today's economy that you plan to continue?
We've looked at management and systems. We're changing the software we use to do our business, which will make us more efficient in scheduling and the financial/billing end. That's an investment of $3 million.
How do you forecast for your business in this economy?
We go through an annual budget process. We have main leaders in 45 offices where they review markets and market plans. They prepare budgets and present to us during a two-and-a-half week period. There's a strategic planning committee meeting at the end of September in Lake Las Vegas where we meet annually with key people to figure out our direction, and where we need to change direction.
Where do you find capital for expansion?
We have a great banking relationship in Columbus, where we're based. And we generate cash flow to finance expansion. We have term debt, $15 million, that's financed. It's a 5-year note and through cash flow we can pay it off in three years.
Is capital getting easier to access? Why/why not?
For our organization, it's easier because of our performance. We put our banking relationships out for bid last winter. We had four banks that we invited to bid and all four wanted the bid.
Have you used private equity, local banks, national banks, other institutions?
Local banks.
What kind of exit strategy do you have in place?
In 2007, we opened up ownership in the company. We now have 17 total shareholders in the company, from generational shareholders in their 60s to their 40s. And they are key people at the corporate and operations level. Depending on my exit strategy, we can either sell the company, where all shareholders benefit, or the company can buy me out.
What kinds of things are you doing to take care of your employees?
Our compensation package is all based on incentives, from the receptionist on up. On a weekly basis if the business goes up, pay goes up. If it goes down, pay goes down. They understand the risk/reward concept. For some making $600 a week, they'll have maybe $50 at risk. For vice presidents, their pay is more incentive-based than baseline.
How are you handling rising employee costs (payroll, healthcare, etc.)?
Other than absorbing them, we also increased the size and talent in the HR department. With all the rules and regulations out there, we need to be on top of all of them. And they are complicated.
How do you reward/recognize top-performing employees?
The national franchisor has an annual meeting in the spring. We took a contingent of 80 people last year to the Grand Floridian at Disney. We also do our own annual rewards/recognition dinner before the national meeting. We have a whole series or awards from peak performance award for office operations, with top- and bottom-line goals, to our Founder's Award, which has 14 different criteria. It's the highest award and is very well-respected.
Published: January 3rd, 2012
Share this Feature
Recommended Reading:
Comments:
comments powered by

Disqus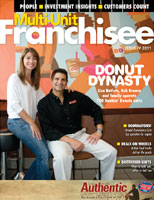 Multi-Unit Franchisee Magazine: Issue 4, 2011
Mr Jeff is an innovative laundry franchise model that has expanded to over 30 countries, by making technology the core of the business. Mr Jeff adds...
Cash Required:
$100,000
Big Frog's proven-and-tested business model allows you to take charge of your financial future with a business concept that offers unlimited revenue...
Cash Required:
$50,000