Tri-effective: Joe Hertzman Wins With Three Brands Over Three Decades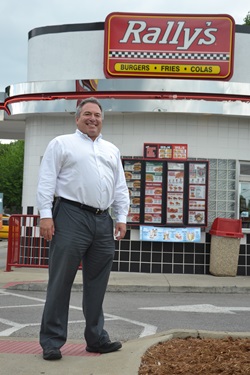 Joe Hertzman is always thinking.
When the Louisville, Kentucky, father of four attended sporting events with his kids, he noticed that they always requested waffle cones when they ordered ice cream. So when Rally's decided to add new Cold Creations items to the brand's menu, Hertzman had a suggestion.
"I said, 'Look guys, why don't we put the ice cream in waffle cones and we can get another buck on the transaction and make another 80 to 85 cents?'" he recalls. "Around the office, we jokingly call it the 'JoeCone.'"
That kind of innovation over the years is what has earned Hertzman the Franchisee of the Year Award from Rally's/Checkers and this year's Multi-Unit Franchisee magazine Innovation Award.
"Rally's has great brand relevance, and we truly appreciate their leadership. They do a great job with strategies, menu development, and cost effectiveness," says Hertzman, a Rally's FAC member who played a critical role in developing the brand's 2012 Peak 150 program to improve lunch performance.
Born and raised in Louisville, Hertzman, now president of Radcliff Group, is also proud of being a second-generation franchisee; his father was one of the original franchisees for Long John Silver's. "I'm grateful that I got to learn this business from my Dad as a teenager and that my brother Charles and I have worked to grow that business into the future," he says.
Rally's awarded Hertzman the brand's Legacy Award the first year it was given to a franchisee. "With Rally's, we've really tried to stick to brand heritage, which is great, bold tastes within the value niche, and with Papa John's, which my brother heads up, for its great quality and competitive pricing," he says. (Two years ago, Joe won Rally's Franchisee of the Year Award and Charles won Papa John's Franchisee of the Year Award.)
Even though the business is growing, Hertzman still considers the company a "family business." With a sister with a Ph.D. and a brother with an MBA, he jokes that he's the family member with the "M.O.P. degree," referring to his early days cleaning stores. (He also holds a B.S. in business from Miami of Ohio University.)
Hertzman, who opened his first Rally's 28 years ago, is quick to add that none of the success his family has enjoyed would have been possible without their operating partners Darren and Dawn Haggard at Rally's in Evansville, Indiana, and Charles Burris at Papa John's in the Ohio office. "We are so lucky to have these people on our team. When you know you have great operators out there, you can sleep at night," he says.
Name: Joe Hertzman
Title: President
Company: Radcliff Group, Louisville, Kentucky
No. of units by brand: Papa John's, 24; Rally's, 13; Long John Silver's, 7
Age: 56
Family: Four children
Years in franchising: I've been involved since my Dad was one of the first Long John Silver's franchisees in 1969. We've been with Rally's for 28 years, and my brother Charles and I have been with Papa John's since 1991.
Years in current position: Decades, since our company is an extension of our father's.
Personal
Formative influences/events:
My father, who was a self-made guy, influenced me. He was a person of high integrity who taught us a lot. He signed some bank notes and left my brother and me money to get started, but we had to pay back every dime.
Key accomplishments:
One of the things of which we're most proud is the fact that we've involved ourselves with older brands that are currently doing well. We've twice been Franchisee of the Year with Papa John's, and three years ago, we were Rally's Franchisee of the Year. Two years ago, we won that award with both brands. I'm also proud that Rally's/Checkers gave me the Legacy Award the first year they gave it to a franchisee.
Decision I wish I could do over:
No regrets.
How do you spend a typical work week?
We're fortunate to have great operating partners for both Papa John's and Rally's, so I can step away some from the day-to-day operations. We recently had a change in leadership on our Long John's team, so I've been working closely to get the new director up to speed. I also communicate daily with our brand leaders.
Favorite fun activities:
I'm an avid tennis player and golfer and I love to travel and to attend my kids' sporting events.
What are you reading?
The Wall Street Journal, trade journals, business publications, and Nelson DeMille novels.
Best advice you ever got: Treat everyone with respect but choose your friends wisely. Another is: hire smarter people than yourself.
What's your passion in business?
I want to do it right. We've always done a great job in running ops by the book and within the culture in which it's designed to be done.
How do you balance life and work?
I didn't get married until my mid 30s, so I had a good jump on building the business. We opened most of our stores before I was 40. I also can achieve a good balance because we have such great teams running the day-to-day business.
Last vacation:
To Paris to see my son before his graduation.
Management
Business philosophy/management style:
My business philosophy is not a lot different from my personal philosophy. I believe in treating people with respect in life and in business, but holding them to necessary accountability. We're not too big yet to still operate more as a family business.
Greatest challenge:
In macro: how do we keep our brands current? As franchisees, we don't make a lot of those decisions though I enjoy being a member of Rally's FAC where I can offer input. In micro: we just want to continue to find good people and develop them properly.
How I give my team room to innovate and experiment:
Through collaborative decision-making. It's seldom that we say no to what our operating partners want to do; we're usually on the same page.
How close are you to operations?
I don't deal with operations on the day-to-day but I'm in regular contact with operating partners because my background is operations.
What do you rely on/expect from your franchisor?
Outstanding leadership, innovative marketing, menu innovation that can create both traffic and higher check average, fairness in the relationship. I've never seen a fairer franchise agreement than Rally's.
What do you need from vendors?
Quality service.
How is social media affecting your business?
In the pizza business, which my brother heads up, we've seen a growing percentage of online ordering every year. I don't think we've cracked the code yet on translating social media to immediate sales in our other two concepts, but we'll continue to learn better ways to tap the potential out there.
How do you hire and fire?
I don't do too much of either anymore. However, I recently had to replace our director of operations for Long John Silver's. We were happy to be able to promote from within.
Fastest way into my doghouse:
Don't lie to me. I'm a straight shooter and I appreciate others who are. I don't have a lot of use for folks who aren't honest.
Bottom Line
Annual revenue:
I'll just say that, with both Rally's and Papa John's, we've had year-over-year-over-year increases. Last year, we received the Sustained Sales Growth Award from Rally's for achieving 41 percent sales' growth over the last four years.
2013 goals:
Our goal is just to continue to fine-tune our Rally's operations with continued sales growth and transaction growth and in Long John Silver's to see significant brand development while improving store operations. (My brother is doing a great job with Papa John's.)
Growth meter: How do you measure your growth?
Year over year same store sales.
Vision meter: Where do you want to be in 5 years? 10 years?
I love what I do and the people I get to do it with. But there's been so much change in the industry that it's hard to project where I'll be next month, much less in 5 or 10 years.
Are you experiencing economic growth or recovery in your market?
Yes.
How do you forecast for your business?
We use a combination of historical trends, business pulse, and cost of commodities. Where do you find capital for growth/expansion? Through traditional banking relationships
What are you doing to take care of your employees?
We offer competitive wages and benefits and try to provide a culture in the stores where employees feel appreciated and where they have an opportunity to develop skills and move up.
How are you handling rising employee costs (payroll, healthcare, etc.)?
Cost of labor is always a very sensitively-managed item. We're not sure of the impact of the Affordable Health Care Act as there's still so much to be determined over the next 18 months to two years.
How do you reward or recognize top-performing employees?
Rally's/Checkers has a great culture whereby the franchisor recognizes the top 10 percent of all managers in the system with a five-night Caribbean cruise for managers and their spouses. On the last night of the cruise, we do a Top 20 recognition and count down to the Manager of the Year. I'm proud to say that Brenda Miller, a 22-year employee who manages our Bowling Green, Kentucky, store, was named No. 2 manager in the system in April and No. 1 three years ago.
2013 MVP Questions
Why do you think you were recognized for the Innovation award (for Rally's)?
We're obsessed with following the system and we're also obsessed with improving the system. We feel so fortunate in Rally's tremendous leadership; their franchise administration is the best I've ever worked with. They leave their egos at the door and roll up their sleeves to work with us on ways to improve the brand.
As a multi-unit franchisee, how have you raised the bar within your own company?
We just try to do a better job than our competitors to continue to grow transactions and guest count.
Give an example of innovations you have created and used to build your company.
When Rally's/Checkers added Cold Creations to its menu, I advocated for a waffle cone, since I'd seen my kids opt for those whenever we were at a game or ice cream store. I also worked to develop the brand's Peak 150 program to improve lunch performance. We've had good success trying for a larger order of something the brand is promoting in order to achieve a higher check. When our team sees an opportunity to take something that is working and make it work harder, we're always in favor, as long as it is within brand standards.
What core values do you have that you feel led you to winning the MVP Award?
I'm humbled to have won the award, because there are a lot of innovative people out there. Our top core value is to practice integrity in how we do our business and how we treat our guests and employees. We also have a tremendous focus on work ethic.
Explain the role of community involvement to you and your company.
Community involvement is more individual to each store, and Charles and Darren are very involved. I'm passionate about the volunteer work I do as vice chairman of the Jewish Community of Louisville and as a long time board member of the Boys and Girls Clubs of America.
What are the important leadership qualities to you and to the members of your team?
Vision, integrity, hard work.
Published: September 4th, 2013
Share this Feature
Recommended Reading:
Comments:
comments powered by

Disqus

Multi-Unit Franchisee Magazine: Issue 3, 2013
With more than 230 locations operating and 350 more sold and in development, Dogtopia is the largest and fastest-growing dog daycare provider in the...
Cash Required:
$300,000
With 500+ restaurants in development worldwide, Wayback Burgers is America's favorite hometown burger joint and one of the world's fastest-growing...
Cash Required:
$250,000