Two for Two: and Now John Hewitt Wants to be #1
You might say John Hewitt has had a taxing career. In fact, over 45 years he's founded, developed, and managed two of the top three tax companies in the country. Now he has his sights set on making Liberty Tax Service the number-one tax company in the world by 2020.
Hewitt began his career working for H&R Block in 1969 as a tax preparer before quickly advancing to assistant manager and regional director. He was the company's youngest regional director, managing more than 2,000 tax preparers in 250 offices in one of H&R Block's largest districts.
In the early 1980s, he and his father invented the first tax software for the fledgling Apple Computer company. But his "eureka moment" was still to come.
In 1982, Hewitt and a team of investors founded Jackson Hewitt Tax Service in Hampton Roads, Va. The company used his unique "Hewtax" decision-tree tax interview software program, an industry first. The concept was a hit with taxpayers, and he took the company public before selling it--and its 1,345 offices--in 1997 for $483 million.
In 1997, he founded Liberty Tax Service, an organization that went on to become the fastest-growing tax company from 2000 to 2014. Today, there are more than 4,400 Liberty Tax offices in the U.S. and Canada.
Hewitt says building a tax company was easier the second time around. "There was lots of trial and error in building Jackson Hewitt," he says. "With Liberty Tax we knew what to do and what not to do, and we were able to do it much more efficiently and quickly." Again, with big-time successful results.
It's not all business and taxes for Hewitt. He is also dedicated to helping those in need. One of his initiatives is fighting hunger throughout the world. In 1998, he co-founded Stop Hunger Now, an international hunger relief organization. In 2010, he co-founded Run for Food International, which works in Nicaragua to support programs that provide food to reduce malnutrition and death.
Back in the office, Hewitt has been named one of the Top 100 most influential persons in the tax industry by Accounting Today on 12 different occasions. And in 2006 the IFA recognized him as its Entrepreneur of the Year.
When pressed, Hewitt doesn't shy away from his 2020 goal. "Everybody has goals, but if they're not identifiable and accountable they don't get accomplished," he says. "In our organization from top to bottom, everybody knows what we're doing, what's expected, and how we're going to get there. It's just a matter of executing the plan and covering the basic X's and O's. There's no tricks... just done right."
Name: John Hewitt
Title: Founder and CEO
Company: Liberty Tax Service
Units: 4,400+ offices in the U.S. and Canada
Age: 65
Family: 2 sons, 1 daughter, 4 grandchildren
Years in franchising: 45
Years in current position: 18
Leadership
What is your role as CEO?
To oversee the growth and development of the company. It's my responsibility to identify upcoming trends in the tax industry specifically, but also in business and the economy. I do that by being visionary, thinking 5 to 10 years ahead.
Describe your leadership style.
I have an open-door policy. I am always accessible, but also a tad intimidating. I like to annoy people to get them to think differently. I want people to ask, "Why is that not true?" or "How can this be done better?" I like to challenge people to be better thinkers.
What has inspired your leadership style?
I read quite a bit and take some advice from the books I've read, but I would say that my life experience has inspired my leadership style. I was the kid in school who challenged the teacher. I didn't settle for an answer that I knew was wrong. When I started working, I learned that I needed to listen to customers. I also learned that I had to fight for my beliefs and the right of principles over policies. I believe that all companies should listen to their employees and franchisees--the people closest to the customer. This principle is a foundation of Liberty's success.
What is your biggest leadership challenge?
I am extremely competitive, and my biggest challenge is not growing too fast.
How do you transmit your culture from your office to front-line employees?
Our goal is to create a culture of extraordinary results. To help achieve that, I meet with employees every week. I let them know that it is okay to make mistakes. I challenge and annoy them in an effort to make them better. When it comes to franchisees, I host conference calls with them, every other week on average, to help them set the standard in their communities, increase profitability, and create raving fans.
Where is the best place to prepare for leadership:
an MBA school or OTJ? On-the-job training, without a doubt, is the best place to prepare for leadership. Look at our best leaders--they're the ones who have learned through trial and error. In a franchise organization like ours, being in the field and seeing the day-to-day challenges is the best way to learn.
Are tough decisions best taken by one person?
How do you make tough decisions? Making tough decisions is the hardest part of my job. I know, though, that if you want to win, you have to make tough decisions, and you must make them swiftly and without hesitation.
Do you want to be liked or respected?
Respected.
Advice to CEO wannabes:
If you want to be a CEO, you have to learn to listen and evaluate people based upon what they really are saying. We human beings can be poor communicators, mostly because we're poor listeners. As a CEO of a franchise organization, you need to listen. You need to know what your franchisees want and what motivates them. Don't try to guess what they want and never, ever bluff when giving advice.
Management
Describe your management style:
I am direct, abrupt, and fanatical. I don't settle for good or excellent. I want my employees and franchisees to think in a fanatical way. I bring that out in people.
What does your management team look like?
It includes thought leaders in their areas of expertise. They're a vocal group, and they're not afraid to think outside the box. They are also clear communicators.
How does your management team help you lead?
They are not afraid to deliver bad news. They are honest and have integrity. They do what they say they are going to do.
Favorite management gurus: Do you read management books?
I am a student of business. I read just about anything I can get my hands on when it comes to different businesses and leadership styles. Some I embrace, others I discard. Given that reality, I'll mention two books I would put on a reading list: The Effective Executive: The Definitive Guide to Getting the Right Things Done, by Peter F. Drucker; and The Difference Maker: Making Your Attitude Your Greatest Asset, by John C. Maxwell. I am also an admirer of Warren Buffet, Colin Powell, and Jack Welch.
What makes you say, "Yes, now that's why I do what I do!"?
I love helping people, and knowing that I have helped thousands of people realize their dreams enriches me. Helping people is what I do best.
Personal
What time do you like to be at your desk?
I get in at 6:30 in the morning. I think highly successful people start the day early.
Exercise in the morning? Wine with lunch?
I exercise every day, but I don't have a set schedule. In other words, I exercise when I have time. I don't have wine at lunch.
Do you socialize with your team after work/outside the office?
I do socialize with my team, but mostly in a business way. At dinners and other events, I am almost always working.
Last two books read:
Think Like a Freak, by Steven D. Levitt and Stephen J. Dubner; and What's Your Purple Goldfish? 12 Ways To Win Customers and Influence Word of Mouth, by Stan Phelps. I also just read the The Go-Giver by Bob Burg and John David Mann.
What technology do you take on the road?
I always travel with my laptop, my iPad, and my smartphone.
How do you relax/balance life and work?
I play chess and bridge. I have enjoyed the game of chess since I was 6. My dad and I used to play, and he commented then on my passion for winning the game. I guess my competitive spirit was fueled at an early age.
Favorite vacation destinations:
Florida and Saratoga Springs, N.Y.
Favorite occasions to send employees notes:
I am fanatical about customer service, and when I see that an employee is fanatical about something and can prove it, I think that deserves notice. At Liberty, we give $1,000 awards to people who display fanatical behavior.
Favorite company product/service:
Tax returns and happy customers.
Bottom Line
What are your long-term goals for the company?
Everyone at Liberty knows the answer to this question: We will be the No. 1 tax company in the world by 2020.
How has the economy changed your goals for your company?
As it did with many other companies, the economy slowed our growth. Fortunately, I see that changing now. Money is more available and people are starting to loosen up when it comes to investing in a business.
Where can capital be found these days?
Fortunately, the stock market is doing better, banks are more generous, and 401(k)s are replenishing. There's capital in those areas and in refinancing mortgages.
How do you measure success?
At Liberty, we monitor results, not activities. That said, we measure our success based on our growth against competitors. We are growing faster than both of them combined in terms of the raw number of tax returns prepared. They are shrinking.
What has been your greatest success?
I would have to say my greatest success has been in building two companies from scratch, Jackson Hewitt and Liberty Tax Service.
Any regrets?
I never look back. I never say, "What if?"
What can we expect from your company in the next 12 to 18 months?
We expect explosive growth in the number of locations, especially with the addition of our new brand, Siempre Tax+, which will cater to one of the country's fastest-growing markets, Spanish-speaking clients.
Published: August 19th, 2015
Share this Feature
Recommended Reading:
Comments:
comments powered by

Disqus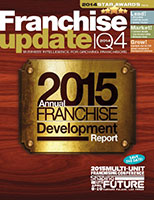 Franchise Update Magazine: Issue 4, 2014
Conferences
InterContinental, Atlanta
OCT 18-20TH, 2023
BoeFly drives growth by delivering financially qualified candidates increasing lead-to-franchisee conversion, and helping franchisees secure...
Bring Order to Your Business. All-in-one management, print, and design solutions at your fingertips, on one platform