U.K. franchiser fries up winning recipe in U.S.
In 1996, a young London inventor asked British franchise veteran Victor Clewes whether he should franchise or sell the innovative machine he'd created for filtering used cooking oil. Clewes had never set foot in a commercial kitchen, but it didn't take him long to see that Jason Sayers was sitting on a franchising goldmine.

Clewes realized that the quality of the "little machine" - which removes the tiniest of contamination particles that cause the breakdown of expensive cooking oil, and so prolongs its life - was head-and-shoulders above that of other, gravity-fed systems.

As he learned more about the industry, Clewes saw a great need for the new pressurized, micro-filtration system Sayers had invented. Many existing machines were gathering dust in a corner because teenaged employees were not particularly interested in becoming experts on the messy systems. Sayers's FiltaFry was cleaner and safer to use, which would take a big bite out of the shocking number of restaurant employees burned each year trying to clean the fryers.

Further, if franchisees provided the filtering service once or twice a week, restaurant owners could save enough in cooking oil to pay for the service calls. Basically, FiltaFry could offer what amounts to a net free service for owners of restaurants and other places where food is fried. "How many other businesses could say that?" says Clewes.

His parting advice to Sayers, a software developer who had decided to change direction from his earlier plan to simply sell his equipment, was specific. "I told him he had a great product but that it would only work if he brought in an experienced franchise manager. Then I went away to work on another project," says Clewes, who had in 1989 had founded the multimillion-dollar Mortgage Advice Shops, a U.K. financial services franchise company specializing in home mortgages. In 1994, he sold his real estate holdings and became a consultant to retail, cell phone, and other franchise companies while he searched for a new challenge.

A short time later, Sayers called Clewes, saying he had been unable to find a franchise manager as knowledgeable as he was. Clewes agreed to become managing director of the company and set up offices in northern England, near Manchester where he lived. He and Sayers then met regularly between there and London.

It's a hit!
As expected, FiltaFry was a huge hit with the purveyors of the nation's fried favorite: fish 'n' chips. Two years later, the company expanded internationally to Australia. Today, FiltaFry has 92 franchises in the U.K. and operates in Spain, Portugal, Ireland, Puerto Rico, Panama, Guatemala, El Salvador, and Mexico.

Based on his experience, Clewes believed substantial support of franchisees to be essential to success. He developed an intensive, weeklong training program, after which a new franchisee is allowed to run an established FiltaFry franchise for one week, while the experienced franchisee drives the van and provides backup.

"Then we prepare them to start in their own area," says Clewes . "While they're out training, we start telemarketing their territory. Then we send a business development manager to their territory to help them set up demonstrations for two weeks."

Clewes was happy with the success of FiltaFry, but as the company grew, his thoughts naturally veered westward to the land of french fries and fried chicken. "Everybody said, 'Oh, forget about taking a U.K. franchise to the U.S. The legal issues would just eat you alive,'" he recalls. Few U.K.-born franchises had succeeded across the pond. There were success stories, such as The Body Shop and Roto-Rooter, but Clewes still wasn't sure the time was right.

In 1999, he made his first visit, a family vacation, to the U.S. While eating in American restaurants, he quizzed managers who dropped by the table about their oil filtering systems. To his surprise, he learned that no system similar to FiltaFry existed in "The States." Restaurants were either straining oil through paper and boiling it out or, in the case of TGI Friday's and Applebee's, running it through a built-in system.

He knew then that the market for FiltaFry's service in the U.S. was "enormous."

Encouraged by his findings, Clewes met with an attorney in Washington, D.C. "I knew we couldn't just come with arrogance even if we had a great product. I told him we planned to do it in a couple of years, but I wanted to learn all I could about it first," he says. "I didn't want to just give him the information and have him do the plan. I needed to understand it, to take away the fear that comes from lack of knowledge."

Together, they formulated FiltaFry's offering circular and franchise agreement while Clewes learned everything he could about U.S. franchising by attending trade shows and meeting with industry leaders. He says the process was challenging. "The attorney knew about franchising in the U.S., and I brought a few unique things to the table from over my way, such as the royalty-free period at the front end."

"We're going to Orlando!"
In 2002, Clewes moved to Florida with his wife, son, and their pets. Since then, FiltaFry has been based in Orlando, with Clewes as president and Sayers as CEO. There are now 114 franchises across the U.S., with eight to 12 added each month, toward a goal of 975; and the first franchise was launched recently in Canada.

The total initial investment for a FiltaFry franchise ranges from $67,350 to $75,100. This includes the franchise fee and opening package (painting and equipping the van, equipment, uniforms, marketing materials, training, and additional startup needs). Most FiltaFry franchisees operate as a home-based business. About 60 percent of FiltaFry franchisees are owner-operators, while the rest employ technicians to handle service calls. Restaurant experience is not necessary, says Clewes.

"People think we just take a machine in, filter the oil, and clean the fryer," he says. "We do. But that's only a small part of what FiltaFry is all about." Franchisees manage and improve fryer operations from top to bottom. According to FiltaFry, 50 percent of the savings to customers come through improved fryer practices, not filtering alone.

Describing FiltaFry's operation as an "open-book scenario," Clewes says he doesn't take a hard-sell approach. "We ask a few people to come spend the day with us. We say, 'Go out with a franchisee, you might not like it. Cooking oil is pretty smelly, but it's great repeat business. Make sure you know all about it and that it's right for you.' We don't chase people."

What FiltaFry franchisees must have in common, he says, is "passion, determination, enthusiasm, and a willingness to follow a proven system." Clewes has encountered a few potential franchisees who, because they've worked in the restaurant business, want to reinvent the machine. Those, he politely shows the door.

"We're not one of those companies that says, 'Just go out and do it,'" he says. "We monitor new franchisees once they start operating. We try to put $500 repeat business on them in the two weeks our business development manager is there. Once we've done that, they report to us on a weekly basis. We make sure they're going out and performing six free demos per week. That's the way we get business. We don't advertise and we're not in the Yellow Pages, but we're in restaurants, hospitals, universities, casinos, bowling alleys, hotels."

The country's current 114 franchises don't yet provide enough coverage to sign large national accounts, such as Wendy's, which would want continuity throughout their stores, Clewes says. But FiltaFry has signed more than 1,500 customers nationwide including well-known hotels and restaurants such as Applebee's, Denny's, Ruby Tuesday, The Cheesecake Factory, TGI Friday's, Wyndham Hotels & Resorts, and Las Vegas casinos.

Clewes, who admitted with a smile that he enjoys checking entrepreneur.com regularly to see where FiltaFry is on the top franchise list, believes FiltaFry provides a win-win for clients. "The bottom line for clients is that extending the life of the oil makes food taste better, reduces liability and potential burns to employees, and puts money back on the bottom line."

In His Own Words
Memorable first job: Playing soccer
Professional tip: Stay focused with passion
Key education: Learning what other self-made people have done
Role model(s): Richard Branson ("because he's a maverick")
Currently reading: "The Power of Intention" by Dr. Wayne Dyer
Others say you are: A great motivator of people
Business news sources you regularly read: Mainly franchise publications, also The New York Times
Favorite web sites (besides your own): Entrepreneur.com ("to see how far we've moved up on the Franchise 500 list")
Franchise systems (besides your own) that are creative: Curves
Favorite quote: You must accept the negative to fully appreciate the positive. ("I don't know who said it, probably me.")
Best advice anyone ever gave you: "You only have to impress yourself."
Best advice you ever gave: "You only have to impress yourself."
Biggest project for the year: Continuing to develop Canada and getting greater coverage in the U.S.
What you do to unwind: Play piano (jazz, rhythm & blues)
Published: October 4th, 2005
Share this Feature
Recommended Reading:
Comments:
comments powered by

Disqus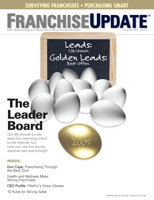 Franchise Update Magazine: Issue 3, 2005
Tiger Pistol, the world's leading collaborative advertising platform, connects the power of brands with the knowledge and credibility of their...
Oct. 18-20, Atlanta, GA. An exclusive event for franchisor CEOs, Presidents, COOs, CDOs and Franchise Development Executives.