Using Master Franchisees for Growth
Ron Berger knows the advantage of buying an existing franchise concept and improving on it. That is what he has done with Figaro's Pizza, a Salem, Oregon-based chain that is growing at a rapid pace.

Berger, his wife Carol, and business partner Bill LeVine purchased the chain in June 2001. Once they began actively marketing the Figaro's concept, the franchise more than doubled the number of stores it operates.

They have had some 100 locations in 18 states and plan to open 30 to 60 units each year in the future. A good part of the focus will be on building mass in existing markets, but they will also consider single- and multi-unit development growth in new territories.

Much has changed since Figaro's first got started by two entrepreneurs who were trying to address the needs of busy working families by selling unbaked takeout-only pizzas.

Figaro has now become the only chain to offer delivery of both baked and unbaked pizzas. The franchise has a proprietary dough formula that allows unbaked pizzas to be left without refrigeration for several hours, or refrigerated for up to 24 hours with no compromise in taste or quality.

Berger and LeVine didn't stop there. They added seating, soda fountains, and started selling pizza by the slice. They also changed the company's slogan and launched a new store design. Figaro's boasts of "the best pizza you can have at home," and its stores are modeled after a Tuscan kitchen.

Both Berger and LeVine have extensive experience in retailing and franchising. In 1974, Berger used a $10,000 investment to launch the Photo Factory, a retail camera chain that eventually grew to 54 locations. He also started National Video Inc., a chain of video rental stores that grew into a publicly traded company with 750 locations in 46 states and every Canadian province. LeVine set up Postal Instant Press and built it into 1,200 stores before selling the business.

With their extensive experience, they have decided that Figaro's will look to master franchisees to spur much of its planned growth. Master franchisees will not only own and operate their own stores in large geographic territories, but they will recruit and provide training and support to other franchisees in their territory. In exchange for his support, the master franchisee receives a portion of the royalties.

Training includes learning every aspect of starting and running a Figaro's Pizza restaurant, beginning with a two-week program for franchisees in select Figaro's stores. In addition, master franchisees provide ongoing training in both marketing and operations for franchisees, as well as employees of franchised operations through an intranet site and other resources.

Figaro's likes to locate stores in high-traffic neighborhood shopping centers, where they occupy between 1,000 and 2,000 square feet. Start-up costs for a single unit average $200,000 to $300,000, which includes a $20,000 initial franchisee fee. The royalty fee is five percent of gross sales, with franchisees required to spend three percent for local advertising, while contributing an additional three percent for national marketing development.

Cindy Egnarski, one of Figaro's master franchisees in Green Bay, Wis., finds this arrangement very effective. While working closely with Figaro's corporate office, Egnarski oversees the franchisees in her region. "We are similar to regional business consultants," she explains. She works directly with the franchisees to make sure they are following company standards.

There are a lot of "one-on-one" conversations and visits, she says. The master franchise system helps provide direct assistance to franchisees. Egnarski works on customer service with the franchisees as well as on product preparation, inventory control, and marketing. The Figaro's Egnarski owns is set up as a training store, where she trains all franchisees in her regional territory.

Egnarski sees a future of tremendous growth under the system. This outcome is reflected in what Berger and LeVine knew early on in the development of Figaro's: An effective master franchise system is expected to ensure highly profitable franchisees that deliver superior customer service.
Giving Franchisees the Extra Edge

Looking for ways to assist franchisees just got a little easier thanks to Winmark Corp.'s new national support service for franchisees, known as Winmark Business Solutions. Winmark owns the Play It Again Sports, Once Upon a Child, Plato's Closet and Music Go Round brands.

But this new support service organization is not limited just to these brands. It is available to all franchisees in North America, says Richard Brill of Midwest Public Relations.

The business support web site provides a number of benefits including up to 50 percent product and service discounts from name brand companies such as Staples and Hewlett-Packard, and hundreds of downloadable business and legal forms, and documents and letters. Some can replace expensive calls to attorneys and accountants, says Brill.

The site includes a business guide that provides 5,000 easy-to-access pages that address small business concerns. Users can access information on topics such as starting a business, strategic planning, product marketing and financial management.

The web site also provides access to an equipment leasing program. There is no charge for using the service or for setting it up on your own web site. There are, however, costs involved with the equipment leasing component. Nevertheless, equipment leasing can help finance growth without tapping cash or credit lines.

One big benefit of the service is that you can blend the web site into your existing franchise site with your own logos. When installed, the site becomes an integral part of your own web site. Further, Brill points out that most franchisors will find valuable preferred vendor relationships they don't offer their franchisees now. Vendor discounts can dramatically reduce the cost of your franchisee's own operations because group purchasing power drives down costs.

About 70 percent of Winmark Corp.'s own franchise system uses the service. As with any cooperative, adding more small businesses and franchise systems greatly increases overall purchasing power and reduces costs even more for all members.


Joan Szabo is a Virginia freelance writer who specializes in finance.
Published: May 23rd, 2005
Share this Feature
Recommended Reading:
Comments:
comments powered by

Disqus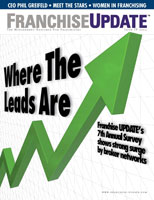 Franchise Update Magazine: Issue 4, 2004
Conferences
InterContinental, Atlanta
OCT 18-20TH, 2023
Leasecake is location management made easy – from lease contracts and licensing agreements to ASC 842 compliance. Never miss a deadline, stay ahead...
Atmosphere TV is the world's leading cable alternative, providing free streaming TV for businesses.