Utterly Charmed and Captivated: What's the secret to Profitable Same-Store Sales Growth?
At the 2013 Multi-Unit Foodservice Operators conference, Chick-fil-A President Dan Cathy explained how the company plans to grow in the future. For context, let me remind you that their average unit volume (AUV) has grown from $2.7 million in 2010 to $3.1 million in 2013, the highest of any QSR concept. Considering Chick-fil-A operates only six days a week, the profit and cash flow generated by these sales are stunning.
Cathy posed the question, "How does a high-end restaurant get a $35 check average for food when we have a $7 check average? They are not giving five times the food we are, so what is it? Is it fresh flowers in the dining room, tableside ground pepper offered on salads?" If you haven't dined there lately, these elements have become part of the Chick-fil-A experience. Customers feel special and notice the difference, yet the cost to the operation is minuscule.
Cathy continued pondering on the appeal of fine dining and why people willingly pay so much more for it. "Is it elevated service language and genuine hospitality that satisfy customers' craving for honor, dignity, and respect?" To which I would answer an emphatic, "Yes!" And this insight is not unique to Chick-fil-A. More than 100 years ago, the great American psychologist William James wrote, "The deepest craving of human nature is the need to be appreciated."
For a personal example, I just flew 20 long hours on Singapore Airlines. And it was... wonderful! Now granted, I was flying business class, with remarkable "delighters" including a state-of-the-art entertainment center with a huge selection of movies and TV shows and audiobooks, plus a high-quality headset with noise cancellation, and soft leather seats that convert into a private bed with down pillows and comforter. And I enjoyed delicious hot meals on real china and was offered espresso with my dessert. But that's what international travelers expect in business class. Those are necessities, not differentiators.
The most remarkable and delightful aspect of my experience was the personalized care and service I received from the team of flight attendants. I'm talking about the classic service behaviors: extend a warm greeting, share a welcoming smile with genuine eye contact, address the customer by name, engage the customer with respectful language, convey sincere interest in the customer's well-being, anticipate and fulfill customer needs, respond graciously to special requests, wish the customer a fond farewell, and thank and invite the customer to return.
Now if you go back and reread the previous paragraph, you'll recognize that Chick-fil-A strives to deliver those same service behaviors, even asking the customer's name when they take their order--and this "personalization" service standard is upheld while attaining the highest AUV of any QSR. Oh, and it does not add any expense to the operation. There is no line item on the P&L that says "Cost of Making Customers Feel Deeply Appreciated as a Human Being."
You've heard about all of these service behaviors before, haven't you? They don't seem like "differentiators" when you simply read the description above. You have to experience superior execution of those service standards to truly feel the difference. In the case of Singapore Airlines, I was utterly charmed and captivated. I left that plane feeling revitalized, rather than exhausted. In a similar fashion, but at a tiny fraction of the price, customers leave Chick-fil-A feeling delighted they have been truly and personally served, rather than merely satisfied that they got what they ordered.
The foundation of excellence for any QSR restaurant, of course, is quick service. It takes great operations management to consistently achieve quick service that delivers a quality product with high accuracy at high volume. But again, that is a necessity, not a differentiator. Chick-fil-A has achieved very high levels of both operational excellence and product quality--and they have successfully separated themselves from competitors by providing a luxury level of interpersonal experience.
What's the "secret" to profitable same-store sales growth that you can learn from Chick-fil-A? Deliver a better customer experience than your competitors. The economics are straightforward: an outstanding customer experience increases average spend right now and increases the likelihood of future visits. Best of all, you create brand loyalists who send you more business, driving comp sales.
How do you know if a customer is a passionate fan--a promoter? The easiest way is to survey your customers on a regular basis right after they visit and ask them. Then set a goal to increase the number of loyal customers who are highly likely to recommend you. For you as a franchisee, no other sales-building strategy comes close to paying off in your own local stores like excelling on the customer experience.
SMG Chief Evangelist Jack Mackey helps multi-unit operators improve loyalty and drive growth. Contact him at 816-448-4556 or jmackey@smg.com.
Published: April 9th, 2014
Share this Feature
Recommended Reading:
Comments:
comments powered by

Disqus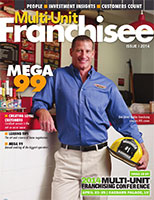 Multi-Unit Franchisee Magazine: Issue 1, 2014
Be in business for yourself as an owner of Sweet & Sassy
Cash Required:
$75,000
Another Broken Egg is an upscale breakfast, brunch and lunch restaurant that specializes in Southern-inspired menu options and signature cocktails....
Cash Required:
$250,000