Walking a Fine Line
Ray Margiano Takes One Step Back to Move Several Ahead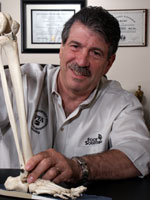 A year ago, Ray Margiano, an admitted lifelong "workaholic," had an epiphany. Having successfully created and grown Foot Solutions to global prominence and 173 units in 16 countries, Margiano decided to do what many high-powered executives never dare. He took a step back from the day-to-day operation of his multi-million-dollar businesses.
"Many entrepreneurs find their ideas get too big to manage or they don't have the skill set to manage. That's not an issue for me. However, I've always been a visionary, an idea person, and I found that the more immersed I became in day-to-day details--doing things other people could do--the less time I was spending on the concepts," he says. "Like many, I reached the point where I realize the company will continue even when I'm not here."
The result of that insight? "I'm taking a little more time personally with my family, as well as adding an extra day of relaxation to business trips so I can network with people and establish relationships," says Margiano, who remains CEO.
Other positives born from his new approach include his latest concept, Balance Walking, a 15-minute-per-day program he designed to help people "look and feel younger." He has lost 35 pounds with the balance concept, which incorporates the pole walking that has taken Europe by storm with meditation, good sleep habits, and a healthy diet.
In addition to serving on the advisory board of the American Diabetes Association and the board of governors at the University of New Haven, Margiano has written three books and spent a great deal of time helping returning veterans find business opportunities.
He comes by his work ethic honestly, having toiled in his father's garage as a kid. To afford college, he served in the Navy before attending the University of New Haven through the GI Bill, where he studied business administration as an undergraduate. After that, he worked full-time by day while he worked nights earning his master's degree in computer science from Rensselaer Polytechnic Institute and his PhD in international business administration from Canbourne University.
After starting his career working at three large corporations, Margiano left that world in 1984 to implement his idea for Heel Quick, mall-based quick shoe repair shops. "This was in the '80s when ladies were wearing heels to work all the time. They could sit on the stool, wait three minutes while we replaced their heels, and get back to work," he says. By the mid-1990s, additional footwear industry changes (cheaper materials and an influx of "throwaway" products) found the U.S. shoe repair businesses disappearing.
"I realized we were in trouble, so we began to focus more on the medical side of the business, working with labs and podiatric associations on orthotics and shoe modifications. I could make a shoe if I needed to, but I realized there was a missing niche between comfort shoe stores and medical orthopedic shoe stores," he says. In 2000, he launched Foot Solutions, which uses medical technology to scan the foot and make custom orthotics. In the process, he pioneered a niche his company still dominates today.
Based in Atlanta with a state-of-the-art lab, Margiano and Foot Solutions have opened their doors to work with returning veterans. "We've undergone training and are approved to help put vets in business,' he says. "We've started mobile franchising at less than half the cost of a regular unit."
Margiano's objective for Foot Solutions is to have 100 units owned by veterans over the next two years. "We have 15 right now and we employ about 200 vets throughout our niche. We hold job fairs and fundraisers for vets, and I also volunteer to be an adviser to those who need it," he says.
Margiano's support of his fellow vets has not gone unnoticed. He was named 2010 Vetrepreneur of the Year by the National Veteran-Owned Business Association, an honor bestowed annually to a preeminent role model. He says he is proud to help.
"These people have dedicated their lives, often being seriously injured, and now are finding it hard to get work. When you've been in an environment of life and death working closely with a team, it's hard to replace that emotion. We want to let vets know they are not alone during this transition, that there are people willing to work with them and help them."
Q&A
Name: Ray Margiano
Title: Founder and CEO
Company: Foot Solutions
Brand: 173 units in 16 countries
Age: 71
Family: Wife and 3 daughters
Years in franchising: 27
Years in current position: 27
Leadership
What is your role as CEO?
I have always been a bootstrapper and hands-on entrepreneur, which has driven many of my employees and franchisees crazy. Only in the last year have I stepped back from day-to-day management and at levels I had no business going to. Because I have always been a workaholic, I was still able to work on the bigger picture and vision of the company. Although it was difficult to do and accept, I now truly enjoy having a president run the day-to-day operation and take the weight off my back. I am getting more accomplished and staying much more focused on the company's growth, success, and strategy for the changing marketplace, which tells me I should have done this years ago.
Describe your leadership style.
I am very interactive but want people to get the job done in their own way and style. I don't want to be looking over anyone's shoulder or having to follow up. I expect everyone to do what they are supposed to.
What has inspired your leadership style?
It started when I was very young. I worked with my dad in his garage since I was 11. He loved to look over my shoulder when I was working on an engine and tell me the next thing to do. I already knew the next thing to do so did not appreciate that style of management, so I try not to do that to anyone I work with.
What is your biggest leadership challenge?
Biting my tongue when someone is clearly going down the wrong path or not getting it done as quickly as I could.
How do you transmit your culture from your office to front-line employees?
We have a very open culture. I am available to everyone and I will not hesitate to jump in any place or any time I am needed. We want people to work together and it is never about the individual, it is always about the group.
Where is the best place to prepare for leadership: an MBA school or OTJ?
A good education and exposure to experiential learning is very helpful, but nothing replaces actual experience and working in a place where you are exposed to reality and how to deal with it.
Are tough decisions best taken by one person? How do you make tough decisions?
Ultimately someone has to make the call. My philosophy has always been to openly discuss issues with key people or experts that I trust for open, objective input. This allows me to look at the situation a few different ways and then decide. This is a critical part of being a successful entrepreneur.
Do you want to be liked or respected?
I think everyone deep down wants to be liked and respected, but no one can keep everyone happy, especially in franchising. Being fair, objective, consistent, and sticking to your core beliefs is critical. At the end of the day, being respected is achievable and should be your goal.
Advice to CEO wannabes:
I am a workaholic and love what I do, so this is a tough one for me. Most successful people I know are passionate and driven, which is something that I don't believe is teachable. Having said that, when I look back on my own life, there probably was more than one occasion when my choice of work over personal was not the best way to go.
Management
Describe your management style:
I like to lead by example and by recognizing and mentoring people. I like to challenge people and help them grow.
What does your management team look like?
A special ops group--very knowledgeable in each of their areas of expertise and working together closely to achieve the goal. We are lean, and everyone occasionally needs to step into another area to help out. "It's not my job or responsibility" does not go very far in our organization.
How does your management team help you lead?
Open discussion and conversations, but once the decision is made everyone is on the same page.
Favorite management gurus? Do you read management books?
Since my college days, I have read self-help and motivational books, including some by Denis Waitley, Anthony Robbins, and Brian Tracy.
What makes you say, "Yes, now that's why I do what I do!"
For me it's always about someone else accomplishing and growing. That is the wonderful thing about franchising--there's a network of independent people all wanting to succeed and grow their own businesses. It's always been about helping people do better, whether it's a customer at our stores needing help or a franchisee.
Personal
What time do you like to be at your desk?
9 a.m. to 6:30 p.m. I work out every morning before work.
Exercise in the morning? Wine with lunch?
The Balance Walking way of life--I authored the book and live the concept 15 minutes every day. I have wine occasionally, but never at lunch.
Do you socialize with your team after work/outside the office?
Only at annual meetings or events.
Last two books read:
Taking People with You by David Novak and Dead or Alive by Tom Clancy.
What technology do you take on the road?
iPad and iPhone
How do you relax/balance life and work?
I live by the Balance Walking way of life, which covers pole walking, toning, eating to live, and meditation. Music, reading, and family fill the rest out.
Favorite vacation destinations:
I am a water person and love the ocean. I have been to approximately 50 countries and am still searching.
Favorite occasions to send employees notes:
Anytime. It shouldn't be tied to a birthday or any event. I like to be there for support, especially if a person is having personal or health problems.
Favorite company product/service:
Foot Solutions' custom orthotics, designed and hand crafted to fit each individual foot. They're made in the USA, and veteran-owned lab custom orthotics have helped thousands of people eliminate foot and body pain. Our customers actually thank us.
Bottom Line
What are your long-term goals for the company?
To continue to invest in infrastructure and education for everyone in the system, making the business model more successful, and continuing growth and success for the franchisees and everyone involved in the company.
How has the economy changed your goals for your company?
There is no question that the economic downturn had an impact on growth and certainly crushed the lower-performing stores. This was personally a very difficult time for me. No franchisor wants to see anyone fail, and because of the length of the downturn, everyone was tested, including me. First, it had to be survival for everyone. Last year we started to recover, and this year we are seeing continued improvement. My gut says it will be easily two to three more years of very slow growth in a challenging, changing marketplace that is very fragile.
Where can capital be found these days?
There is capital available but money is still very tight for new startup businesses. In addition, many companies lost lines of credit they'd had for years.
How do you measure success?
For me it has never been about money. For most entrepreneurs it is about building something--chasing a dream and a vision. This is where the passion, belief, and motivation take over. In franchising, if you help other people succeed and realize their dreams, you can say you have succeeded.
What has been your greatest success?
I have started four companies and bootstrapped every one of them. We have helped hundreds of franchisees accomplish their dreams. It has to be about the relationships and camaraderie that you achieve. It's always about the journey, and I would like to think I am still working on my greatest success.
Any regrets?
I'm sure there are some things I could have done better. When I was a teenager working in the garage, I wanted to get an education and see the world. I also wanted to be president of my own company by the time I was 40. I did all that, and the only thing left was to retire at 50. I blew that one and am still working way past normal retirement.
What can we expect from your company in the next 12 to 18 months?
Our objective is to get back into growth mode. We have been approved for VA training and are focusing on helping vets transition back into the workforce or their own businesses. We've also rolled out a Foot Solutions mobile unit and expect to open 25 new units over the next 12 to 18 months, and we are focusing on more deliverables and success for everyone in the Foot Solutions system.
Published: October 24th, 2012
Share this Feature
Recommended Reading:
Comments:
comments powered by

Disqus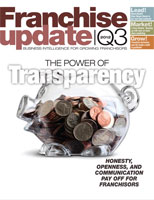 Franchise Update Magazine: Issue 3, 2012
Conferences
InterContinental, Atlanta
OCT 18-20TH, 2023
Hub by Thryv is an end-to-end client experience platform custom-built for franchises. Its ready-to-use business apps help franchisees view their...
Sociallybuzz, founded in 2009, is the #1 Social Media Marketing Agency to help franchisors and franchisees increase their revenues, drive sales, and...