Way To Grow!: AlphaGraphics CEO Focuses On Transformation
Kevin Cushing began delivering newspapers in Chicago when he was in second grade. He eventually delivered more than one million. "I knew I had to get those papers out or the readers would not know what was going on in their world," he says.
Lofty goals for the lad, who says it was during these early years that he became what he calls "a lifelong small businessman." Today Cushing is CEO of Salt Lake City-based AlphaGraphics, where he has held the reins since June 2004.
Cushing graduated from college in 1978 and began working with a shopping center leasing company called Terratron, which oversaw retail properties in Wisconsin and Minnesota. Some of the shopping centers' tenants were independent restaurants, and when they would go out of business Terratron needed something to replace them. That "something" turned out to be franchised Hardee's restaurants.
"We started with just a couple of units and did well with them," says Cushing. Eventually, Terratron oversaw 81 Hardee's units in 7 states. In 1991, he became president of Terratron and began to experience the itch for owning his own business.
"I had a good friend who was an AlphaGraphics franchisee," he says. "I did some due diligence before deciding this was for me." It was a good move. Starting in 1995, Cushing was a successful franchisee and recognized by AlphaGraphics as one of their Gold Circle winners for strong system performance.
By 2004, he was eager to be "more aggressive" and was searching for ways to do so. A call from AlphaGraphics corporate, asking if he'd be interested in leading the organization, solved that problem. He was hired in June that same year.
At the helm, Cushing is characteristically pushing for change, growth, and system-wide advances. Technology is changing the way marketing and printing are done, and he is busy incorporating these progressions into AlphaGraphics.
"We're focusing on taking our product from a print-centric approach to one of multi-channel communications," he says. "We're going beyond just providing mail flyers for customers. Now we can help them acquire new customer databases and design specific marketing campaigns to help them reach customers in a more focused way."
His goal for AlphaGraphics? "To become the largest provider of marketing services to small and medium-sized businesses."
Name: Kevin Cushing
Title: CEO
Company: AlphaGraphics
No. of units: 282
Age: 55
Family: Wife Jill; children Jack, Patrick (PJ), Claire, and Sean
Years in franchising: 33
Years in current position: 7.5
Leadership
What is your role as CEO?
Visionary, architect, builder, and captain. (1) Visionary: define a unifying direction for the organization; evolving the brand to maintain relevancy and appeal as a franchising business opportunity. (2) Architect: develop strategy for achieving the vision. (3) Builder: form the team that is inspired and motivated by driving the strategy. (4) Captain: drive the execution of the strategy through all levels of the organization. Accountability through franchisor and franchisee teams.
Describe your leadership style:
Constructively challenging and collaborative. Continually leading and mentoring team members to grow and evolve our organization and themselves to the next level.
What has inspired your leadership style?
Great mentors. I've been lucky to have many great mentors in my life who have helped me grow into who I am today. I can only hope that I can provide a similar service to those I lead.
What is your biggest leadership challenge?
Franchisees are "entrepreneur-like" in that they possess the independent thinking and drive of CEOs. They have the ambition, risk profile, and desire to own and build a business, but within the context of a well-designed business model with like-minded business owners. The best franchisors successfully draw on those attributes while delivering a top-notch brand experience that offers a high level of consistency across the network. The reality is that every brand has a bell-shaped curve, and we strive to have a "tight" bell that is well to the right of other brand averages. This represents a high degree of consistency and financial performance. Easier to say than to do, but our franchisees get high marks from me in this regard.
How do you transmit your culture from your office to front-line employees?
Passion. I love what I do, and my management team loves what they do. It is genuine and contagious. This passion trickles down and creates something truly special among our 3,000-plus AlphaGraphics employees worldwide. People see how jazzed we are, and they want to share in that excitement.
Where is the best place to prepare for leadership: an MBA school or OTJ?
Even more important is self-awareness and a thirst to learn. Couple that with experience and great mentors, and it is hard for any degree to match that. I benefited from that as well as a great education, and each experience contributes in its own way. Since this is an either/or question, street smarts edge out book smarts. Both are valuable. An active learner will augment their OTJ with outside learning opportunities to develop a broader perspective.
Are tough decisions best taken by one person?
No. Surround yourself with bright individuals that you trust, and honest conversations amongst the group will typically render the best results. It doesn't mean it's a democracy where everyone's vote counts equally, but you have to trust those you put around you. At AlphaGraphics, we are highly collaborative with our colleagues and franchisees. It develops a better decision rather than compromising the best. I have no problem making tough decisions, nor do my executive teammates.
How do you make tough decisions?
I have a great team that I have worked very hard to build. When making tough decisions, I work with my team and our Network Leadership Council to make sure that I have all of the information. I collect their feedback, ask for recommendations, and make the decision that I think is best based on the vision of our company and then go the extra mile-plus to communicate the decision and enlist support. In a network like AlphaGraphics, we have more than 260 CEOs with valid concerns and insights. We draw out their thinking, make the decision we feel is best, and move forward as a network.
Do you want to be liked or respected?
This may sound strange, but I am generally a likable guy by nature and I don't worry too much about that. I think I am trusted by our franchisees and my team because we encourage authenticity in our interactions. I work hard to make well-informed decisions in the best interest of the brand long term and uphold our system standards. Challenging us to be the best we can be and leading with integrity engenders respect, which is more important than winning the popularity contest.
Advice to CEO wannabes:
Get outside of the jar. Work on your business more than you work in your business. Take the time to clearly articulate your vision and the strategy to achieve that vision, and then focus your energy on keeping your team motivated and inspired to drive the strategy to success. My six favorite words: learn, learn, learn, grow, grow, grow.
Management
Describe your management style:
Informed, collaborative, accountable, communicative, and genuine.
What does your management team look like?
I have a management team that is very intense and passionate about success. They are AlphaGraphics evangelists. Together with our franchisees we are writing the story of one of the greatest transformations of a brand in the history of small business and franchising. That's worth getting out of bed for every day! We are very proud of and grateful for our franchisees. My management team is made of seasoned, skilled individuals. We have great empathy for small-business owners. I am currently a franchisee while also being CEO. Our team has a healthy mix of real-life business experience and ownership, industry-specific experience, and franchising experience. We're all reaching toward a common goal. And we're all in agreement that we will be the leading provider of marketing and business communications services to small and medium-sized businesses in the world. The team comes to work each day working toward that vision and rallying their teams to be as fanatical about reaching goals as they are.
How does your management team help you lead?
I can be very hands-on if needed, but my preference is to work "on" our business and "what's next." I tend to be an effective delegator, and my team is thirsty to take on responsibility and be held accountable. They aspire to grow in their ability to lead organizations and I want them to succeed, so I take mentoring as one of my key responsibilities. I give them a big picture and a goal and they work together to achieve it. It is the best group I have ever worked with! They help spread the vision and strategy to their teams. They help hold their teams accountable for reaching specific goals. They are really the ones who execute the strategy. They are instrumental in our success.
Favorite management gurus: Do you read management books?
I am an avid reader. Some of my favorites are: The Path of Least Resistance by Robert Fritz; The Fifth Discipline by Peter Senge; It's Not What You Sell, It's What You Stand For: Why Every Extraordinary Business Is Driven by Purpose by Roy M. Spence, Jr.; Groundswell: Winning in a World Transformed by Social Technologies by Charlene Li and Josh Bernoff; and TPS-Lean Six Sigma: Linking Human Capital to Lean Six Sigma by Hubert K. Rampersad and Anwar El-Homsi.
What makes you say, "Yes, now that's why I do what I do!"
I help enable the dream of successful business ownership for our franchisees and engage in meaningful work... that's pretty special.
Personal
What time do you like to be at your desk?
Between 5 and 6 a.m.

Exercise in the morning?
Absolutely. I love to ride my bike to and from work, about an hour each way. My new hip will allow me to resume that!

Wine with lunch?
No. Never even thought about it!

Do you socialize with your team after work/outside the office?
Yes. I surround myself with individuals who share the same values as I do. Naturally, there is some overlap. We enjoy being together. AlphaGraphics is a special group of people.

Last two books read:
Steve Jobs by Walter Isaacson, and Jack Kennedy: Elusive Hero by Chris Matthews.

What technology do you take on the road?
BlackBerry, iPad, laptop.

How do you relax, balance life and work?
Exercise, play on a men's hockey team, golf, ski, cycle, read, travel. Family time.

Favorite vacation destinations:
Maui, Europe, anywhere with mountains and water!

Favorite occasions to send employees notes:
Birthdays and service anniversaries, special times, or challenges.

Favorite company product/service:
I hate to shop but love Nordstrom, Amazon, and Apple

.
Bottom Line
What are your long-term goals for the company?
To be the leading provider of business and marketing communications services to small and medium-sized businesses in the world. This means helping business owners maximize their profitability and return on marketing investment with trackable and measurable marketing programs.
How has the economy changed your goals for your company?
Both positively and negatively. Positively, the downturn has encouraged us to take a closer look at our business model and value proposition. Because of this, we have evolved our brand and service offerings to be more relevant to our customers. We are shifting from being a print service provider to being a business and marketing communications provider.
Also, we have seen a number of independent printers looking to become a part of our brand because of the systems and procedures we have to encourage success. Many independent printers have seen business decline drastically in recent years. By joining AlphaGraphics, they adopt systems and procedures that help maximize profitability and success. Because of this, we have added a number of what we call "conversions" to our system.
Negatively, we have seen many candidates for new start-up AlphaGraphics centers struggle to get financing. Individuals who used to be very bankable are now getting turned down by banks. That makes growing the brand a challenge. Luckily, we've always prided ourselves on having top-tier franchisees, and these challenges haven't affected us as heavily as they have others in our space.
Where can capital be found these days?
Finding capital can be a challenge these days. We've experienced it firsthand while working with lenders on financing packages for potential franchisees. Thankfully, we have a proven business model with sound operating procedures, and that's what lenders want to see. The money is out there, you just have to work harder to get it.
How do you measure success?
We have a strategic roadmap that our company lives by. While it is a living strategy that is frequently updated, it has specific goals and milestones that must be reached at specific dates. We define success by our ability to reach the goals and milestones spelled out in that document.
What has been your greatest success?
As mentioned earlier, AlphaGraphics is in the process of authoring one of the greatest transitions of a brand in the history of small business and franchising. We're in the middle of this process, but I am confident that our journey will result in unbelievable success and will be the defining moment for AlphaGraphics and myself.
Any regrets?
You can't move at the speed required to build and grow an industry-leading brand without making some mistakes. Regrets only come when you make the same mistake twice.
What can we expect from your company in the next 12 to 18 months?
It will be an exciting time at AlphaGraphics. The launch of our new branding will position us much differently in the marketplace. With an expanded service offering, our franchisees are no longer having conversations about paper color and quantity; we're now having conversations about business growth and profitability. We're being seen as a strategic partner in our customers' eyes. In 12 to 18 months, we're going to be even closer to reaching our vision of being the leading provider of business and marketing communications services to small and medium-sized businesses. Check back with us, or better yet, hop on board--it's going to be a wild ride!
Published: February 29th, 2012
Share this Feature
Recommended Reading:
Comments:
comments powered by

Disqus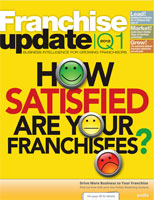 Franchise Update Magazine: Issue 1, 2012
Conferences
InterContinental, Atlanta
OCT 18-20TH, 2023
Oct. 18-20, Atlanta, GA. An exclusive event for franchisor CEOs, Presidents, COOs, CDOs and Franchise Development Executives.
Leasecake is location management made easy – from lease contracts and licensing agreements to ASC 842 compliance. Never miss a deadline, stay ahead...