Franchisors eye the emerging Hispanic market
When Philip Nye came to the United States from Colombia 18 years ago, he carried a visa, spoke English, and had the necessary resources to buy his Sir Speedy franchise in Raleigh, N.C.

"People come today and I don't know why they expect to not have to do these things," says Nye. "For an illegal immigrant, it is very hard to open a franchise. Without citizenship they really can't do much of anything."

Nye works through his local Hispanic Chamber of Commerce to counsel other immigrants looking for business opportunities in franchising. He has done this for years, but now his advice is being sought more frequently by local immigrants who would like to emulate his success.

"We are the hot new minority now," says Cesar Saldivia, the new emerging markets manager for Lansing, Mich.-based Two Men and a Truck. "The Hispanic population is here to stay, and they are looking for opportunities to open their own businesses. And franchisors see the economic potential and want to tap into this market. It is very big."

According to recent U. S. Census Bureau estimates, the Hispanic population increased 1.3 million to 42.6 million from July 2004 to July 2005. Hispanics make up the nation's largest ethnic minority,14.4 percent, of the more than 296 million U.S. population.

These new immigrants are young, averaging 25.8 years. The number of Hispanic households classified as prosperous (those with incomes of at least $100,000) rose 137 percent between 1990 and 2000. Hispanic purchasing power in the U.S. is projected to reach $1 trillion next year.

The United States Hispanic Chamber of Commerce reports that there were 1.6 million Hispanic-owned businesses in 2002, up 31 percent from 1997. Their receipts were $226.5 billion, up 22 percent from 1997.

An IRS report predicts that one out of every 10 small businesses will be Hispanic by next year. From the government to the grocery store, everyone is paying attention to this enormous shift in assets and buying power. While some in this country are pondering how to stop the flow of immigration from Latin American countries, others are seeking ways to get a piece of the action.

Saldivia says he is working with a Hispanic marketing firm in Texas to build a campaign reaching out to this budding boom of potential franchisees. While franchising is not a new concept to most immigrants from south of the border, Saldivia says that education on how business in done in the U.S. is his chief role at this time.

"In Mexico and South America there are a lot of franchises, but for Hispanics in the U.S, they are not as familiar with the processes of franchising," he says. "We are planning seminars along with the marketing."

While many among the new population are eager to become business owners, the biggest hurdle for immigrants is finding financing. "We've found there are a lot of disadvantages in economics," Saldivia says. "Recent arrivals won't even have bank accounts, but we're finding many second-generation Hispanics who have good credit. They can be successful with a franchise. You can just follow the directions and be successful."
Franchisors making inroads
Two Men and A Truck currently has three Hispanic franchisees and is looking for five more this year. Saldivia says any company must embrace diversity to remain vital now and in the coming decades.

"We believe no one will survive without becoming more diverse," he says. "This company is evolving all the time and we have to keep up with the trends, stay on top of things to look into the future. Today Hispanics are the hot thing; Chinese culture will be another population to watch very soon."

According to Miami-based HispanicTrends.com, franchise systems are rolling out new advertising, community outreach and diversity supplier programs to position their franchise systems more effectively. In the largest 100 U.S. cities today, the minority communities of the past have become the majority communities of today--and a surge of activity is under way to attract, retain, and secure these new markets and grab market share. Franchise companies able to carve out major niches in these emerging markets will grab unprecedented market share.

CruiseOne, a client of HispanicTrends.com, is actively seeking new Hispanic franchisees throughout the country. Applicants must be conversant in both English and Spanish. Most CruiseOne franchisees operate their businesses as home-based, but have the option of working from office or retail space. No previous travel industry experience is required because complete training is provided at the company's Fort Lauderdale headquarters.

Kathryn Tito is director of product development for Franchise Solutions, Portsmouth, N.H., sees the push for Hispanic business as part of a larger trend of tailoring marketing efforts to specific cultural and racial segments.

"We've developed niche market online products," Tito says. "We're getting more specific in targeting certain groups." In the past, women, veterans and African Americans have been some of the most sought-after targets for this niche marketing; the push to develop Hispanic business is more recent--and growing fast.

"The more established you become, the more choices you will have," Tito says. "And as franchisees grow, immigrants with less liquid capital will have more opportunity."

Many companies, franchisors and non-franchisors alike, are catching on. McDonald's Corp. and Choice Hotels International (whose 10 brands include Comfort Inn, Clarion, Quality, and Econo Lodge) each have well-established emerging market divisions that are paying off for them. In 2005, Choice Hotels boasted an increase of 260 percent in development deals among minorities.

McDonald's joined forces with The Latino Coalition in 2005 to honor three successful Hispanic franchisees. Hispanic Business magazine recognized Ralph Alvarez, McDonald's North American president, as one of the top 100 Hispanics in corporate America.

And multibranding Yum! Brands, Inc. (A&W, KFC, Long John Silver's, Pizza Hut, Taco Bell) was named one of the "Corporate 100 Companies Providing Opportunities for Hispanics" by Hispanic Magazine in 2006, as well as Hispanic Trends magazine's "Top 50 Corporations for Supplier Diversity" for its efforts working with minority-owned suppliers.
Getting "ayuda"
As franchising success stories mount within the Hispanic and Latino communities, franchisors will find it easier to attracting a more diverse market. Until then, franchisors must direct their marketing efforts more strategically, says Mauricio Velasquez, president and CEO of the Diversity Training Group in Washington, D.C.

"The franchising world has to do a better job of reaching out to this emerging market," Velasquez says. "They need a strategy, a plan for understanding the culture."

The most effective resources for reaching the Hispanic market are underutilized and overlooked, in part because they differ from what many franchising executives are accustomed to using, he says. The Catholic Church, Spanish-language newspapers, the League of United Latin American Citizens, and Spanish radio are all viable resources for reaching potential Hispanic and Latino candidates, he says.

"Spanish radio is the most listened to in the country, and the ad rates are less expensive than other stations," Velasquez says. "Traditional marketing won't work. But people come up with too many excuses for not changing the way they do business. I tell those who won't change that their competition is grateful."

Velasquez says there is plenty of capital available in the Hispanic community, particularly in places such as Miami, Los Angeles, and San Diego. "There's tons of money out there and there has been for 20 years."

For today's non-Hispanic franchise executives, learning more about the culture they're reaching out to is paramount. Velasquez notes that Hispanics and Latinos generally are very family- and church-centered, have a tremendous work ethic, and are great savers.

"Understanding the role of culture, what and how we purchase, is important for franchisors," he says. "Franchisors need to look at how other businesses market and try the same things. If you don't believe this is a viable market, then it is your loss."

His job, says Velasquez, is to help companies put together marketing strategies to reach Spanish-speaking communities. While he offers translation services and training materials, he says that everyone will learn English eventually, and that should not be a criterion for ownership. "I think it's unrealistic to expect people to learn English," he says. "By the third generation, assimilation will be complete. It's the money that counts--and the money's in English."
Published: December 12th, 2006
Share this Feature
Recommended Reading:
Comments:
comments powered by

Disqus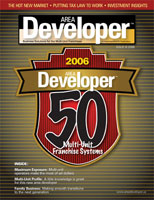 Multi-Unit Franchisee Magazine: Issue 3, 2006
Tropical Smoothie Cafe is a healthier, quick-casual restaurant brand with 1,175+ locations in 44 states. One of its key differentiators is what the...
Cash Required:
$125,000
Brain Balance has 80 centers nationwide and continues to grow with global expansion on the horizon. Brain Balance offers a drug-free program designed...
Cash Required:
$125,000