Welcome Back! MUFC returns bigger and better than ever 
Following a series of cancellations and rescheduling brought on by the Covid-19 pandemic, multi-unit operators, franchisors, and suppliers reunited at Caesars Palace August 31–September 3 for the 20th annual Multi-Unit Franchising Conference. There was a fresh buzz in the air, along with stellar keynote speakers, in-depth educational sessions and panels, plenty of networking, and a overflowing Exhibit Hall once again open for business after a long hiatus.
Attendees looked to gain insights for operating their businesses, rekindle old friendships, build new ones, and uncover valuable takeaways to help their organizations grow—despite the continuing uncertainty brought about by the pandemic and its variants.
The proof is in the numbers, as this year's conference set a new record with more than 1,800 registrants, reflecting a long overdue, pent-up demand to get together in person after much too long apart.
The conference rooms and hallways were packed throughout the event, with a lively group gathering at the bar each night. In addition to all the franchisors seeking new franchisees and the more than 200 exhibitors displaying their wares and services, registrants included nearly 700 multi-unit franchisees operating more than 12,000 units with more than $11 billion in systemwide sales—with plans to open 3,700 stores in the next 12 months. (Talk about pent-up demand!)
First night – bowling and hors d'oeuvres
The conference kicked off Tuesday evening at Brooklyn Bowl, a short walk across Las Vegas Boulevard from Caesars Palace in the Linq Promenade. The informal social event offered a chance for franchisees to connect with their peers. For many, it was the first conference they'd attended since pre-pandemic days. The opening reception afforded the chance for first-time attendees and conference veterans to meet, mingle, snack... and yes, bowl, for a few brave souls. While scores were not impressive, the networking and fun quotient was off the charts, with many new connections made at this franchisee-only event.
Day 1: Welcome back!
Franchise Update Media Chairman Gary Gardner welcomed the crowd to the 20th annual event, noting the special feeling generated by old friends seeing each other for the first time in too many months. Gardner and former Conference Chairs Cheryl Robinson, Rocco Fiorentino, Rob Branca, Gary Grace, Sean Falk, and Greg Cutchall handled the introductions of sponsors and speakers during the conference.
The first keynote speaker was Ben Nemtin, co-author of the best-selling book <What Do You Want To Do Before You Die?> He also is a creator, executive producer, and cast member of the MTV series "The Buried Life," a show about how four young Canadian men created a bucket list of 100 items and took it on the road.
Nemtin shared his journey of how he found inspiration and purpose in life after anxiety drove him off Canada's national rugby team and into a major depression. (Rugby, he noted, is the third most popular sport in Canada, "after hockey and hockey.") Nemtin said his friends pulled him out of it—along with the question, "What do you want to do before you die?"—which created the spark to turn his life around.
He and his three friends set out on a 2-week summer road trip with a camera, a borrowed RV, and a bucket list of 100 things to do. For each item they accomplished on their list, they helped a stranger achieve something on that person's list.
Nemtin boiled down the essence of achieving seemingly impossible goals to having accountability, inspiration, persistence, and fear—and laid out five simple, yet effective, steps to help achieve each goal: 1) write it down; 2) share it; 3) persist, be tenacious; 4) take moonshots; and 5) give to others.
He said that to achieve one's dreams, turn them into a project and break them down into manageable steps. One reason he said people don't achieve their dreams is that there are no deadlines other than the ones we set for ourselves. To remedy this, he said to share your dreams with others and find an "accountability buddy" to keep you focused on making your dreams real. Another obstacle to crossing items off your bucket list, he said, is that most people wait for inspiration to take action. But in his experience, he said, that's exactly backwards: "You create your inspiration through action."
Citing a study that found 76% of people said that "at the end of life we don't regret what we did, we regret what we didn't do," he suggested imagining yourself at 90 looking back at your life and asking how much time you spent making your dreams come alive. The keynote was sponsored by Inspire Brands and Jersey Mike's.
Powerful sessions
The keynote presentation was followed by two general sessions. First up was "Lessons From the Edge: Successful Franchisees Tell Their Stories." Former MUFC Chair Fiorentino, a Primo Hoagies franchisee, facilitated a session with four other multi-unit operators: Dawn Lafreeda (Denny's); Glen Helton (Burger King, KFC, TGI Fridays); Anil Yadav (Jack in the Box, Denny's, and several more); and David Ostrowe (Taco Bell). Each panelist responded to questions such as, "What are the biggest hurdles in franchising?"; "What kinds of incentives have you used to get employees back?"; and "What technology and best practices are you using?" The general session was sponsored by Dunkin', Pronto Insurance, Take 5 Oil, and Zaxby's.
Next, box lunches were served as attendees were treated to a "Fireside Chat with Nigel Travis," former CEO and now Executive Chair of Dunkin' Brands. Dunkin' franchisee Rob Branca hosted an informal conversation with Travis, who drew insights from his book <The Challenge Culture: Why the Most Successful Organizations Run on Pushback.> Travis previously held a number of C-level positions with Burger King, Dunkin', and Papa John's.
"It's important to challenge the assumptions about how you do business," Travis said. "Everybody at every level should be able to ask questions." This general session was sponsored by 7-Eleven, Checkers & Rally's, Great Harvest, uBreakiFix, and Zignyl.
Afternoon breakout sessions followed. There were three tracks this year: Growth, Operations, and Relationships. The first Growth Track session was "Service-Based Brands Are Viable and Scalable"; the Operations Track was "Protect Your Eroding Bottom Line"; and the Relationships Track was "Franchisee and Franchisor Relationships." Panelists shared candidly and fielded questions from the audience.
Following the breakout sessions, the doors of the Exhibit Hall opened for the first time. More than 200 new and longtime exhibitors were eager to chat about everything from new franchise opportunities to products and services aimed at helping multi-unit franchisees grow—faster, smarter, and more profitably. Inside the packed hall, with exhibitors overflowing into the hallways, attendees availed themselves of food and drink as they visited with franchise brand representatives and suppliers.
Day 2: Breakouts and keynotes
Day 2 began with concurrent breakout sessions. The Growth Track session was "Scale Your Organization for Growth"; the Operations Track was "Tools & Technologies to Enhance Operations"; and the Relationships Track was "Franchise Action Network—Drive Change at the Local, Regional, and National Level." The rooms were packed and moderators left plenty of time for questions.
The morning sessions were followed by the annual "State of the Economy" report from FRANdata CEO Darrell Johnson. He appeared by video this year and offered a mixed bag of cautionary advice and good news.
Covid and its effects, he said, will be with us for at least another year, perhaps much longer. And supply chain disruptions will continue to be an issue until at least 2023, with supply-side pressures contributing to inflationary concerns, compounding the labor shortage and wage hikes.
On the upside, Johnson predicted that consumer spending and GDP both will rise in the coming year, and noted that small-business lending is cautiously growing (see sidebar for factors affecting capital access). On the domestic labor front, he said, wage pressures will continue to increase across almost all categories, causing a rapid acceleration in the shift from labor to capital.
"A lot of what we're seeing was evolutionary; very few of the things that are changing today were caused by the pandemic," Johnson said. "But what the pandemic did change is that it compressed what was evolutionary across the next 5 or 6 years and pushed that into 18 months."
This acceleration, he said, has long-term consequences, including the possibility that inflation will be greater than what had been previously forecasted. For franchisees, this means added pressure to raise prices and/or create new efficiencies, such as replacing labor with technology where feasible (e.g., online ordering, delivery, contactless payment, kiosks, and QR codes).
Looking ahead on the consumer spending front, he said, "Things are set up for a decent 2022. The big unknown is what's below the water line—and by that I mean long-term changes around consumer behavior, labor, and government actions."
He said a rise in the number and types of alternative lenders is likely, but at higher rates than traditional lenders. And he expects M&A activity to set records in the coming year or more. "The Fed has flooded the market with a lot of money over the last couple of years and that money will have to find a home."
This general session was sponsored by Bojangles, Buffalo Wings & Rings, and the IFA. Johnson's full 29-minute presentation is available online (or search on YouTube).
A year in space
Following the economic forecast, it was time for a "loftier" presentation: the next keynote speaker was Capt. Scott Kelly, the U.S. Navy fighter pilot and NASA astronaut credited with being the first person to spend a year in space. Kelly centered his talk around the idea of "doing the hard things." He spoke of being a poor student and struggling as a Navy pilot, but emphasized how he kept working at it until he was successful.
Kelly said NASA taught him compartmentalization, the skill to focus on things you can control and ignore what you can't. To franchisees, he said, "You can't control the economy in this pandemic or when we'll come out of it," he said, but added there are many more things franchisees can control and to focus on those.
During his year in space, it fell to Kelly, as commander of the International Space Station, to make the final decisions. "Situationally dependent leadership is the key to my success," he said—along with teamwork and the ability to listen to experts. NASA, he said, taught him the value of diversity, of a team of people who see things differently, calling it a "superpower for the organization."
Despite all the precautions and care involved in every space flight, it still is an inherently dangerous business. But with proper preparation, and a team he could trust and rely on, the risk—and the view of Planet Earth from so many miles above—was more than worth it for Kelly, as well as the clear goal of furthering the science and technology of space exploration. And while "taking risks and being willing to fail I think sets the most successful people apart," he also said that "before we go to Mars we need to take care of this planet."
Kelly's keynote was sponsored by Lemon Tree Hair Salons.
Next on the agenda was a general session called "Succession Planning: From Future Growth to Your Exit." Multi-brand franchisee Jesse Keyser (Little Caesars, Sport Clips, Oxi Fresh) moderated an all-franchisee panel consisting of Paul Booth, Jr. (McDonald's, Ace Hardware); Fred Burgess (Papa John's, Twin Peaks, IHG, Marriott); Eric Danver (Hand & Stone Massage); and Jeff Tews (BrightStar Care, BrightStar Senior Living).
Keyser gave each panelist a chance to answer questions such as, "Who will you leave your business to?" and "How do you prepare to pass the business on?" The session was sponsored by Boefly, Scooter's Coffee, Entrepreneur, and FranConnect.
The final general session, "Legislative Impact on Franchisees Today," featured moderator David Barr, a KFC, Taco Bell, and Capriotti's franchisee and past IFA chair; Kimberly Crowell, a Jersey Mike's franchisee and 2018 MVP; Michael Lotito, Co-Chair, Littler Workplace Policy Institute and Shareholder, Littler Mendelson; and Matt Haller, president and CEO of the IFA. Panelists dug into upcoming potential government actions likely to affect franchising, including federal actions that could threaten the franchise business model itself.
Following this final general session, attendees had one final opportunity to visit the Exhibit Hall for the remainder of the afternoon, meeting with franchisors to explore new brands, and with suppliers to discover new tools to increase efficiency and boost their bottom lines.
Day 3: Embracing change
Friday morning's closing session featured multi-unit management expert Jim Sullivan for a presentation called "Dream Teams: 7 Smart Ways to Staff, Engage, and Lead Your Front-Line Workforce & Managers." Sullivan stressed how hiring, managing, and technology all have changed, and that successful franchisee leaders must change along with them. "If you want to improve the customer experience, you start by improving the employee experience," he said. "Leaders who are serious about hiring also have to be serious about teaching."
They'll be back!
"I was really impressed and benefited from all of the industry leaders who presented, as well as the different panels and breakout sessions that were moderated and led by other franchisees," said Hand & Stone Massage franchisee Eric Danver. "Some of the best practices and thought processes on how to run my business currently, as well as planning for the future, were really helpful to me."
Olon Hyde, a multi-brand franchisee with Office Pride and Scooter's Coffee, said, "This is a great conference because it's focused on franchisees. You are sitting down with peers who are facing the same issues as you are, and you can share best practices and lessons learned. It's also a great place to look at other brands and learn more about them in a structured environment that also provides the chance to talk with other franchisees about brands they operate."
The 2022 Multi-Unit Franchising Conference will return to Caesars Palace in Las Vegas next March 29–April 1. For more information, visit www.multiunitfranchisingconference.com.
CONFERENCE BY THE NUMBERS
Aggregated statistics from the 2020 MUFC
1,800+ Total attendees registered
670 Franchisees registered
12,000 Total units owned & operated
309 Exhibitors & sponsors (combined)
$11 billion+ Total annual revenue
77% Franchisees seeking new brands
3,700 Units to open in the next 12 months
Today's State of Franchise Lenders
1) Conventional lenders
— Taking an industry portfolio concentration approach
— Focusing on existing portfolio first
— Moving slowly into new deals
2) SBA lenders
— Pivoting from PPP lending to regular lending programs
— High demand by borrowers to refresh, expand, grow
— Projection-based underwriting means more analysis
3) Alternative lenders
— Just beginning to see risk/reward opportunities
— Opportunistically targeting good borrowers and pricing for risk
For all lenders, more due diligence, more information, and more questions.
Published: December 11th, 2021
Share this Feature
Recommended Reading:
Comments:
comments powered by

Disqus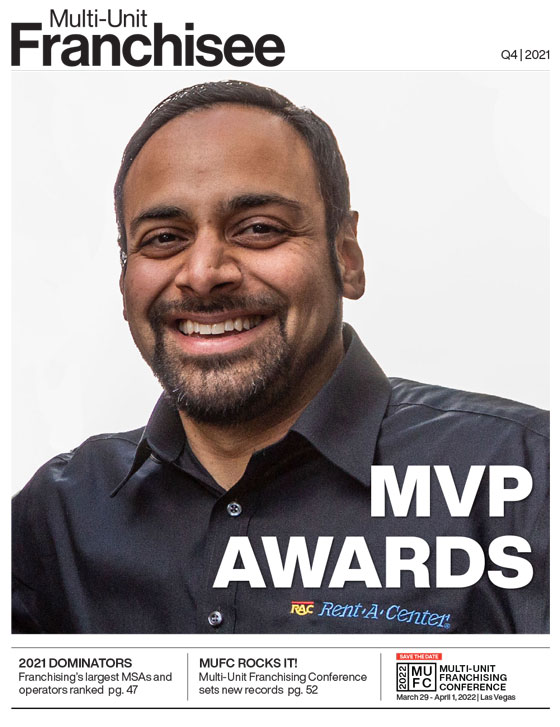 Multi-Unit Franchisee Magazine: Issue 4, 2021
Happy Joe's Pizza and Ice Cream Parlor combine a retro family-friendly pizza parlor, a neighborhood ice cream parlor, a fun arcade center, a...
Cash Required:
$150,000
At Nautical Bowls, we combine healthy, fresh superfood bowls with an uplifting atmosphere, giving you energy to life a full life! Our goal is to...
Cash Required:
$100,000