What Are You Paying For?: Franchise Salary Survey Reveals More Than Just The Numbers
I made a presentation to a national law firm's franchise practice group a few years ago with the title, "You Won't Believe What You Can Learn From a UFOC." The presentation was made to people who were responsible for putting UFOCs (now FDDs) together. They were surprised to learn all the things that could be analyzed and extracted from the documents they prepared.

I was reminded of their response last fall as we completed a compensation survey of jobs specific to franchises. We collected and analyzed data from contributing franchisors. Equally important, we overlaid additional data from other sources, most notably our own databases of information about every franchise system. The whole is definitely more than the sum of the parts.

We undertook the study because many franchisors approached us with the same dilemma: they could get comparable salary information about common corporate functions for C-suite and for technical jobs such as accounting. There was no information, however, about job functions uniquely designed in a franchising framework, including development, field staff, site selection/pre-opening, compliance, training, marketing, and legal. In the process of analyzing the obvious salary data, we learned so much more.

I'll start with the obvious: job descriptions, salary ranges, and salary composition. As every hiring consultant will tell you, the most important part of hiring is to know exactly what it is you want the person to do. If you are clear about your job description, it is a lot easier to find candidates, decide among them, and judge their performance after they are hired. We got lots of input from survey participants about job functions that led to some common descriptions.
Position descriptions vs. actual responsibilities
The study included a description of 14 job functions. More than half of the respondents, 54 percent, found the actual job responsibilities in their organizations were about the same as those provided in the survey job descriptions.

As we looked at the life cycle stage of each contributing franchisor, the significance of such information became obvious, especially for early stage and growth stage franchisors. Franchisor executives typically start out wearing multiple hats. As the system grows, executives start shedding hats and bring in manager specialists. For strategic planning and budgeting purposes, it might be helpful to know approximately when that starts happening for franchisors in specific sectors.
Managers vs. professionals
The basic purpose of the study was to identify actual salary ranges for various job functions. Salary ranges are also helpful to understand in the context of industry, concept age and size, and geographic area. In today's franchising community, experienced people are much more inclined to work in several industries and many sectors during their careers.

We were also able to understand the differential between manager compensation and staff compensation. Benchmarking that difference can have a significant impact on budgeting, team relationships, and performance.

Managers, on average, are paid 1.61 times more than their professional staffs. The following table shows the average base salaries, irrespective of industry or other groupings, of each role across the seven functional groups.


                                                                      Mgr./Prof'l

                                           Manager    Professional    Differential

Franchise development                     $109,523      $66,821          1.63

Site selection, pre-opening activities    $130,690      $70,483          1.85

Franchisee training                        $79,300      $52,432          1.51

Field operations                          $111,407      $62,162          1.79

Compliance                                 $72,968      $41,975          1.74

Legal services                            $131,222     $102,822          1.28

Marketing                                 $106,308      $64,917          1.64

Average                                   $105,917      $65,945          1.61



What more can we learn from this data? Lots. We are repeating the survey this year and hope to be able to bring you organizational conclusions besides simple position information. For example, in the area of company organizational structure:
What should my organizational chart look like as we grow?
When do I create separate positions for franchise job functions?
Am I under- or over-staffed relative to my peer group?
Am I providing enough, not enough, or too much support for my franchisees?
Are there outcomes over time that will help me determine the return I'm getting from a particular job function?
How do I determine whether a particular department's budget is not enough or too much relative to that department's responsibilities?
Am I structuring my overall compensation program consistent with the market?
How do different business development and support models affect operating costs?
Can some department metrics be benchmarked across my peer group?

We are in a period of expense containment. Sure, we want to grow our businesses, increase revenue, and add products and services, but the economic downturn makes all those things harder and, therefore, more costly. With a focus on expense control, compensation is one of the first areas to review, because of its relative cost significance to most franchisors. Benchmarking compensation in this environment not only makes sense, it can make cents. A dollar of incremental revenue brings pennies to the bottom line. A dollar of incremental cost savings brings a dollar to be bottom line.

Darrell Johnson is President and CEO of FRANdata, an independent research company supplying information and analysis for the franchising sector since 1989. He can be reached at 703-740-4700 or djohnson@frandata.com.
Published: August 10th, 2009
Share this Feature
Recommended Reading:
Comments:
comments powered by

Disqus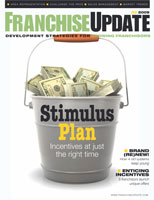 Franchise Update Magazine: Issue 2, 2009
Our franchise management software helps increase unit growth, reduce opening time, track and improve unit performance, automate financial reporting...
ApplePie Capital provides a fresh new approach to franchise financing that is focused on your growth and success.