What Franchise CEOs Must Do To Lead for Success During Covid-19
When you're the leader of an organization, you have a responsibility to the people who follow you. You have to provide a clear plan for success, calmness in a time of uncertainty, and a positive outlook, no matter how you're feeling yourself.
When you're the CEO of a franchise brand, that responsibility is magnified. You have your headquarters staff, your franchise location owners, and their employees to guide through challenging times. With the Covid-19 pandemic, franchise leaders everywhere have been called upon to step up their game like never before, and their job isn't done yet.
Here are four of the challenges and opportunities franchise CEOs are facing during this time.
1) Different people, different needs
A franchise's Covid-19 response is not going to be one-size-fits-all. You have locations in different areas of the country with different levels of impact, from the illness itself to government lockdown orders.
In addition, you have location owners at different levels in their business. There are people who have been in business for years with plenty of reserves saved up and a solid, reliable staff behind them. And then there are franchisees who were just starting out and learning the ropes when the pandemic hit.
All of the people within your organization need different methods of protocol, support, and communication. The best CEOs are tailoring these messages – and support for what people actually need – not just sending out cookie-cutter missives.
2) Leverage the team
The benefit to being in a franchise network at this time is that no one is in it alone. Everyone, from location owners to the CEO, can rely on the team for input, advice, and support. Great CEOs are relying on their professional staff to address the needs of the system and its franchisees, putting their expertise to work for the location owners.
But headquarters isn't the only place support and advice can come from. Location owners can network with each other, benefitting from each other's experience and getting support, advice, or even just sympathy.
In times like these, this level of teamwork and camaraderie is where a franchise system really shines, and a great CEO will know how to facilitate that idea-sharing to everyone's advantage.
3) Find new opportunities
A forward-looking franchise CEO isn't trusting business-as-usual to bring success during and after Covid-19. The best leaders are identifying new opportunities that will arise during this time. While some products and services will always be needed, consumer wants and needs will likely be changed forever by this experience.
A great CEO is one who is looking ahead, projecting a year down the road, and bringing in products, services, and procedures that will expand the brand in the new normal. They're taking advantage of any slow time or closures to train their location owners and staff on these new offerings. They're leading the charge on continuing to grow instead of stagnating.
4) Don't just survive – thrive
Right now, the best franchise networks are using every tool at their disposal to come out of this pandemic in a better situation than they were in before. This pandemic won't last forever. It will pass, and business will continue. But the difference between surviving and thriving in what comes next boils down to staying positive, being flexible, and planning for a bright future.
Charles Bonfiglio is president and CEO of Tint World, a provider of automotive, residential, commercial, and marine window tinting and security film services. With Automotive Styling Centers in the U.S. and abroad, each franchise location houses approximately 20 profit centers, ranging from in-store accessory installations to offsite sales and installation.
Published: May 13th, 2020
Share this Feature
Recommended Reading:
Comments:
comments powered by

Disqus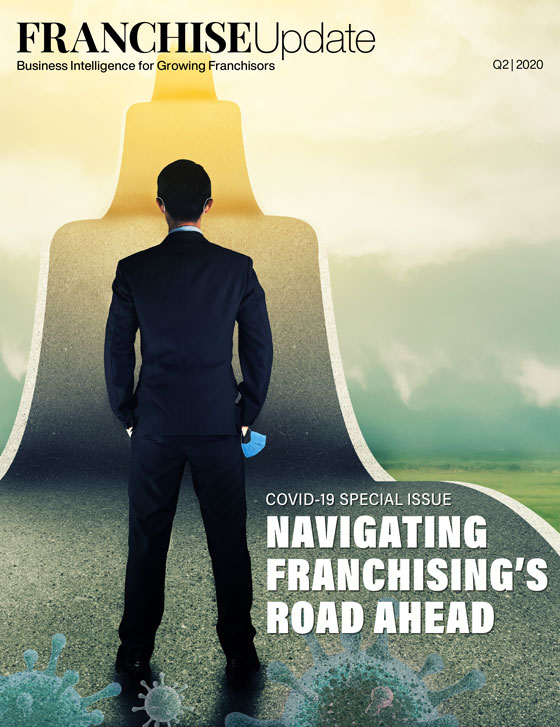 Franchise Update Magazine: Issue 2, 2020
Oct. 18-20, Atlanta, GA. An exclusive event for franchisor CEOs, Presidents, COOs, CDOs and Franchise Development Executives.
Bring Order to Your Business. All-in-one management, print, and design solutions at your fingertips, on one platform