What's Driving Multi-Unit Growth?
Stats point to continuing multi-unit expansion
For the past few years you have heard me note that the majority of franchised units in the U.S. are owned by multi-unit operators. With more than 400,000 franchised units in the country, multi-unit operators control about 53 percent of those units. That's impressive, and the percentage controlled by multi-unit operators is rising. This growth is a consequence of many brands focusing their development models on multi-unit development packages over single-unit programs.
Today, FRANdata's database shows the following breakdown of multi-unit operators (MUOs):
| | | |
| --- | --- | --- |
| Category | Actual MUO Count | Estimated MUO Count |
| MUOs with 2-5 units | 28,862 | 32,069 |
| MUOs with 6-10 units | 3,411 | 3,790 |
| MUOs with 11-25 units | 1,630 | 1,811 |
| MUOs with 26­-50 units | 397 | 441 |
| MUOs with 50+ units | 162 | 180 |
These are the "known" franchisees in our database. While we try to keep up with the changes in each franchise system, our database does not include current data for all of today's 3,500-plus brands. Therefore, each category understates the actual total. Since our database is more current with the larger brands and most of the medium- to smaller-sized brands, any under-counting is primarily with the less-established brands, which are less likely to have many multi-unit operators.
Statistically, we think we have more than 90 percent in each category. Using this 90 percent confidence level leads us to the estimated counts in the right-hand column. Thus, in total, we believe there are more than 38,000 multi-unit operators in the U.S. With the number of units they control and the brands and sectors they operate in, that puts the combined annual revenue of multi-unit operators somewhere around $100 billion. There's some serious operational, business, and political influence in that figure.
We know the number of units they control is growing. But how is the number of multi-unit operators changing? For that, we can turn to our actual database counts. Assuming the actual-to-estimated changes are consistent, the actual counts should reflect about the same percentage change per category that our estimated numbers would show.
Category

Actual MUO
Count 2007

Actual MUO
Count 2010

Percentage Change

MUOs with 2-5 units

24,615

28,862

+17.3%

MUOs with 6-10 units

2,704

3,411

+26.2%

MUOs with 11-25 units

1,271

1,630

+28.3%

MUOs with 26-50 units

318

397

+24.8%

MUOs with 50+ units

130

162

+24.6%
In a three-year span, we've seen a 17 percent increase in entry-level multi-unit operators. That's certainly consistent with our analysis of the development models franchise brands have been using over the past few years. To wit, entry-level multi-unit operators' average annual growth of nearly 6 percent slightly exceeds the growth of franchised units generally, which has been expanding by about 5 percent per year.
Much more interesting is the expansion of the larger categories of multi-unit operators. In the three-year span, those categories expanded about 25 percent. Even more interesting is the consistency with which each category expanded, ranging between 24 and 28 percent.
Several obvious trends are affecting these outcomes. Multi-unit development models became a common form for expansion only in the past 20 years. In a life cycle sense, the data confirm that this model is still solidly in a growth mode. And although many franchisors have had to cancel contracts for development, especially for the second and third units within the contract timelines, these data suggest that many second, third, and fourth units have been added in recent years.
We also can't ignore the impact that one of the "big two" small-business challenges--capital access--may have had on the growth statistics of multi-unit operators (the other, of course, is unit sales in a soft economy). Most banks have tightened their underwriting borrower qualification standards to include existing experience in the industry. This undoubtedly has led to more multi-unit operators compared with new single-unit operators.
Finally, it should be noted that the growth of multi-unit operators is happening, in part, from the exiting of some single-unit operators. Transfers are on the rise across many industries. As I've noted in a previous article, multi-unit operators increasingly are the buyers of existing units. It makes sense, since they are in the best position to evaluate the current operations and future potential of an existing unit.
All of this suggests a continuing rise in influence of the multi-unit operator within franchising. Want further evidence? Franchise Update Media Group's Multi-Unit Franchising Conference has set attendance records in each of the past three years. Looks like I'll be seeing more of you in Las Vegas next April!
Darrell Johnson is president and CEO of FRANdata, an independent research company supplying information and analysis for the franchising sector since 1989. He can be reached at 703-740-4700 or djohnson@frandata.com.
Published: January 10th, 2011
Share this Feature
Recommended Reading:
Comments:
comments powered by

Disqus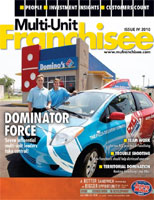 Multi-Unit Franchisee Magazine: Issue 4, 2010
One of the fastest growing franchises in the U.S., Jimmy John's has been making fresh, fast, tasty sandwiches since 1983 - and seeking...
Cash Required:
$200,000
Einstein Bros. Bagels is the largest fast-casual bagel brand, known for its freshly-baked bagels, made-to-order hot sandwiches, signature shmears...
Cash Required:
$564,300