What's in a Name?: For Sport Clips' Largest Franchisee, It's Everything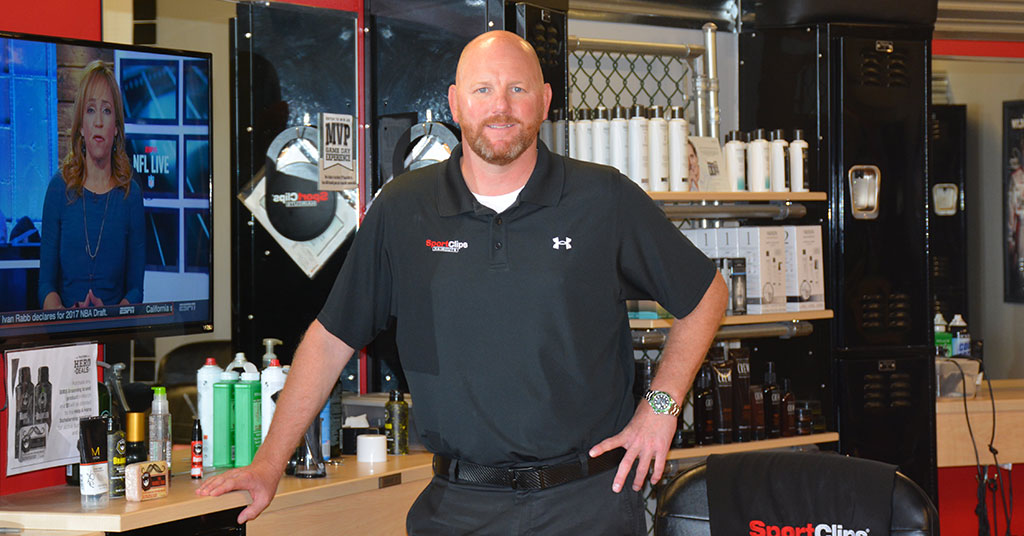 If there is a way to see or hear the Sport Clips name, Johnny Weber will make it happen. Weber, the brand's largest franchisee with 56 stores, and recipient of the 2017 MVP Single Brand Leadership Award, is all about spreading the word on the brand--all day, every day, in every way.
"We like to say we are leaving a little Sport Clips glitter everywhere," says Weber. "We logo cars, shirts, hats, and our tailgate tents at SEC football games. When we order coffee or a table for dinner, it is under the name Sport Clips. If we can name it, we put it there. We try to brand everything."
Weber's hustle to expand and passion for the brand are fueling his drive to grow his portfolio to 100 stores with "a team that is superior to any in the industry," he says.
Sport Clips founder and CEO Gordon Logan, who nominated Weber for the award, calls him a superstar franchisee. "We couldn't have a better brand ambassador than Johnny Weber," says Logan.
Weber recently earned another nod from his franchisor at the brand's Annual Huddle with "The Sporty Award" (named for the company's mascot) for turning the brand's "culture into a way of life." Weber, a franchisee since 2008, is also the brand's area developer in Tennessee, Indiana, Kentucky, Alabama, and the Florida Panhandle.
With a constant focus on supporting his fellow franchisees, Weber says he is in the business of building and growing people. "It is my belief that the better we can build a brand nationally, the better we are all going to do."
Name: Johnny Weber
Title: Franchisee/area developer
No. of units: 56
Age: 45
Family: Two sons, Cole, 20, and Tanner, 18
Years in franchising: 8½
Years in current position: 8½
Personal
Formative influences/events:
My father Eugene Weber. He taught me how to be honest, work hard, and treat people right. I grew up on a farm in Oklahoma. I was also the president of my FFA chapter and was an Oklahoma State Wrestling Champion (work ethic, passionate, competition).
Key accomplishments:
Area Developer of the Year, National "Sporty Award" Culture Leader for the Sport Clips brand, Area Developer Leadership Award, largest franchisee in the Sport Clips brand.
Work week:
We hustle every day! When you love what you do, then you do what you love! We are open seven days a week and work our schedule around our clients' schedules. I eat, breathe, and sleep Sport Clips with a focus on growing the brand every day.
What are you reading?
20,000 Days and Counting: The Crash Course for Mastering Your Life Right Now by Robert D. Smith, and The Seven Decisions by Andy Andrews.
Best advice you ever got:
"Life doesn't get better by chance, it gets better by change." You have to put in the work to get results. Don't be afraid to try something, because if it doesn't work it is better to try and not succeed than not try at all.
What's your passion in business?
Building relationships is crucial for business success, and it gives me great satisfaction. I am passionate about having a positive impact on those around me. I am building a brand by focusing on building relationships and people.
Management
Business philosophy:
To create a championship haircut experience for men and boys in an exciting sports-themed environment.
Management method or style:
1) Living by our values and heart of a champion. 2) Can I trust you? - To do what's right. 3) Are you committed to excellence? - To do your best. 4) Do you care about me? - By treating others the way they want to be treated.
Greatest challenge:
Starting my business with very little money. However, it taught me how to maneuver through hard times and find lending partners, both banks and private lenders.
How do others describe you?
You can see the passion I have for Sport Clips every day. I am logoed everywhere I go and consider myself a leading ambassador for this brand and this industry. I think other people see that I care for others and I want to help people succeed. They will also see the will to win in all aspects of my life and business. Motivated, passionate, and kind.
How do you hire and fire, train and retain?
You can only be successful if you can build great teams! We are in the people business. My team is my biggest investment. Training is key to retaining, and we hire to develop. Our training programs are critical in developing, motivating, and retaining each team member. When a team member is competent, they are confident. Confident team members provide a championship haircut experience and stay within our organization. Turnover can be detrimental to any organization, and we work with any team member that loses focus of company goals. Our goal is to have each team member experience personal and professional growth within our organization. If turnover does happen, our teams need to know that they did everything they could to help that team member before parting ways.
Bottom Line
Annual revenue:
$23.8 million.
2017 goals:
To open 11 personal stores and 22 in my developing territory.
Growth meter: How do you measure growth?
Same store sales growth, revenue, and client count. As we grow the brand, the number of stores we are adding is important as well.
Vision meter: Where do you want to be in 5 years?
I would like to own more than 100 Sport Clips stores and have a team that is superior to any in the industry.
What are you doing to take care of your employees?
Becoming the employer of choice is a top priority within my company. We have high expectations of our team members and value the work they do. Being able to provide a work and home life balance is something we pride ourselves in. We really focus and invest time in developing team members to move up in our organization. "We Hire To Retire" is a philosophy we live by to train and share daily business skills to become a lifer in our organization. We develop a relationship so we can help in times of need and help coach our team members like we would a friend.
What kind of exit strategy do you have in place?
I haven't ever thought about an exit strategy. I'm still pretty young and dream about continuing to grow my business better and larger to provide opportunities for the great people who work with me.
Single Brand Leadership Award
Why do you think you were recognized with this award?
Appreciation is the first word that comes to mind. As an entrepreneur I love what I do and appreciate the values Sport Clips is about. Back when I started my company, I bought and took over several stores that were struggling and turned them around to profitable locations. I have always been willing to help other franchisees and team members of our brand. We build our business following these core values and truly care about the brand and all of our team members.
How have you raised the bar in your own company?
Surrounding myself with a great team has allowed growth and strong team development. Our standards are met through hard work and dedication. Every quarter we are focusing on the next and building to end the year with a bang.
What innovations have you created and used to build your company?
Keeping it simple is where we start every day. If we treat every client with kindness and a sense of urgency we can create that "wow" experience! Our smiles are the most important part of our uniform.
What core values do you think helped you win this award?
Trust, compassion, determination, and leadership drive me every day to be the best I can be. I pass this along to all avenues of Sport Clips. I know there will be obstacles and times of struggle, but through determination and belief in our brand success will follow.
How important is community involvement to you and your company?
Being part of local communities is something that gives back to me every day. As a small-business owner, having community support is huge. Whether it is pairing with a local charity or donating our time (and sometimes our hair) to the nonprofit St. Baldrick's Foundation in the fight to conquer childhood cancers, that's what our business is about. We try to pay it forward and rally around our communities as much as possible.
What leadership qualities are most important to you and your team?
Accountability and pride in what you do are at the top of my list. We want to make sure there is complete satisfaction for every client, every time and deliver a flawless and championship MVP experience.
Published: October 26th, 2017
Share this Feature
Recommended Reading:
Comments:
comments powered by

Disqus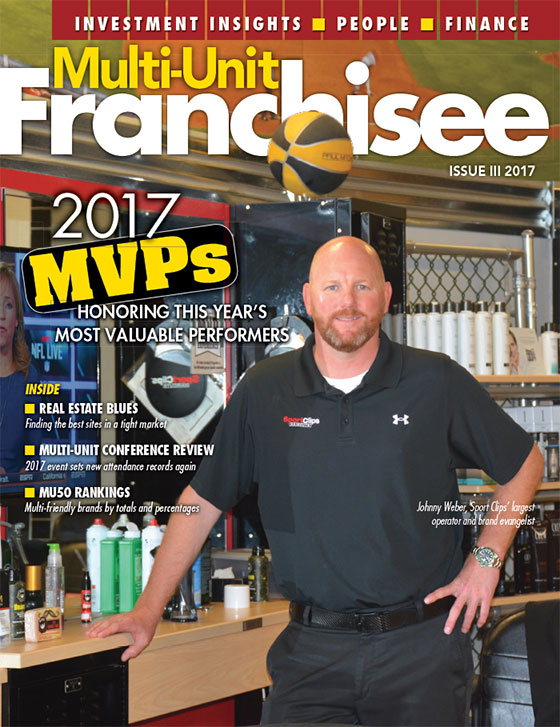 Multi-Unit Franchisee Magazine: Issue 3, 2017
High AUVs + 8-hour operating days in a food category that's not oversaturated = an eggs-straordinary life.
Founded in 1959, Ziebart provides premium automotive appearance and protection services to extend the life of vehicles. Recently ranked #1 in its...
Cash Required:
$150,000