With Success Comes Responsibility: Tariq Farid's 15-Year Journey to 1,200 Stores
Tariq Farid is an amazing guy. He's passionate about his employees, his community, his family, and his religion, and based on a 2½-hour visit with him at his Wallingford, Conn., headquarters, if there were an award for the Nicest Guy in the World, he'd be on the list.
His family moved to the U.S. from Pakistan in 1981, when he was 12. From humble beginnings, including his father working multiple jobs and the family not having enough to eat, today Edible Arrangements--the company he founded with his brother in 1999--has more than 1,200 locations, $510 million in system-wide sales, and employs close to 10,000 people in 14 countries.
Great numbers, to be sure, and an immigrant success story well chronicled since Edible first took the franchising world by storm. In 2009, Farid was named the IFA Entrepreneur of the Year and the Ernst & Young Entrepreneur of the Year in the retail and consumer products category in Metro New York.
Since then, he's come through the recession, 3 years of a franchisee lawsuit, and started several charitable foundations. He says he could retire any time. Instead, he's embarking on several new ventures and expanding his existing ones.
Yet, he says, "This is the roughest, most difficult time of my business career."
For Farid, this is a time of heady change. His brother and co-founder Kamran retired. In May, after several years of searching, he hired a new president. The company is expanding into China, opening 3 to 4 stores a month, with about 30 expected by year-end. He's added Edible To Go, offering smoothies and fresh fruit (including chocolate-dipped!) to bring more traffic into his stores, and has started a business-gifting initiative. And he recently spun off Netsolace, the software company he started in 1999 (after selling his previous one to Teleflora).
Today he wonders if his longtime employees of 10 to 15 years are up for the organizational changes. "To do these things, we have to change here first, and first with me," he says. Concerned about avoiding what he calls "1,000-store syndrome," Farid says, "It's so easy to coast. People have to step up."
Beginnings in East Haven, Conn.
The idea of fresh fruit basket arrangements is well accepted today, but when he took the idea to lenders 15 years ago, it was a very different story. "The first question always was, 'Are you a restaurant? A food service? What are you doing?' And I couldn't really define what we were," he says. "No one really does this," bankers told him. Also, he had no money.
In 2000, Chris Dellamarggio walked into the store. He'd seen a fruit bouquet at his mother's house, loved the concept, and asked if he could open a franchise in Boston, where he lived. Surprised, Farid had the presence of mind to respond, "We've been thinking about franchising. Give me a few days and let me see what paperwork I need to send you," he recalls.
"He used the word franchising. I had no idea about franchising. I'd never even thought about it." At the time, he was trying to open his second store and was waiting for the loan to come through. All he knew about franchising was from when he was 16 and worked at a McDonald's. When he was hired, he had to watch training videos for 5 hours a day. "You want me to watch videos and eat McDonald's? I love it!" he says. "It was probably the best job I ever had."
After Dellamarggio left, Farid hit the Yellow Pages and flipped to Franchising. He found one area listing: Michael Seid's MSA, just up the road in Hartford. He called. Seid answered. An hour and a half later, after what Farid describes as a "most magical call," the journey to 1,200 stores was under way. "The magic was that he picked up the phone," says Farid. "I still remember sitting in the back, working on making a fruit arrangement, putting the phone to my head and saying 'I want to find out about franchising.'"
Seid told him, "Kid, I think you're on to something, but you have to prove it out." He advised him to build a few stores and stay in touch. Seid also told Farid to "keep going and I think you'll make something of it." The best thing Seid told him, says Farid, was, "It's really not complicated."
Seid, he adds laughing, says he doesn't remember the call, but it's had a lasting effect on Farid. "The majority of things you see me doing now--giving to the IFA, veterans and education programs, my foundations--is because of what he did that day. I feel that was worth hundreds of thousands of dollars to me because he gave me the confidence I could do it."
After that call, Farid told Dellamarggio that he'd get back to him in six months. He quickly learned all he could about franchising and started building his second store as if he were already franchising, taking careful notes on design, layout, paint, plumbing, floors, etc.
The next step in his journey came when he connected with a franchise consultant in Florida who told Farid he could produce all the necessary documents to get started for $7,000. "I sat in his living room for three days and wrote the UFOC there with him, chapter by chapter," says Farid. "As weak as it was, I understood exactly what was in there." He registered the first 10 or 15 states himself.
Soon after, at an IFA conference, Farid asked what he called a "dumb question." Someone approached him afterward. He turned out to be Stuart Hershman, a franchise attorney with DLA Piper. "Let me look at your document," Hershman said. Today, DLA remains his attorney. And in 2001, Dellamarggio became the first Edible Arrangements franchisee, opening in Waltham, Mass., just outside of Boston.
One at a time
"When I started franchising, it was all about selling packs. Sales guys would sell territories," he says. So at his first IFA conference, he sat in on a roundtable about growth through multi-unit sales. He had about 5 units at the time.
He was selling singles, but had sold 2 stores to a couple of franchisees, who he said dragged their feet on the second store. He asked the table, "What's the success rate of these people opening the stores in a timely manner according to the contract?" The person leading the roundtable responded, "You wouldn't ask that if you were in sales, because that's where the money is." Everyone else at the table was in sales, but they did open up to him, admitting that the success rate for second units was "pretty miserable."
Farid went back to his office and decided to stick with his one-unit philosophy for his first 700 to 800 stores. Instead of selling multi-unit packs, he says, if he saw a franchisee doing well with one store, he would encourage them to open a second, and help them do it.
Over the years, this approach worked spectacularly: from 1999 to April 2008, no stores closed, zero. "People asked me how many stores I'd closed. I'd say 'Closed? Why would I close stores?'" It took the Great Recession to do that.
"The reason we had our first closure in the heyday of 2007 and 2008 when things were on fire is my sales people took over and sold some franchises to people that they shouldn't have," he says. "A franchisor's responsibility is to look out for the franchisees, because that's the protection of your brand."
The IT factor
Farid says his early career in IT has played a big role in his success. "My growth has a lot to do with IT. In the '90s I had an IT company where we had a point-of-sale system and were doing IT for the floral industry. As soon I started Edible, I realized we needed an IT company and started one." It's called NetSolace, but the name may change: he's spun it off and moved it to Atlanta, with a plan to sell the technology to franchisors--and he's looking for a president.
When he started Edible, all the technology was built in-house. Everything was automated, from new store opening to royalty collection to having a website where 50 percent of the orders happened through the website. "I actually enjoy that more than anything. I love technology."
The people factor
"When I got into the franchising, I would reach out to people and ask, 'How do you manage the franchisees? How do you support the stores?' It was pretty amazing the kind of money you needed to run your organization." The biggest problem he found early on was "inconsistency in the people. Each trainer trained differently and each franchisee understood the directions differently--and the word that I remember in franchising was 'consistency.'"
The traditional path of hiring a consultant to write an operations manual and then depend on them to update it seemed costly and inefficient. "There are things changing by the minute, by the hour. How do we keep it updated? The cost of that is going to be crazy," he thought, so he turned to IT.
The first thing he created was an online operations manual, and then a help desk. Next, he created what he called the New Store Opening Kit. However, it didn't work as well as he'd hoped. "People would get ahead of themselves. They hadn't even gotten their lease yet and would go to the chapter Buy a Car and they would buy the van. And I'd say, 'Why did you do that? You haven't even gotten a lease yet!' Then the franchisee would call me and say, 'You know my store's delayed in opening and I have to make my car lease payment.'"
Learning as he went, he says, "I had to create a new technology that I called New Store Management. According to the stage you were at, it only showed you the next step: Oh, you're looking for a location? Here's how you look for a location. As soon as the person found a location, it released the next chapter: now you need to find an architect and a contractor. Here are some names."
2007: First bump in the road
In 2006, Edible opened its 500th location. The next year, as the company convention approached, business was great. "We were building a lot of stores," he says, "but franchisees were starting to raise the issue that we were growing too quickly."
He says the brand was "totally in control," with all the stores opening on time and no problem opening new territories. But he took the franchisees' concerns to heart. "I started to take some internal pauses. We started to have a store on the radar that was going to shut down, and a few stores were having issues. I realized my sales people were getting ahead of themselves, and that as we were growing our checks and balances weren't that good."
He says some of those franchisees should never have been signed. "The issue wasn't that they had competitors and the competitors were eating their lunch. We were boarding weak people with weak resources, and the banks were giving loans to everyone back then."
At the convention, he told franchisees, "I think you have a valid concern when you're seeing that we're maybe growing too fast. My objective isn't to open a lot of stores, it's to have very healthy stores. I want the brand to last, and not be a flash in the pan."
At the time, Edible was selling 200 stores a year, he says. "We were very careful about it. But the perception was that we were selling a lot--and we were," he says. "I said, no more. The focus is going to be back to the stores--to store comps, to building the stores, to solidifying the brand. My concept is going to be slow, steady growth. I have 800 stores now and don't have anything to prove to anyone any more, but I want the system to become solid," he says.
As it turned out, his choice to slow down sales couldn't have happened at a better time. "That was probably the biggest thing that happened to us from a blessing point of view--some good deed we did, I have no idea. The economy fell apart the next year. By then, we had already slowed down our development and were focused on the ones we were building. If we had sold another 300 stores, most of those people's financing would have fallen apart. They would have gotten in trouble."
He dialed the sales goal back to 100 to 125 a year. "And that is still the throttle now," he says.
The lawsuit: 2010 - 2013
Despite the success the brand was having, in February 2010 Farid received a letter from the newly formed Edible Arrangements Independent Franchisee Association (EAIFA) complaining about certain practices and policies. The EAIFA represented about 170 franchisees.
"It was really at a wrong time because it was the best years at our company," says Farid.
The letter listed 6 areas of concern: expanded hours (especially Sundays), the EA Connect program (a centralized call center for ordering), the EA website, advertising funds (national TV, promotions, discounts), vendor agreements, and competition from corporate stores. The letter said the association was ready to litigate, but "our first resort is to attempt to facilitate a just, equitable and fair resolution that is in the best interest of all parties."
Farid says he was always willing to sit down and discuss the complaints, and that all the changes were made with the long-term best interests of the system in mind. "I always say that the franchisor needs to look 5 years ahead of where the franchisees are," he says. "If you're doing the right thing and your focus is to grow the brand, there are going to be a certain number of people who are not going to understand."
If he had to do it all over again, "I would do it no differently," he says. "In the beginning people came to me and said, 'Look do you really want a lawsuit?' The last thing you ever want is a lawsuit with your franchisees. So I reached out to them and asked, 'Won't you get all 200 people together in a room and let me sit down and explain to you, and you explain to me how I could do it differently?'"
He said that if they could explain how to do things differently, he would do it that way, but he saw the changes as the best course in an evolving marketplace. "We saw the world was changing from a technology point of view: people were moving to mobile devices, people were moving to websites, traffic was moving a lot online," he says. "We had to make those web changes, we had to require the technology."
Farid says he has no issue with the formation of an independent franchisee association. "I think franchise associations are probably the best thing that happened in franchising--as long as they're focused on success of the franchise system. Even if they're focused on their success, they're the best things in the world. I sat there and said, 'I encourage you, I will support you, I will even help you. But you're not going to do it by telling me you can't open on Sundays. So give me a solution. Customers are calling and asking for that."
Nevertheless, the EAIFA got legal standing and did file a suit--which it withdrew 3 years later, following a lengthy negotiation process. Nothing much changed, says Farid, other than Sunday being optional after 3 years of being mandatory. "If somebody wants to, they can request that and we will make an exception. That's the only thing we changed at the end of those 3 years. He says about a third of franchisees are now closed on Sundays. Looking back, he says, "It was an unfortunate incident, where to a point the lawyers took over a little bit on both sides."
Looking ahead, Farid says he's learning to be as passionate about his foundations and contributions to local organizations as he has been about his business. He's focused on three areas: health, food, and education. He's encouraged his franchisees to send surplus fruit to local soup kitchens. And beginning with Hurricane Sandy, he's started a program where franchisees can request money to help an employee. "Within 24 hours a check will be FedEx'd out," he says. "My mother used to say, 'Do you want to feel great, honey? Go take care of someone." His long-term goal? To set up a charitable foundation that lasts long after he's gone. That's a legacy his mother--who taught him that "With success comes responsibility"--would be proud of.
Published: November 14th, 2014
Share this Feature
Recommended Reading:
Comments:
comments powered by

Disqus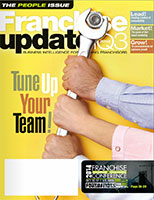 Franchise Update Magazine: Issue 3, 2014
Our accounts payable automation platform combines technology with simplicity & affordability. Save time and money, and automate your ap workflows...
More than 15 years of passion and fascination with the franchise system. Thanks to having met many Franchisees, today I can help new ones and those...