Women At The Top: Barbara Moran-Goodrich
Barbara Moran-Goodrich
CEO and President, Moran Family of Brands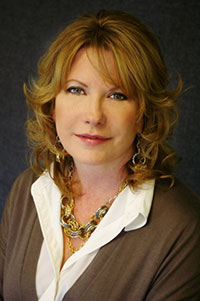 System revenue: $60 million
No. of units: 138
Public or private: Private
Founded: 1990
Began franchising: 1990
Years with company: 23
Years in franchising: 23
International locations: 0
How has your life experience made you the leader you are today?
I believe the saying, "You are the sum of all your experiences" is pretty accurate. I've experienced a lot of challenges throughout my life, both personal and professional, and those challenges have definitely helped guide me in leadership roles. As a young adult, I had a severe head injury that changed the direction of my life: I realized that you have to move on and not dwell on your situation. You need to get past it or you will become consumed by that moment in your life. Another situation I faced was that my son was born with a birth defect that caused him to stop breathing multiple times a day. Now that was a challenge! I learned that you often have to stay the course and believe the situation can get better. These are the same things I try to convey to our franchisees: Don't dwell on your situation and things can get better if you stay the course. Every day I strive to be a good leader, a visionary, a good listener, understanding, and a hard worker. There are days when I believe I have been a good leader and then there are days when I think, "Wow, I handled that poorly!" On those days, I reflect on what I could have done better and make sure I communicate with others to correct any negative direction I may have projected. I learn from it and then I move on.
Role models?
My first role model was and is my mom. Besides her teaching me how to be a mother and a wife, she was the one to teach me how to manage a family while working in a business. In addition to my mom, one of my earliest role models was Illinois State Representative Jane M. Barnes. I worked as her legislative aide in the early '90s overseeing her local office. At that point in her career, she had been in office for 19 years and was very well respected. She considered it her responsibility to be the voice for her constituents, often guiding them through governmental red tape. She was also known as the "go-to" person when someone needed help, even if that person was from another district. Jane was well respected not only by her constituency but also by her peers, especially her male peers. She taught me that respect came not from what you said, but by what you did. I've carried that with me throughout my career, and it is how I look at our company. We are here to help franchisees start a business and be successful. We are here to guide them through all of the red tape of starting a business, and we are their voice when they are not sure where to turn or the next step to take--just like Jane did.
Management gurus or books that have deeply affected you:
I have always valued the messages in Malcolm Gladwell's books The Tipping Point and Blink. I also have recommended two books over the years that have helped me communicate better: Smart Questions by Dorothy Leeds and Verbal Judo by George Thompson and Jerry Jenkins. Of course there are many other great business books I have read and am currently re-reading, such as Good to Great by Jim Collins and Traction by Gino Wickman, as we are implementing a new process with our management team. This has really helped our organization get back on track, and we are already seeing the results from our new structure.
Has mentorship made a difference in your professional and personal life?
Mentorship has made a significant difference for my life. Thinking back, I have been very lucky to have had such an opportunity to be around women and men who were successful and willing to mentor me. It's not as if I went to them and said, "Can you be my mentor?" It just naturally happened through asking questions, seeking opinions, and asking for them to share experiences with me. Doing this opened the door for me to take on challenges, to take risks, and to be okay with making mistakes. My mom taught me that you can have a family and a career, Jane taught me about doing what you say you're going to do, my dad taught me to take chances, and I am still trying to figure out who taught me not to accept "No" for an answer when I knew it should be "Yes."
Female leaders you admire:
I love this question because there are so many women I admire--from my mom, who was the first to show me that you could be a part of running a business and still raise a family, to my daughter, who has accomplished so much and has so much more ahead of her. If I look at female leaders I have admired, I would say the first is Elizabeth Cady Stanton. So much is spoken about Susan B. Anthony and her leadership with the suffrage movement, but not many know that Elizabeth Cady Stanton was the driving force behind women's rights. They began a partnership in 1851, with Elizabeth taking a behind-the-scenes role and Susan being out front. I admire how they worked together on women's rights. There are so many other female leaders I admire. Many, if not all, can be found in the book How To Be Like Women of Influence by Pat and Ruth Williams with Michael Mink.
Advice for young female CEO aspirants:
First of all, anyone choosing to be an entrepreneur or head of a company must be willing to commit to working as hard as it takes to be successful. I think the best advice I could give a young woman just starting out is to know who you are and what you want. Don't let someone else decide for you, and don't let roadblocks get in your way. Stay connected, be open to new ideas, continually educate yourself, empower others around you, and remember to enjoy life along the way!
Leadership style:
I would like to think that my leadership style is more of an MBO approach with input on the process and results desired. I am not one to hover over someone or micro-manage a person. We are a small company and I have been around since the beginning, so over the past 23 years I have had many positions within the company and have been involved at all levels. I do believe that having a strong management team is crucial to achieving your goals.
Was becoming CEO of an organization part of your professional plan?
When I began my career in the automotive aftermarket industry, I never thought it would lead to my running and owning an automotive franchise system. However, through many challenges and accomplishments over the years, I found that I had a passion for the industry and franchising, leading me to where I am now. It was not an easy road, though! Early on, I was told repeatedly that I would never be in a C-level leadership position, let alone president of the company. It was believed that my being a woman limited my abilities to lead an automotive franchise system. My objective over the years was not to show that they were wrong, but to learn as much as possible so that I could one day take that step. When my dad needed to step back from the business in the late '90s, I was not being considered for any key leadership position. However, the management consultant we hired to find a replacement basically said the best person to run the company was already there, and it was me. I knew I could do it, but it obviously wasn't in anyone else's plans!
What do you love most about being CEO?
I love being the visionary and thinking ahead, looking for new opportunities and identifying how we can grow our business.
How much of your time do you spend at that, and what are you doing to spend more?
I wish I could spend the majority of my time doing that, but right now I am spending a lot of time operating the business as well.
What do you like most about what your brand/legacy represents?
Our brands (Mr. Transmission, Multistate Transmission, Dr. Nick's Transmission, Milex Complete Auto Care, and Alta Mere) have been around for many years--more than 50 for some of them. The longevity of our brands is a testament to the franchisees we have in place and the business model. Brands don't survive that long without great customer service, great franchisees, and a sound business system.
What role does diversity play in your management team?
Diversity is important in our management team as well as in our franchise system. I believe it is important to have different perspectives. It can only make your system stronger.
If you are expanding overseas, does being a woman affect growth?
At this point, we do not have plans overseas.
Published: April 10th, 2014
Share this Feature
Recommended Reading:
Comments:
comments powered by

Disqus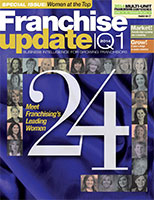 Franchise Update Magazine: Issue 1, 2014
From lead generation to increasing sales, Hot Dish Advertising is the pro at getting your message in front of those who matter most--consumers...
The Titus Center for Franchising, one of Palm Beach Atlantic's Centers of Excellence, offers a concentration in franchising to business students.