Women At The Top: Danna Caldwell
Danna Caldwell
Co-founder and President, Menchie's

System revenue: $188 million
No. of units: 377
Public or private: Private
Growth plans: 1 year: 500 stores, $250 million; 3 years: 700 stores, $350 million; 5 years: 900 stores, $450 million
Founded: 2007
Began franchising: 2008
Years with company: 7 years
Years in franchising: 6 years
International locations: 95
How has your life experience made you the leader you are today?
I think the life experiences that most shaped me as a leader were the curveballs, or when others didn't believe I could do something. Getting fired was the catalyst that led us to start Menchie's, and that idea of turning life's difficult moments into better opportunities has helped me as I lead. I often remind those I work with that things don't often come easy, but out of those times the most growth is achieved. I use those experiences often to help guide my team.
Role models?
My father was one of my biggest role models--and still is. My father immigrated to the U.S. with no money and spoke little English. Despite these hurdles, he was able to successfully grow business after business while raising a family, which never ceases to amaze me. I learned many of my best lessons from him regarding business and family life. The belief in yourself, standing up for what's right, being a virtuous person, and knowing you can do what you set your mind to do are all lessons I learned from him. Not everything he did was successful, but he always got back up and achieved success again and was always willing to take a chance.
Management gurus or books that have deeply affected you:
Dale Carnegie's How To Win Friends and Influence People has been an extremely valuable book for me. I find that success in my life, and in the lives of others, often stems from how you treat the people around you. Additionally, it is important to be an effective listener, always seeing those around you. These are age-old lessons, but people often forget them.
Has mentorship made a difference in your professional and personal life?
An important lesson I learned from my father was, "Smart people learn from their mistakes, smarter people learn from other people's mistakes." I also am a firm believer that to make your own experiences better, you must be open to hearing what worked and what didn't from those before you. I have found that this has helped me time and time again. I feel that we were able to get our first location (and then subsequent locations) open by using this skill and seeking out all the knowledge that those around me had to offer. Now that I have a team, I try to pass on the lessons I learned so those around me can benefit from my experiences as well.
Other female leaders you admire:
The female leaders I admire the most are not names everyone has heard of--they are women in their communities who do amazing things while trying to achieve their goals. One who comes to mind is Jenny Poon. While trying to create a space to house and grow her own design company, Jenny ended up starting a very successful co-working space, Co+Hoots, in Phoenix. It's really the community-level leaders, who rise up in the face of a challenge and fill a void, that I admire. I think it's a difficult role that gets overlooked in favor of more lucrative C-level positions. These community-level doers are women I see more and more of, and admire more and more daily.
What do you like most about what your brand/legacy represents?
I especially love the connection to family and community our brand has. We are more than just a dessert place. The connection we have with our guests is special, and having a young family of my own I see the amazing role that having a community place like Menchie's has for people. I am so humbled to see that connection in my own community, and every time I visit Menchie's locations around the world.
Published: May 9th, 2014
Share this Feature
Recommended Reading:
Comments:
comments powered by

Disqus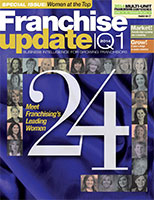 Franchise Update Magazine: Issue 1, 2014
April 25 - April 28, 2023, Caesars Forum, LV. The Multi-Unit Franchising Conference is the premier annual event for the country's leading...
Franchise Update Media (FUM) is the trusted resource for the franchise industry. For 30+ years, FUM has been the leader in providing valuable...