World Culture Tips: Spain
What
La adulación hace amigos y la verdad hace enemigos. Flattery makes friends and truth makes enemies.

How
When communicating with Spaniards face-to-face or by telephone and e-mail, it is important to show a great deal of sensitivity to the other person's feelings. Tact, diplomacy, cordiality, and warm graciousness are basic elements of social and business interactions in Spain. In fact by U.S. standards, the distinction between social and business communications is often blurred. The priority is not merely "face-saving," but positive "face-building" that results in good personal relationships. Therefore, criticism or negative feedback, however true or justified, should be avoided until a strong bond of mutual trust and confidence has been formed.

Why
Spain is a country where building and maintaining good relationships, especially in initial business interactions, is a higher priority than conducting transactions or completing tasks. Culturally, Spaniards tend to view a relationship as a vital means to accomplish a task involving another person. Therefore, great care is taken to avoid offending or hurting another person's feelings. The tone and content of communications reflect this practical consideration. The quality of the relationship and the degree of warmth in the communications are strong indicators of the likelihood of a successful business transaction or team effort.

So What
In a culture that values being direct and frank, U.S. business people often underestimate the need for using diplomacy and charm when dealing with their Spanish counterparts. Unfortunately, we may come across as being arrogant, indifferent, or aggressive. Those who show sensitivity and sincere personal warmth (this is called being simp�tico) have a big advantage in Spain.

To Learn More
Read Helen Wattley-Ames, Spain is Different (Boston: Intercultural Press, 1992), and Marie Louise Graff, Culture Shock: Spain (Graphic Arts Publishing Co., Portland, Ore., 1993).

Gary Wederspahn is a leading intercultural business consultant, speaker, and writer. His book, Intercultural Services: A Worldwide Buyer's Guide and Sourcebook, is available from Butterworth Heinemann publishing company and from Amazon.com.
Published: December 19th, 2006
Share this Feature
Recommended Reading:
Comments:
comments powered by

Disqus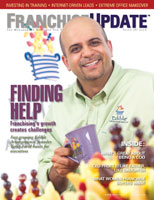 Franchise Update Magazine: Issue 3, 2006
MSA provides domestic and international franchise advisory services to franchisors and companies seeking to establish franchise and licensing systems.
919 Marketing Co. is a national content marketing, PR and social media agency serving franchise brands. Our proprietary social relations approach...