Youthful Enthusiast!: 33-year-old Presides Over Two Men and a Truck
This past August marked a milestone for Randy Shacka and for Two Men and a Truck: Shacka not only became the first non-family president of the Michigan-based franchisor, he also did it at the only company he's ever worked for--and at just 33.
"I started out in 2001 as an intern in the marketing department while attending Michigan State University. I was an engineering student with no background in moving or franchising," he says. Then he "fell in love" with the company, the brand, and the founding family members, especially the brand's attention to detail and its unwavering customer service model.
A year later he moved to Florida to open a Two Men and a Truck franchise in Seminole County. "I was two classes short of obtaining a degree in engineering sciences at the time and I came from a conservative home, so my parents weren't particularly thrilled with my decision," he says today. He promised his parents he would finish his degree, and did so in 2004.
Shacka succeeded in Florida but longed to return to family and friends in Michigan. An opportunity opened up in the corporate office, and he jumped on the chance to become a franchise development specialist. From there, he flourished, advancing to vice president of operations, COO, and now president.
The company has been on a roll the past couple of years, growing to 222 locations in 34 states--with 33 straight months of record growth and two thirds of its U.S. locations up by double digits in 2011. During this time Shacka has been front and center, leading a couple of technology initiatives, including a system-wide move to the cloud and a reinvention of their website and lead generation systems.
"One goal is to continue to invest and grow the brand while strengthening the bottom line of our franchise owners," he says. Another goal is to grow their franchise network by 40 new locations over the next 18 months. "We have a very strong management team and we're on track to hit the quarter-billion revenue mark by the end of the year. I couldn't be more excited about the direction of the company."
Name: Randy Shacka
Title: President
Company: Two Men and a Truck
Age: 33
Family: Wife Becky, son Will
Years in franchising: 11
Years in current position: 2 months
Leadership
What is your role as president?
Well, I'm only 48 days into this, but my job is to help execute the vision of this family business. I have been overseeing the implementation of new technology tools here that will enable us to improve and centralize our operating systems. It's also my job to build the brand and leverage growth.
Describe your leadership style.
I believe leadership starts with your brain and mindset. I try to lead by example with the energy, work ethic, service, and hard work I bring each day and to truly try and help paint a picture for others of where we are headed. I'm not sure there is a classical term for this. I have a degree in operations, but I believe I learned how to lead from working on my visionary master's, I guess. Part of leadership is having an understanding that you are never "there"--you never arrive as a leader--you must commit to working at it daily.
What has inspired your leadership style?
I have had a lot of positive influences in my life, starting with the work ethic instilled by my parents from a very young age. I have also had great mentors from the family of Two Men and a Truck as I started here as an intern at MSU. They were instrumental in developing me as both a business person and family man.
What is your biggest leadership challenge?
My biggest challenge is to help grow our brand while still maintaining the agility and flexibility to adapt to our ever-changing world. We must all work toward becoming comfortable being uncomfortable with the world we live in today. My challenge is to maintain our vision and course in uncharted waters ahead--an exciting challenge for sure!
How do you transmit your culture from your office to front-line employees?
It starts with our core purpose, mission statement, and core values. Clarity, communication, and consistency in actions help synthesize our culture organization-wide. Since day one we have focused on customer service; this is the foundation for all our decisions relative to how it affects the customer. We are also very transparent and share many key metrics across the franchise system. This transparency from day one has helped instill a culture of openness, as well.
Where is the best place to prepare for leadership: an MBA school or OTJ?
I do not have an MBA so I can't speak directly to that experience. I started as an intern and grew with the organization, so I definitely see where on-the-job experience is key--particularly in operations. I am always learning and reading, so I think you need a good balance of academia and experience to prepare you to lead. In my opinion, leadership is a mindset that starts with the individual making the choice first then selecting the avenues to get there.
Are tough decisions best taken by one person?
I believe there should be an owner for every decision made. That is leadership, but we have a saying around here that our founder Mary Ellen Sheets coined: "All of us are smarter than one of us." I firmly believe in obtaining input from key subject matter experts before making a tough call.
How do you make tough decisions?
Being an engineer by education, I always try to review each decision objectively. For tough decisions, I seek to involve key people from the organization for their input and expertise, look at factual information surrounding the system, and at the end of the day I look at the pros and cons and consider the worst-case outcome as the result of this decision. Beginning with the end in mind sometimes makes it easier to figure out how to respond a tough situation.
Do you want to be liked or respected?
I think human nature tends to drive people toward wanting to be liked, but I believe that, from a business perspective, Bill Cosby is right on with the quote, "I don't know the key to success, but the key to failure is trying to please everybody." I hope through my actions I will be respected for the value I bring to the organization, and if I make some friends along the way, even better! In fact I already have some friends for life in our system.
Advice to president wannabes:
Lead by example, serve others, and put the organization first before yourself. I also remember this adage from a colleague, and it still resonates with me: "If you own something, own it; if you own it, measure it; and if you measure it, improve it."
Management
Describe your management style:
I like to work in a collaborative environment where accountability and empowerment prevail. My job is to help foster this with the teams we are building here.
What does your management team look like?
We have really reshaped our management group here at the home office, and I'm very proud of our current team. Our CIO, CFO, along with our directors and managers, are taking a proactive stance on our business. I'm very satisfied with the direction we are headed with our entire team at the home office in Lansing.
How does your management team help you lead?
Through feedback! This new structure is new for everyone, and we can only get better through candid feedback and working as a team to achieve our goals.
Favorite management gurus/books:
I am an avid reader of business books including management and leadership. My favorites are Peter Block, Stephen Covey, Bo Burlingham, and John C. Maxwell.
What makes you say, "Yes, now that's why I do what I do!"?
There are moments in the day when you are able to help someone, either through clarity of communication, completing a key project, and recognizing, or just sharing general appreciation. We are growing at a record pace during a time the moving industry is relatively flat. In fact, Two Men and a Truck had a record year last year, and we have averaged close to 60 percent growth during the past two years. We are all busy as a result, but just being able to recognize someone for their part in this growth is very rewarding.
What time do you like to be at your desk?
7 a.m. I am a morning person so the earlier the better.
Exercise in the morning? Wine with lunch?
I have a goal to hit the gym before heading in for the day and am truly learning more the value of a strong mind and body! I prefer working lunches!
Do you socialize with your team after work/outside the office?
With a two-year-old at home and the demands of my position, my first priority is family. We have many great leaders in our organization, so I have a goal to do more outside our four walls.
Last two books read:
Zingerman's Guide to Good Leading Part 2: A Lapsed Anarchist's Approach to Being a Better Leader and Man's Search for Meaning by Viktor E. Frankl.
What technology do you take on the road?
iPod, laptop/iPad, and smartphone.
How do you relax, balance life and work?
The biggest challenge while working in a fast-paced, growing organization is adherence to the principle of balance. You have to stop and celebrate victories and special occasions as much as possible. I learned from my wife Becky the importance of recognizing key events and the little things. She is great about that. I don't have much time at night to spend with our son, Will, but I try to be there and invest 100 percent focused time with him each night. I always come away from this time a better person. Being outdoors, whether fishing on my own for a couple hours or with friends and family, cannot be beat.
Favorite vacation destination:
Northern Michigan in the fall with my family!
Favorite occasions to send employees notes:
After accomplishing a key project or just for simple areas where someone went the extra mile to get something accomplished.
Favorite company product/service:
Besides Two Men and a Truck it would have to be St. Croix Fishing Rods. I definitely would have to pick a company related to a passion of mine, fishing, but St. Croix provides a superior product backed with their customer experience and service culture. Another brand I admire is Holstee. Their company has created a lifestyle through their clothing line and if you are familiar with the Holstee Manifesto you know what I am talking about in regards to their brand!
Bottom Line
What are your long-term goals for the company?
My goal is continue to honor our history and the tenets that got us to where we are, but also to paint a vision with the leadership team of where we are headed as a company. We have achieved 33 months of consecutive growth, and my job is to help ensure this trend continues. My job also is to continuously challenge myself and our team to change while still digging deeper into our markets. The future of business is chaos, which I mean in a good way. There is so much change taking place with the pace of technology, social media, and regulations that the crystal ball is shattered. The best we can do is focus on areas we can control and build a concerted plan around these areas. We have 300-plus marketing areas still available in the United States and we are actively partnering with franchisees to fill these.
How has the economy changed your goals for your company?
I think it has helped us sharpen our saws to be better. We went through a challenging time just as many others have, but I believe the power of our brand helped mitigate more substantial challenges. It gave us a chance to look in the mirror and evaluate ourselves versus worrying about the economy. It was a blessing for us candidly as a company, and we are much stronger from going through 2008 and 2009. Our vision will remain regardless of the economic conditions surrounding us.
Where can capital be found these days?
I believe banks are starting to open up more and capital can be found. Obviously, the uncertainty with the pending fiscal cliff, taxes, and elections makes it harder to grow and will play a critical role in the future of small business success.
How do you measure success?
I measure success by doing what you love and constantly progressing. A great friend shared this with me and I have it on my desk: "Always move forward regardless if the winds are to your back or blowing in your face." At the end of the day whether it's work, life, or fun, if I love it and am adhering to the above quote, I am on the right path.
What has been your greatest success?
Building a loving family with my wife while taking on critical leadership roles at Two Men and a Truck and helping grow this brand.
Any regrets?
None, and work constantly to never have any.
What can we expect from your company in the next 12 to 18 months?
More growth and focus on people (and our communities in which we do business) and our core purpose, which is to move people forward. We have invested significantly in new technology and the overall philosophy of how technology will help bring customers closer to our brand. We have a lot of key initiatives being rolled out in the next 18 months that will truly reshape our brand!
Published: December 26th, 2012
Share this Feature
Recommended Reading:
Comments:
comments powered by

Disqus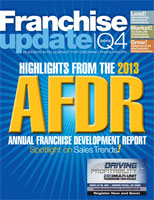 Franchise Update Magazine: Issue 4, 2012
From lead generation to increasing sales, Hot Dish Advertising is the pro at getting your message in front of those who matter most--consumers...
Slick Marketers is reinventing franchise marketing with a hyper-customized and ultra-localized marketing approach with measurable results and growth...