Family Financial Centers Franchise Opportunity
Financial Information:
| | |
| --- | --- |
| Cash Investment: | $100,000 |
| Net Worth: | $500,000 |
| Franchise Fee: | $40,500 |
| Total Investment: | $153,500 - $307,101 |
Available Markets:

United States: AL, CT, DE, FL, GA, LA, MA, NJ, NY, NC, OK, PA, SC
Family Financial Centers is the "Quantum Leap" Forward in the Evolution of the Alternative Financial Service Center.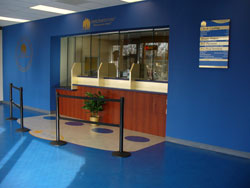 Located in attractive suburban centers, Family Financial Centers have the systems, ambience and professionalism of a traditional bank. FFC offers a full array of financial services including check cashing, money orders, wire transfer and tax preparation services.
Family Financial Centers is committed to raising the standard for alternative financial service providers both for product offerings and the way they are delivered to the market. Our centers are conveniently located to our customer's home or work. We are fully automated with systems that keep the average transaction time to just a few minutes. This allows our customer to have all of their financial needs taken care of conveniently and efficiently, in an environment that is upbeat, professional and friendly.
Family Financial Centers (FFC) Franchise was developed to address the market opportunity created by the loss of neighborhood branch banks and the sub-standard response by current alternative financial service providers. FAMILY FINANCIAL CENTERS, unlike the traditional check cashing and payday loan companies, are not located in the "war zones" and poorer parts of town. FFC is positioned in the first and second tier suburbs where the middle-income customer has firmly established himself and is looking for a provider that can give him the ambience and professional service of a local bank, but in a manner that meets his specific needs. FFC stores are located in attractive suburban strip centers that are convenient to the customer's home or work. The store presentation is a bank-like setting with the latest computer systems and transactional software that allow for quick and efficient service, and security systems that are state of the art but don't sacrifice customer contact and owner comfort. The franchise marketing programs promote a full menu of financial products to the communities they are serving.
Because most of the industry is not aware of or committed to the fundamentals of branding, marketing, and automated systems, FFC franchisees can exploit these areas as its competitive advantage to attract and build market share with a consumer base that is eager for a quality service provider. Additionally, FFC will be very active in developing new products and services that its franchisees can then market to their existing customer base, further cementing that relationship and differentiating the FFC brand from the rest of the pack. Finally, and perhaps most importantly, franchisees have an experienced corporate management team with a support staff that can properly set up their stores and provide the training they need to launch their businesses, and work with them on an ongoing basis to successfully build those businesses.
We Do It All!
Market Evaluation
Site Selection
Lease Negotiation
Turnkey "Store in a Box"
Project Management
Licensing
Classroom and in-store Training
Ongoing Support
Investment Options
If you are an individual looking for a franchise business opportunity that offers real value to the customer and real financial rewards to you, then FFC may be the right choice. FFC offers a range of investment options to the prospective franchisee.
Single Store - for those who want to start modestly and learn the business and then decide if you would like to expand to additional units. Multiple Store Plan - this option would allow you to acquire the rights to 3-5 stores and receive discounted franchise fees on stores after your first location.
Existing Store Acquisitions - this aggressive plan includes acquiring existing independent locations and upgrading them to the FFC system, then selling them to prospective franchisees.
"Store 'n Store" (SNS) - developed in response to requests from business owners who want to offer our menu of services on a co-branded basis. This includes gas station/convenience stores, tax preparation services, etc.
"Absentee Owner" Program - for prospective franchisees looking for a good return on their investment who likes the opportunities in the alternative financial services industry but does NOT want to operate the business on a day-to-day basis.
Area Development - this gives the prospective franchisee with more significant resources and management skills the opportunity to act as a "sub-franchisor" in his particular market area.
Master Franchise License - this option would require substantial resources and the ability to take the existing system and adapt the system to a new environment. Available on a select case-by-case basis, it is usually employed for international development.
The Management Team
The Company has put together an experienced management team that has over fifty years of combined franchise experience in various industries and over twenty years of combined experience in the alternative financial services industry. This seasoned management team will benefit from its direct involvement in the industry in terms of understanding where the competitive opportunities are and how to capture them.
Because of its existing relationships within the franchise and alternative financial services industries, the team is able to create strategic partnerships with vendors, real estate companies, architectural and construction companies, banks and finance companies, and franchise and business broker networks across the country.
All of these factors will help Family Financial Centers maximize the franchisee's success in their respective market areas. Family Financial Centers is the "Quantum Leap" forward in the evolution of the alternative Financial Service Center.
This web page does not constitute a franchise offering or an offer to sell a franchise. A franchise offering can be made by us only in a state if we are first registered, excluded, exempted or otherwise qualified to offer franchises in that state, and only if we provide you with an appropriate franchise disclosure document.
Request Information
Looking for more information about Family Financial Centers? Take a moment to fill out our quick information request form.