22 Brands, 1 Umbrella: Neighborly Unites 3,700 Franchisees Under 1 Virtual Roof
Lisa Zoellner is chief strategy and marketing officer for Neighborly (formerly Dwyer Group), the world's largest franchisor of home services. She drives the marketing and communications strategy for the company's 24 brands. As a member of the executive team, she works closely with CEO Mike Bidwell and brand leadership.
Neighborly (Neighbourly in Canada) has 3,700 franchisees under one umbrella brand. Currently, the company has a total of 24 brands--22 service brands (19 franchised), 2 corporate brands, and 2 franchisee support companies--but may have more by the time you read this. Neighborly's brands include Aire Serv, Five Star Painting/Protect Painters, The Grounds Guys, Glass Doctor, Molly Maid, Mr. Appliance, Mr. Electric, Mr. Handyman, Mr. Rooter Plumbing, Mosquito Joe, Rainbow International, Real Property Management, Bright & Beautiful, Countrywide Grounds Maintenance, Drain Doctor, Locatec, Portland Glass, and Window Genie
Zoellner has served in a variety of marketing and merchandising roles spanning more than 25 years, primarily with franchised brands. Before joining Neighborly, she was executive vice president and CMO for Golfsmith International. Before that, she was senior vice president and CMO for Gold's Gym International. She began her career at Blockbuster Entertainment when it was a category killer with 50 million members and 7,000 stores in the U.S. and more than 20 countries.
Describe your role as chief strategy and marketing officer.
As CSMO, my role is to oversee marketing and strategic initiatives driving growth across Neighborly's expanding roster of brands. Neighborly is the world's largest holding company of 22 home service brands across 9 countries. Our focus is building brand equity across all those brands while helping our 3,700 franchisees build their businesses locally. Additionally, my charge since joining the company in 2016 has been to develop our overarching "umbrella" brand, Neighborly. The consumer-facing digital platform we've created brings all our individual brands together at GetNeighborly.com, where consumers can connect with home service professionals for everything from maid service to painting to plumbing. This spring marked 2 years since the launch of this platform, which has been a remarkable success thus far.
What's most challenging about being a CMO/marketing leader today?
The unprecedented breadth and rate of change in consumer expectations and the explosion of options for reaching them makes marketing more complex and exciting than ever. Leveraging technology and data to tell our brand story in a way that is relevant to our target consumer is an amazing opportunity. We began that journey a few years ago, and I know that many of my CMO colleagues are experiencing the joy and pain of that experience. In my position, doing this across so many brands in multiple service verticals that are at different stages of brand development is both challenging and fun.
What are the 3 most important keys to being an effective CMO/marketing leader today?
1) Keep learning. The seismic shifts in consumer expectations and the constant change in ways we can connect with them requires that we remain perpetual students of marketing. We have a strong culture of learning at Neighborly. 2) Be accountable. Develop the vision and the road map to achieve your goals. Create milestones along the way. Measure and socialize your progress (and setbacks) with your stakeholders. 3) Build a great team. Surround yourself with the best people you can find. Be strategic about the structure you build. I love how Courtney Kolar, our vice president of people services, puts it: "Organization follows strategy."
How do you measure your marketing results and effectiveness?
Neighborly has a wealth of data coming from multiple sources such as our POS systems, various digital platforms, voice of the customer program, consumer research, and more. Over the past couple of years, we've partnered with our IT team to develop a scorecard to track the progress of each brand, and Neighborly as a whole. The scorecard synthesizes our data down to what we've determined are the most important and measurable KPIs. We review the scorecard every quarter and refine our strategies and plans as needed. Our goal is to optimize impact at the brand level and to help our individual franchise owners grow.
How do you budget for and balance your traditional vs. digital/mobile spend?
We want to engage with our target consumers where they are. In large part, that is online and on their smartphones. This is why we launched our Neighborly online platform in April 2017, effectively bringing all our brands together for the first time under one virtual roof. The intent is to create a seamless, one-stop shop for nearly all the home services a consumer would need to repair, maintain, or enhance their properties. We've also invested heavily in our individual brands' digital footprints, from websites to search engine marketing, search engine optimization, social strategies, and more. The outcomes of these digital efforts have been very impressive, ultimately helping us to achieve a 39 percent increase in multi-brand customer penetration, which was a key focus of mine when I stepped into the role of CSMO.
How closely do you work with your CEO, CIO, and other departments?
Very closely! I report to Neighborly's CEO Mike Bidwell and am a member of our Growth Team, which is what we call our executive team. In particular, my team works closely with IT and operations. Technology is so integral to marketing and operations as the point where the rubber meets the road to make our strategies come to life. Our CIO Shayne Mehringer and COO Mary Thompson are key partners.
Why do you think so many CMOs are women?
Marketing in general is dominated by women. However, according to Korn Ferry, only 32 percent of CMOs are women. So, there is still opportunity to improve here. I think that the most important job of someone in a CMO position is to be an effective communicator, and some of the best communicators I have ever known are women. Empathy is a great characteristic to have for being able to better understand the perceptions of your audiences, both internally and externally, and this is a common trait among women.
What is your favorite accomplishment as a marketing leader?
I've had the privilege of working on some great brands throughout my career. Working with my team, our leadership, and some great partners to develop the Neighborly brand has been the most challenging and rewarding accomplishment for me. Our company had long envisioned a world in which all our brands worked together to provide home services to consumers. What had been missing was the overarching brand strategy. Consumers did not know that our franchised brands such as Molly Maid, Mr. Rooter, or Aire Serv, for example, were part of the same family, a family with a shared commitment to quality and high standards of service. They did not know because we had not created a way to communicate it. Introducing the overarching Neighborly brand to connect all our franchised service brands in the minds of consumers has allowed us to more fully tell our story. After developing the brand and strategy, launching the online platform in 2017 really catapulted the positioning of our parent company as a homeowner's "one stop shop" for all home service needs. So in 2018 we went a step further and rebranded our company from Dwyer Group to Neighborly. This began an exciting new chapter for our company, demonstrating our commitment to the strategy.
How do you see the role of the CMO/marketing leader changing in the next 5 to 10 years?
I believe the CMO's role will continue to broaden and the focus on growth will intensify. Over the past several years, responsibilities have been added to the marketing plate, such as voice of the customer and customer experience. Going forward, new functions will emerge like "change agent," a natural outgrowth of our focus on the ever-changing consumer. Another skill that will become even more important in the future is the ability to manage complexity. The proliferation of channels, technologies, and tools will need to be synthesized and applied effectively to deliver results. What will not change is that marketing leaders must continue to be great at crafting brand stories and experiences that connect with their target consumers, in whatever channels emerge over time.
What advice would you offer aspiring CMOs/marketing leaders?
Be intentional about the roles you take on. I believe a broad array of experiences creates a great foundation. Get as much experience as you can within marketing, including brand strategy, digital, social media, public relations, etc. Broaden your experience beyond marketing. The operational experience from early in my career has helped me have a broader view of the impact of marketing and the importance of execution. Take on roles in different industries. It is amazing how portable and enriching those experiences can be as you grow in your career.
Published: June 29th, 2019
Share this Feature
Recommended Reading:
Comments:
comments powered by

Disqus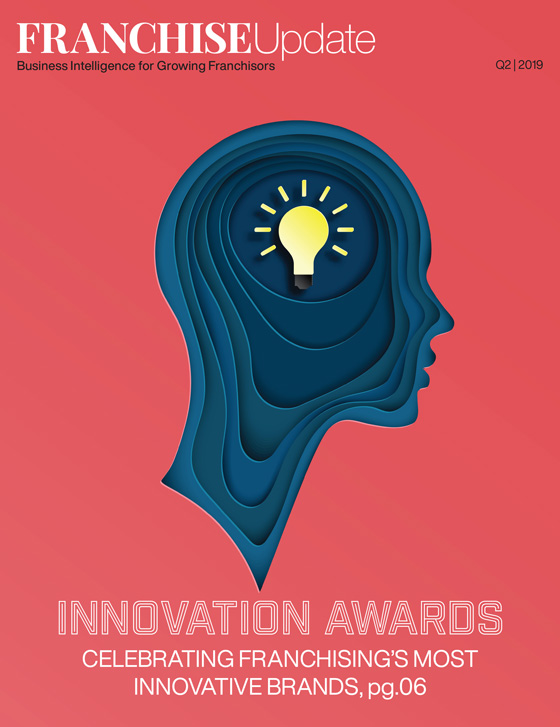 Franchise Update Magazine: Issue 2, 2019
Conferences
InterContinental, Atlanta
OCT 18-20TH, 2022
Location3 Media is a digital marketing agency that delivers enterprise-level strategy with local market activation. Founded in 1999 and located in...
Tiger Pistol, the world's leading collaborative advertising platform, connects the power of brands with the knowledge and credibility of their...