CMO Roundtable: Innovative Marketing Strategies
"How has your brand used innovative marketing strategies effectively?"
Leejon Killingsworth
Chief Media Officer/Partner
Coyote Ugly Saloon
With so much noise all around vying so desperately for consumers' attention, marketing a business effectively is an essential function to any business's lifeline. To put this into perspective: the average person is inundated with 5,000 to 30,000 marketing messages a day, depending on their location. This makes it challenging to stand out in the crowded marketplace, which is key to do if you're ever going to see an ROI on your marketing expenditures.
Newsprint estimates their reach based on how many issues they print, and factors in that two people will read every paper they distribute; as a business, they expect you to believe this. Radio rankings can be manipulated by sales people to appear they are ranked higher, based on demographics and geographical manipulations. Digital marketing has started to change this "faith-based" system with hard data. Now, businesses have real numbers to look at and access to important metrics such as impressions, page clicks, engagements, and followers, which makes gauging the ROI more accurate for businesses. While this is the case, it was still difficult for us to tell how effective our ads were in getting new customers into one of our locations, until now.
In 2013, we partnered with Zenreach to provide free wi-fi to our customers. They agree to the terms and click to connect with us on social media. This made it possible for us to generate accurate customer email lists, drink preferences and, most important, create a profile of who our average customers are and what they like. The profile gave us the ability to target ad buys more accurately by putting our ads in front of people who share similar interests. Additionally, it provided more consumer data than we had ever been able to collect, without having to survey each customer that visits our bars.
In late 2018, they rolled out a program that expands the trackable metrics. In addition to impressions, click-throughs, and engagements, I can now see when one of those customers walks into our bar and connects with our wi-fi.
I have a true ROI and customer acquisition cost for the first time ever, and also have insights into which ad they saw that inspired them to try our products. This information will help us continuously craft better marketing messages and get them in front of the people who are more likely to become new customers, based on real data of we've collected on existing customer preferences.
We have been testing this new technology in one of our stores for the last two months and have cut our customer acquisition cost by 50 percent, with a 200 percent increase in engagements. With this, we are rolling out the program nationwide in the months ahead.
No matter your role in the business, keep informed of technological advances and how your brand can leverage them for higher profits and better ROIs, as well as to grow your brand more effectively.
Paul Erdelt
Chief Marketing Officer
The Woodhouse Day Spas
Our success is based on the success of our franchisees, so we put an enormous level of resources behind supporting local store marketing. In particular, we have focused heavily on reaching potential customers through a variety of digital channels, namely Google Search, Facebook, Instagram, YouTube, and display ads.
But as anyone who has managed national digital marketing campaigns understands, it's a tedious, time-consuming, and often costly process. Each channel has its own ad specifications and reporting tools, and we struggled to effectively optimize our media spend. The space can be very complex, especially when many of our franchisees are small-business owners without sufficient marketing skills or the means to afford them.
That's why in 2018 we partnered with Eulerity to help us streamline our local digital marketing efforts. It's an app that allows franchisees to deploy marketing campaigns from their smartphone using creative that we, the franchisor, push out through a desktop dashboard. Using machine learning and automation, budgets are shifted to the best-performing ads several times a day, eliminating the need for manual monitoring and optimization. This self-service or do-it-yourself form of advertising has allowed our franchisees to feel in control of their marketing efforts so they can get back to running their businesses. And they are able to do it all for a fraction of what it costs to use an agency or hiring multiple digital marketing firms.
Using our franchisor dashboard, our corporate marketing team can monitor performance, understand the creative running in our local franchise system, and understand how our franchise system is engaging in their Internet marketing in efforts to help drive new business and retain our best customers.
Implementing new technology in a franchise system can be scary and potentially risky, but we've been thrilled with the results so far. As an example, during our Black Friday and Cyber Monday seasonal period, our advertising with Eulerity paid off immediately from a revenue perspective. As we are able to track online conversions, our cross-channel marketing program paid for itself our first 30 days into the promotion, and we continue to drive a strong ROI from our paid marketing spend with Eulerity.
Published: July 27th, 2019
Share this Feature
Recommended Reading:
Comments:
comments powered by

Disqus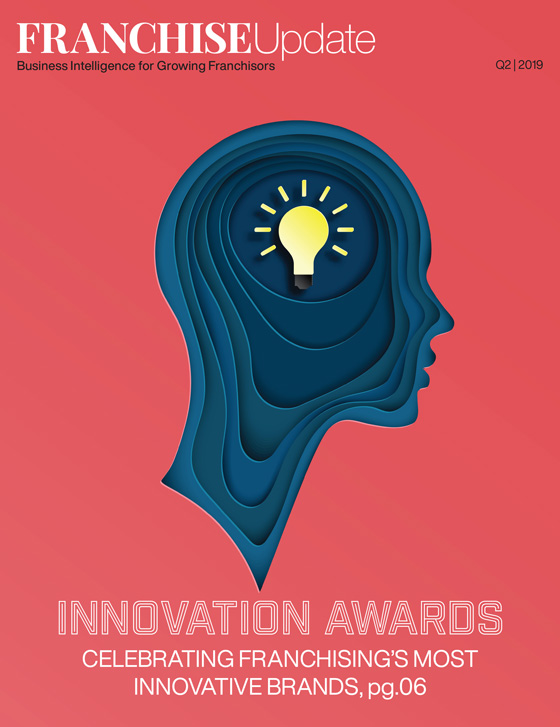 Franchise Update Magazine: Issue 2, 2019
Conferences
InterContinental, Atlanta
OCT 18-20TH, 2023
Sociallybuzz, founded in 2009, is the #1 Social Media Marketing Agency to help franchisors and franchisees increase their revenues, drive sales, and...
The business messaging platform that lets you text from your office phone number directly on your computer, so you can actually get a response.