100 Years and Counting: A&W Finds its Groove in the 21st Century
A&W is a 100-year-old brand. Kevin Bazner is a veteran of the restaurant industry who first joined A&W Restaurants in 1985 in corporate operations. Three years later he took over the international division, based in Kuala Lumpur, Malaysia. From 2000 to 2003, he served as president and CEO then left the company to become a franchising industry consultant, investor, and then president and COO of Smoothie King. In 2011, when a partnership of international and domestic A&W franchisees acquired the concept from Yum Brands, he returned to A&W as president and CEO.
As president as CEO, Bazner has been a key part of the brand's resurgence, part of an effort to "sustain the company for another 100 years," he says. He's pushed the needle on everything from menu changes and marketing efforts to unit economics and aggressive development strategies. His background and experience have helped him steer the ship through some choppy waters. Today, he says, he remains committed to long-term development of the brand both at home and abroad.
Under his leadership, A&W sales have dramatically turned around and are outpacing the industry. After years of declining unit counts, the brand is again growing, with both existing and new franchisees opening restaurants. A&W now has nearly 1,000 restaurants operating worldwide.
Bazner is committed to the long-term development of the iconic chain and continues to head day-to-day operations and the development of A&W's domestic and international markets. An example of this commitment came earlier this year when the brand introduced a new franchise growth program offering reduced royalties for new franchisees and an incentive program for existing operators.
And there's more of that coming down the pike, he says. "We are focused on an accelerated growth plan with a goal of adding another 50 to 75 restaurants per year to our pipeline, with a continued focus on growing profitable same-store sales."
Name: Kevin M. Bazner
Title: CEO
Company: A&W Restaurants
No. of units: ~1,000 locations worldwide
Age: 63
Years in franchising: 40+ (in restaurants)
Years in current position: 7 (25 with A&W)
Leadership
What is your role as CEO?
I'm a big believer in "situational" leadership. My role as CEO has evolved since we acquired the business in 2011. We started with a 100 percent focus on improving existing franchisees' sales and profitability. Today, we are equally committed to this, as well as to new growth, which we call our second number-one priority. While our business has evolved, my primary responsibilities as CEO remain strategy, people, culture, and communication, while ensuring the organization and all of its stakeholders are focused on our strategic initiatives.
Describe your leadership style.
Collaboration, people first, doing the "right" thing, respect for others, and data driven wherever possible.
What has inspired your leadership style?
I am fortunate to have had three very influential personal and professional mentors. They've taught me to be strategic--always--and that you can't run a business from the "seat of your pants." They've inspired me to be open and to push ego aside. And they've shown me that sometimes we evolve more from our mistakes than from our successes.
What is your biggest leadership challenge?
Always the people. It is important to have the right people in the right places, even as our business evolves and our needs change. I've always believed in promoting from within, and that means providing appropriate challenges and professional opportunities for our employees.
How do you transmit your culture from your office to front-line employees?
Walk the talk, starting with myself and our leadership team, then throughout the organization, franchisor and franchise partners alike. Our culture is based on respect, transparency, proactively recognizing positive contributions, learning from our mistakes, and having fun.
Where is the best place to prepare for leadership:
an MBA school or OTJ? For me, they go hand in hand. Forty-plus years in the business has helped provide me with significant operational and industry knowledge. Business school put structure around the strategies needed to execute our brand vision.
Are tough decisions best taken by one person? How do you make tough decisions?
I strongly believe that decisions are made in the boardroom, collaboratively, and with respectful debate--never in a vacuum. Ultimately, the buck has to stop somewhere and in our organization that's with me.
Do you want to be liked or respected?
Respected.
Advice to CEO wannabes:
You must build trust to have followers, and you can't be a leader if people won't follow you. Respect and trust are earned, not given.
Management
Describe your management style:
Again, while this is somewhat situational, I'm a naturally collaborative person. I believe we accomplish more by working together, and we're fortunate that our brand's ownership structure allows us to work closely with our franchise partners, who collectively own the brand.
What do you think makes up a good management team?
Trust and a firm belief in the same vision, the "what" and the "why." We need diversity of ideas, complementary skill sets, respect, and strong communication.
How does your management team help you lead?
Our team has good communication, which allows for continuous alignment. We are quick and nimble. We use the same language as we lead our teams. And we all have a genuine respect for each other. All of these factors pay dividends throughout the organization.
Favorite management gurus: Do you read management books?
I do read management books (see below). However, I feel I've learned more about life from my experiences and mentors than from any book.
What makes you say, "Yes, now that's why I do what I do!"?
The mutual trust and respect from our stakeholders makes it easy. I love getting up in the morning knowing I get a chance to make an impact on our business and its people.
Personal
What time do you like to be at your desk?
I shoot for 7:30 a.m. so I can get a head start on the day before the majority of our team is in the office.
Exercise in the morning? Wine with lunch?
I exercise for about 30 to 40 minutes most mornings. I rarely drink wine with lunch, except for special occasions.
Do you socialize with your team after work/outside the office?
I find it best to have a clean line between my personal and professional life, unless the social activity is work-related.
Last two books read:
I am an avid reader, and I am likely to be reading multiple books at the same time. I just finished Billion Dollar Whale by Tom Wright and Bradley Hope, as well as Thinking Strategically: The Competitive Edge in Business, Politics, and Everyday Life by Avinash Dixit and Barry Nalebuff. I read to relax and probably go through 50 to 60 books a year.
What technology do you take on the road?
My smartphone and laptop.
How do you relax/balance life and work?
I need "me" time for myself and "us" time with my bride of 35 years. I stay active and enjoy being outside running, walking, or gardening. My wife and I enjoy traveling and exploring new places.
Favorite vacation destinations:
Where to start? My wife and I love to travel. We enjoy going to the beach where we can relax and read books with our feet in the sand. And we enjoy experiencing new places across the globe. Some of our favorites are Bali, Cambodia, Vancouver, and our old standby, Hilton Head, because of its proximity and familiarity.
Favorite occasions to send employees notes:
I write each employee a physical, handwritten note on their birthday, as well as recognition cards when I spot someone doing "something right." I like to take that moment to reflect on the contributions of that individual person. We have a strong recognition culture, and I believe that must start from the top.
Bottom Line
What are your long-term goals for the company?
Our goal is to become a thriving second-century brand, creating a replicable growth path that will sustain the company for another 100 years.
How has the economy changed your goals for your company?
Because of the nature of our business and its ownership structure, our long-term strategy and goals have not wavered. However, fluctuating economic uncertainty may affect our goals' timing. This is the benefit of true generational thinking.
Are there any trends in the industry you foresee having an impact on your brand?
Two major trends are having an impact on all brands. First, technology, broadly, because it is moving so fast. Second, challenges in the labor force create uncertainty and hardships for our operators.
How do you measure success?
I see success as achieving one's goals "the right way." I believe in learning from mistakes. And I believe in bringing people along on the journey.
What has been your greatest success?
Personally, my 35 years of marriage and watching my two children grow up to be kind, strong, intelligent, and productive adults. Professionally, I believe my greatest successes are yet to come.
Any regrets?
I don't have time to consider regrets. I generally try to stay focused on what is next because I can't change what has happened in the past, only learn from it and keep moving forward.
What can we expect from your company in the next 12 to 18 months?
The best is yet to come. We are focused on an accelerated growth plan with a goal of adding another 50 to 75 restaurants per year to our pipeline, with a continued focus on growing profitable same store sales.
Published: June 15th, 2019
Share this Feature
Recommended Reading:
Comments:
comments powered by

Disqus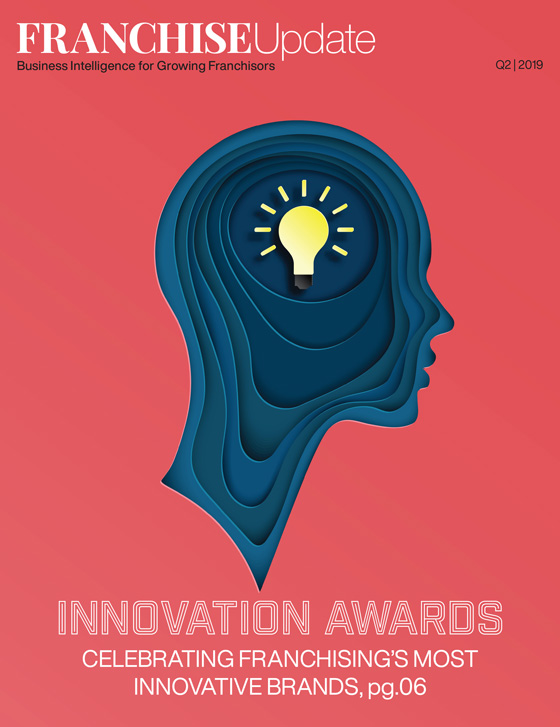 Franchise Update Magazine: Issue 2, 2019
Slick Marketers is reinventing franchise marketing with a hyper-customized and ultra-localized marketing approach with measurable results and growth...
David Energy is a software-enabled retail energy provider bringing the power of visibility, savings and peace of mind to mid-market brands.