5 Essential CX Practices: "If only I'd Cared More About Our Customers..."
These five "big picture" customer service lessons, observations, and accompanying advice may not qualify as future deathbed regrets for many CEOs, but they should. So if you're reading this, you're still alive and have a chance to improve your customers' experience to keep them coming back.
1. Executive sponsorship. It is a proven fact that any big initiative, project, or revolution must have the support of the senior leadership team; otherwise it will be considered "flavor of the month" or "management by bestseller." Customer service must be as important as finance, sales, marketing, and operations, and the senior leadership team must provide the necessary resources to create long-lasting change. One question I get often is, "How can I get my boss/president/CEO to buy into this?" And I respond, "Have him or her come to my next presentation, or get them my book." But what I am really thinking is, "You are screwed." If the top people don't passionately believe in the customer experience, the company will never embody it.
2. No one losing sleep at night over the CX. Over the last several years, one of the most frequently discussed topics continues to be: Who is in charge of your brand's customer? I am not talking about your call center, customer service reps, or customer support. Regardless of your company's size or business model, someone in your organization has to be in charge of the customer experience and all that goes with it. That someone should not be the president, CEO, or owner, but someone who reports directly to them. We have heads of operations, marketing, accounting, sales, and human resources, but our second biggest asset (other than our employees) is our customer. How happy they are is determined by the customer experience we deliver. Until recently, the vast majority of companies did not have anyone in charge of the entire brand's customer experience. If you are a mid- to large-sized company, you may want to consider creating a position such as Chief Xperience Officer (CXO) or Chief Customer Officer (CCO).
3. More soft skill training. How many hours do you train new employees before they can start interacting with your customers? It may be two days, two weeks, or one month. Whatever it is, ask yourself the following: How many of those hours are technical training (product knowledge, processing orders, scheduling appointments, etc.) versus customer experience training (customer service vision, non-negotiable standards, building customer rapport, service recovery, etc.)? The vast majority of businesses spend 98 percent of training on the technical part of the job and breeze through their customer service philosophy because they think it is common sense. Your customer service/hospitality training has to be intense. World-class customer service organizations make sure their new employees are trained on the hospitality essentials listed above--and, just as important, are tested and certified.
4. Measuring customer experience. Companies need to see the impact that customer satisfaction has on their key metric drivers (customer retention, average ticket, re-sign rates, referrals, average contracts, frequency of visits, etc.). This not only demonstrates the ROI, it also allows management teams to hold employees accountable for providing a great customer experience at every level of the organization. Measurement tools can be anything: customer surveys, third-party companies that measure customer satisfaction, secret shoppers, or statistical benchmarks (such as the average ticket or the number of referrals). These provide a benchmark to measure the impact of the new systems and to determine whether they are being consistently executed.
5. Lack of the purpose motive. Too many companies underestimate the power a purpose provides to customer-facing employees, which is critical for having high morale and engaged employees in a workplace. The currency for Millennials is purpose. Think about the most selfless, self-sacrificing people you have ever come across. I have found them to be anyone who has anything to do with the following groups: volunteers, charities, political campaigns, and student athletes.
What do these groups and the people who make them up all have in common? They make little or no money and, in a lot of cases, it is highly unlikely they can ever make a living in any of these fields. However, they are part of a cause, part of something bigger. They are focused on their direct impact, and they have an abundance of pride and loyalty to their team. They are part of a special fraternity that they are willing to fight for.
Now think of the great service businesses that have revolutionized stale industries with a completely new model, energized by a workforce on a mission with a promise to provide a truly unique experience. Think of a company like Zappos. It created the same sense of purpose that volunteer groups, charities, political campaigns, and scholastic sports have. However, it does one thing better: it pays its team members. A purpose and a paycheck!
John R. DiJulius III is the author of The Customer Service Revolution and president of The DiJulius Group, a customer service consulting firm whose clients include Starbucks, Chick-fil-A, The Ritz-Carlton, Nestle, PwC, Lexus, and many more. Email him at john@thedijuliusgroup.com.
Published: July 15th, 2017
Share this Feature
Recommended Reading:
Comments:
comments powered by

Disqus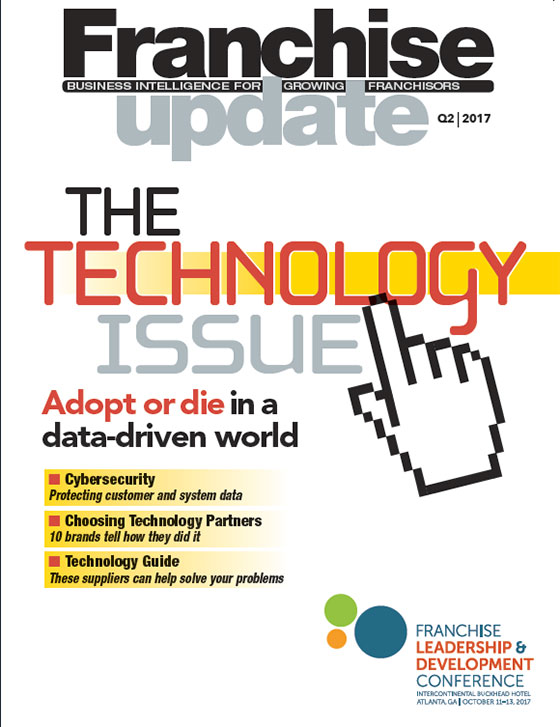 Franchise Update Magazine: Issue 2, 2017
From lead generation to increasing sales, Hot Dish Advertising is the pro at getting your message in front of those who matter most--consumers...
In 2022 Empower Brands emerged when Lynx Franchising and Outdoor Living Brands united. Empower consists of JAN-PRO, Intelligent Office, FRSTeam,...