5 Questions for Handyman Connection's VP of Marketing on Adapting to Covid-19
As part of our ongoing coverage of Covid-19 and its effects on franchising, we'll be asking franchise leaders what they're doing to help their franchisees with consumer marketing during the crisis. Here's what Marci Kleinsasser, Vice President of Marketing at Handyman Connection – and a longstanding member of our Franchise Marketing Leadership Conference Advisory Board – had to say. We sincerely hope it helps. If you have a story to tell about what you're doing to support your franchisees, please email us at stories@franchising.com.
What are you doing differently with your marketing program in the wake of Covid-19?
We are all hands on deck working with each office/owner to ensure they remain relevant and helpful to their customers in this uncertain time. Most offices are in a community where they are declared an "essential business." A few are not, or have made the decision to pause operations. As a priority, our marketing program for these Covid-19 times includes no-cost/low-cost channels that offer the highest possibility for conversion, such as email campaigns promoting outdoor work, safety and maintenance, repairs, etc. to our best and most loyal customers; then focusing digital channels and campaigns on these services as well, using Google Trends to help form decisions. We have updated key messages and themes to: "Our craftsmen are here to help you stay safely in your home." Outbound assertive campaigns were created through both phone and text to our best customers. We also have made text campaigns available to our franchisees for them to send to their craftsmen, reminding them of our Covid-19 protocols for safety on a daily or regular basis.
What are your plans for the next 60 days (April & May)?
We are having 1-to-1 coaching calls with every owner. Our ops team is creating "what if" financial plans, and our marketing team will have an aligned marketing plan for every office – a Covid-19 adjusted plan and a post–Covid-19 plan to include how to recover afterwards. Internal communication has ramped up as well. We have started weekly system-wide calls every Thursday at 3 p.m. Three have been held so far. Today's call was a franchisee panel facilitated by our operations head, allowing franchisees to ask questions of their peers system-wide.
We have also created 6 working groups – 3 Leadership groups and 3 "Thrive, Not Survive" groups – of 8 to 10 franchisees and 2 home office team facilitators per group. Each group meets weekly for 30 to 45 minutes in a videoconference. We have changed our monthly marketing newsletter <(Friday Marketing Connection)> to weekly – and sometimes biweekly or even more frequently as needed as the <Covid-19 Marketing Flash,> which includes all new marketing programs, campaigns, or shared successes that will help owners market their businesses during these uncertain times.
What are your plans for the following 90 days (June, July, & August)?
As mentioned, we will work with each owner/office on individual local marketing plans to get them back to their work order number goals as quickly as possible. We will continue with the franchisee group calls as needed until such time as franchisees tell us they don't find value in them.
Have you made any major changes to your marketing or media programs? How did you determine which to change?
Also as mentioned, Google Trends has helped us determine which services to focus paid media on, even if budgets have been pulled back. We have increased social media marketing in most offices, and quickly changed the content calendar to support the new themes and ideas that would be pertinent to each office, their status, and the changing times. We also looked at each marketing program and channel and determined which would likely have the most impact most quickly to keep demand up during this time, depending on each office's status – essential business or not.
Have you made any changes to the roles or duties of your team?
No changes. We just made everyone on our team available 24/7 virtually, and we have relied on our partners to do the same. As we rolled out a relief plan to our owners for March and April, we asked almost all our primary partners to share in relief in some way to our franchisees.
Published: April 2nd, 2020
Share this Feature
Recommended Reading:
Comments:
comments powered by

Disqus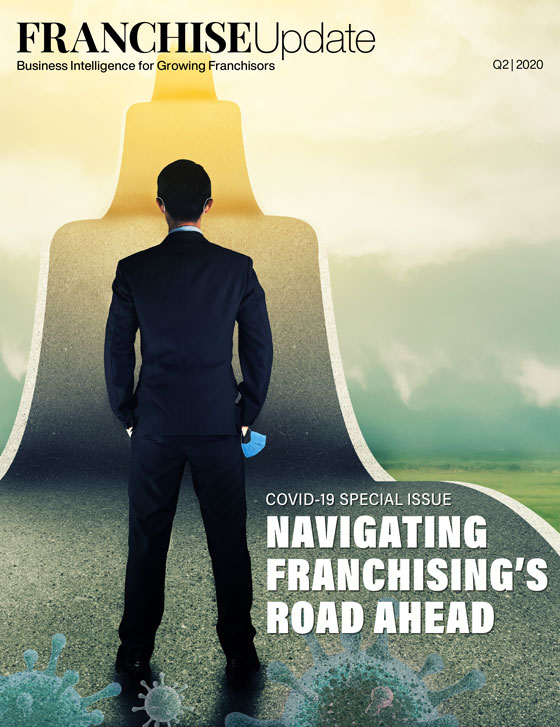 Franchise Update Magazine: Issue 2, 2020
Our accounts payable automation platform combines technology with simplicity & affordability. Save time and money, and automate your ap workflows...
UMI has over 23 years of experience supporting fast-growing multi-unit brands. From strategic planning to design, execution to analysis, UMI...