Stories from the Covid-19 Front Lines: Q&A with Goldfish Swim School's VP of Marketing
As part of our ongoing coverage of Covid-19 and its effects on franchising, we're asking franchise leaders what they're doing to help their franchisees with consumer marketing during the crisis. Here's what Shana Krisan, Vice President of Marketing at Goldfish Swim School had to share. If you have a story to tell about what you're doing to support your franchisees, please email us at stories@franchising.com.
What are you doing differently with your franchise marketing program in the wake of Covid-19?
We have gone all-hands-on-deck with a Covid Support Plan, meaning that 100 percent of our focus is supporting our franchisees and their needs during this time. All new initiatives and ancillary spending have been paused, and we have reprioritized existing programs, services, and support. We coordinated with our vendor partners immediately to work on financial deferment, as well as to determine best practices while making the best use of their services to support our efforts. Not surprisingly, in many cases, our partners have freely offered their assistance in areas including franchisee support and strategy, additional training, communications, listing services, market research – anything that can help provide our franchisees peace of mind and help them show their support for their members and their communities. To make these resources easily accessible, we created a Covid-19 online hub that franchisees can access for real-time updates, announcements, marketing collateral, template communications, social media posts, member engagement, and more.
What are your plans for the next 60 days (April & May)?
All of our efforts throughout May are focused on one of two things: 1) remaining relevant and helpful within our communities, and 2) reopening.
Remaining relevant. We are working on at-home activities, videos, and contests to help keep members engaged with the brand through social media; providing downloadable assets; sharing the support of our influencers and brand ambassador, three-time Olympic Gold Medalist Ryan Murphy; providing email communication to keep members up to date; and working with schools to help them give back to the healthcare and front-line workers in their communities. We have also worked with our curriculum team to launch Goldfish at Home – fun, virtual, dry-land swim lessons that can help keep children practicing until they're back in the pool. This free programming is available to members and non-members as we aim to remain relevant in the communities we operate in, and stay true to our mission of helping children become safer in and around the water.
Reopening. While uncertainty remains, we remain steadfast in our goal to use this time to build out a robust reopening plan to best support our franchisees. Our team is thinking through the many different scenarios of what reopening looks like throughout the system, understanding that there will be many different requirements, regulations, and scenarios to accommodate. We want to assure our communities that we are doing, and will continue to do, the right things to provide the best swim lessons in the safest environments for our families. To streamline our efforts, we are working on marketing materials and copy that reflect our brand and our commitment, and that can be used across all channels with versatility and variation in mind. And we continue to work collaboratively with the many other areas of the organization to create holistic plans and provide a comprehensive resource to our franchisees as they prepare to reopen.
What are your plans for the following 90 days (June, July, August)?
That's hard to say right now. We want to believe that we will be reopening schools – hosting reopening celebrations, promoting swim safety, and reintroducing Goldfish to our communities in the "new normal" world. But we are realistic and pragmatic, so we will continue to adjust and adapt as new information and changes come our way. Even during the uncertainty, however, we won't lose sight of our mission and our vision. Our optimistic, solution-based approach allows us to remain confident in the future, no matter what setbacks we face today.
Have you made major changes to your marketing and media programs? How did you determine which to change?
Absolutely. With all schools closed and no national ad fund revenue, we needed to pause all possible spending. We've pushed off plans for national program buys, market research, new initiatives, and the majority of our schools have paused their digital advertising at this time. During this hiatus, our marketing team and vendor partners are collaborating on a variety of programs and preparing new initiatives to set ourselves up for an incredibly strong bounce-back. Additionally, as all efforts are focused on relevancy and reopening, as well as on understanding the limited resources and time our franchisees have, we have paused some of our major partner campaigns and initiatives, including our second annual cause marketing campaign (set to kick off in May during our National Water Safety Awareness campaign). Because of the importance of National Water Safety Month and its direct alignment with our brand's purpose, however, we are working through various creative, easily executable ideas to allow our franchisees to continue to "make a splash" in their communities and spread this important message.
Have you made any changes to the roles or duties of your team?
Unfortunately, yes. Like many franchisors, our franchise office has been affected. Every person on the marketing team has done an amazing job stepping up and filling gaps. We're hopeful these job role changes and duty shifts are temporary, but for now I'm extremely proud of our team and their passion and dedication to working together to provide extraordinary results for our franchisees and the communities they serve.
Published: April 22nd, 2020
Share this Feature
Recommended Reading:
Comments:
comments powered by

Disqus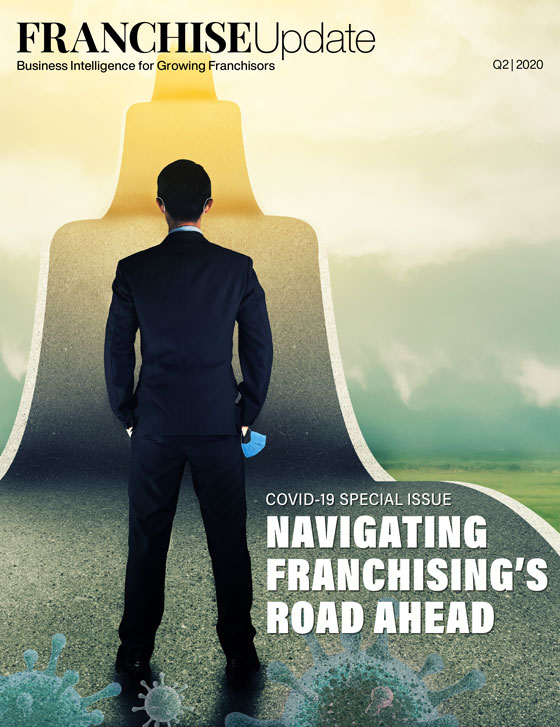 Franchise Update Magazine: Issue 2, 2020
Our franchise management software helps increase unit growth, reduce opening time, track and improve unit performance, automate financial reporting...
Clayton Kendall provides franchise communities nationwide with comprehensive branded merchandise programs leading to greater brand exposure,...