7 Signs of Customer Loyalty: Driving Growth Through Customer Experience Management
All franchise brands strive to deliver a remarkable customer experience. Why? Because that's how you win customer loyalty.
Customer loyalty shows up in greater share of the customer's wallet and higher frequency of purchase. Loyal customers spend more per average transaction, and they send referrals to you through the enthusiastic stories they tell, based on doing business with you. You can market all you want, but in the end, customers believe and talk about what they experience.
Same-store sales growth, most important for multi-unit operators, is built on the shoulders of an ever-increasing base of loyal customers. Since a superior customer experience is the foundation for loyalty, franchisees should constantly assess their performance through the eyes of customers.
Here are seven signs of a franchise firm that is doing a great job of driving business growth through excellent customer experience management.
Senior management is committed to measuring--and improving--the customer experience. It's not quick or easy to win customer loyalty by consistently delivering a better experience than the competition. If senior management is not absolutely certain that the future of the company depends on loyal customers, then creating loyal customers will simply not be a focus. Top management's role in the 21st century is to ensure the company deliberately uses real-time customer feedback to drive measurable improvements.
Operations management takes ownership for continuously improving the quality and consistency of the customer experience. Operations must "own" the customer experience improvement strategy and be accountable for achieving measurable targets that give their locations a competitive advantage. A great customer experience is the hardest thing for competitors to copy. It's hard to copy because it's hard to deliver in the first place! The operations team embraces the challenge of executing a loyalty-inspiring customer experience. Stores that are high performers on customer experience measures are recognized as models, and their best practices are used to coach low performers to achieve operational consistency.
Measurement targets are expressed as a percentage of highly satisfied customers. There is no competitive advantage in creating merely "satisfied" customers. Highly satisfied customers are twice as likely to return as lukewarm satisfied customers. Highly satisfied customers are three times as likely to recommend. In the pursuit of loyalty, the most important goal of customer experience management is to create highly satisfied customers. Best in class franchisee locations achieve 80 to 85 percent "Highly Satisfied" customers, which creates a significant competitive advantage over less successful locations.
Focus is on the key drivers of customer loyalty. The biggest mistake operators make is to try to be the best at everything. While the impulse to excel is an overall positive trait in entrepreneurs, the most successful operators have the discipline to focus on the vital few elements of the customer experience that matter most. And there can be no guessing about those key drivers. The best operators rely on advanced analytics that can predict with 99 percent confidence what improvements in the customer experience will have the greatest impact on increasing loyalty. (Your franchisor should have this information as a result of the investment made in the customer survey development process.)
Customer survey results are not just "reported," but delivered to the field with prescriptions for action--at each location. The unique challenge for multi-unit operators is to create highly satisfied customers who are loyal to each of their locations. Since the customer experience varies by unit, deficiencies in performance and the opportunities to improve must be translated into unit-specific actions. Every multi-unit organization is built one location at a time. The best operators fully engage with their franchisor-sponsored customer experience management systems. As a result, they can outperform competitors by analyzing customer feedback to create action plans that function as blueprints to success for each store manager and team.
Verbatim customer comments are shared with each location. Emotion drives action. When employees hear or read comments from their customers about specific experiences in their stores, this has high emotional impact. Customer comments heighten awareness that customers notice employee behaviors. Positive or negative, feedback is a proven behavior modifier. Behavior that gets rewarded with compliments usually gets repeated. Customer feedback that draws negative attention from peers and supervisors acts as a deterrent to that behavior in the future.
Customer experience management data is linked to the financial performance of the business. Customer survey results are aggregated from the units up to the brand level, where they can be integrated with sales data. The best operators know their performance on key drivers at each location and how that affects same-store sales performance. They analyze how often they are executing operating standards in the stores and how that influences average transaction amount and frequency of purchase. During strategic planning, they use these insights to modify processes or products to continuously become more competitive.
Building the value of your businesses
Effective multi-unit operators are not interested in customer research that sits on shelves. They are action- and achievement-oriented. The very best prioritize their customer experience management actions to increase the value of their businesses by building an ever-increasing base of loyal customers--the ultimate source of sustained profitable growth.
SMG Vice President Jack Mackey helps multi-unit operators improve customer loyalty and drive growth. To request "Creating Customer Value by Delivering a Great Customer Experience," contact him at 816-448-4556 or jmackey@smg.com.
Published: November 15th, 2010
Share this Feature
Recommended Reading:
Comments:
comments powered by

Disqus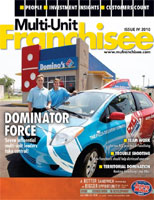 Multi-Unit Franchisee Magazine: Issue 4, 2010
Invest in a Dairy Queen® franchise opportunity and immerse yourself in familiarity. We invite you to get started today. Success has never been so...
Cash Required:
$400,000
Class 101 college planning franchise helps high school students get into better colleges and qualify for higher amounts of scholarships and financial...
Cash Required:
$50,000