99 BIG Franchisees: John Metz
Serial Adventurer

Name: John C. Metz
Title: President
Company: RREMC, LLC
No. of units: 24 Denny's; 8 Bennigan's; 1 Hampton Inn, 1 Fairfield Inn
Years in current position/franchising: "It's complicated, nothing's easy with me." (See below.)

"Today you can work anywhere," says John Metz from his home in Buffalo, where he spends three months a year--the winter months. "It's a wonderful thing. I dial in to my office in West Palm Beach through a VPN and get everything I want. I can dial into the POS systems and get real-time information on all my restaurants. What else do I need? It's just like being in West Palm." Except for the snow.

Metz winters in upstate New York and summers in Florida, which says a lot about him. His journey to multi-unit, multi-brand operator has enough twists and turns to be serialized, one adventure at a time--sometimes with more than one twisty turn occurring at once. There's the long and the short of it, he might say. We'll try give you the middle, in roughly chronological order, beginning in 1983.

Metz got his first taste of the franchised life in 1983 when he worked for a major hotel company that was a franchisee of Holiday Inn and Hilton. His first franchise as a principal was 15 years later, when he signed with Fairfield Inn, a Marriott brand. In 200l he opened a Hampton Inn, a Hilton brand. But wait, we're already getting ahead of ourselves.

In 1989, Metz bought a Howard Johnson's, but never executed the license. "I operated as a Howard Johnson's, but I wasn't a licensee of Howard Johnson's, technically." Things went well with the HoJo's restaurant, which he operated from 1989 to 1991.

His next adventure came in 1989-90, when he acquired 28 Wag's restaurants from Marriott, after the hospitality giant decided to divest the brand, which it had purchased from Walgreens a few years earlier. "We bought the majority of the Wag's restaurants that Marriott had left. Part and parcel of that deal was we had a three-year license agreement to operate under the Wag's name. However, we got no support; all we had was the right to use the Wag's name. We were the sole operator of Wag's at the time, so essentially we were operating as a chain under the Wag's name."

In 1993, he sold all 28 Wag's to a large Denny's franchisee, who converted the majority to Denny's units. "When we sold our operating company we retained all of the real estate. We do everything backwards (which is why I love Buffalo). Most people sell off the real estate and keep the operations; we sold off the operations and kept the real estate," says Metz. "We own almost all of our properties."

Out of the restaurant business, Metz wasn't about to retire. "I did quite a few other real estate transactions starting in 1993," he says. Metz soon became the largest landlord for two companies: Value Financial Services, which operated Value Pawn pawnshops; and Farm Stores, a gas station-convenience store chain. He sold the 22 Farm Stores, kept most of the 15 Value Pawns, and is still their biggest landlord.

After that, he began acquiring shopping centers, did some drugstore deals, and other related real estate transactions. In about 1998, says Metz, "I kind of got bored and started doing hotel deals again. He did three transactions, two Fairfield Inns and one Hampton Inn, but only owned two of them: the Fairfield in Jupiter, Fla., and the Hampton at Ft. Lauderdale Airport.

"After we completed those, then I was really bored, and I started looking at getting back into the restaurant business. I missed the restaurant business," he says. What came next is a long story, and far from boring, but the short version is that the company Metz sold his Wag's to had gotten into increasingly serious financial difficulties in 2000 and 2001. They closed two restaurants, stopped paying rent, and ended up in bankruptcy court. "The bottom line, after about a year, is we were paid 100 percent of our back rents, we agreed to take back the two properties they closed, and we re-leased them to IHOP." By this time it's 2002.

During the bankruptcy proceedings, Metz learned of another bankruptcy involving about 52 Denny's restaurants. He attended the Section 363 meeting in October 2001 and became the largest purchaser of the defaulted debt in that case. Bottom line? He now owned 28 Denny's, was approved as a franchisee, and took over operations on May 28, 2002.

"That's how we became a franchisee. Isn't that normal?" says Metz. The result of his "normal" has provided Metz with a unique set of strengths (and some great stories, which for now shall remain untold). "I have something that very few people have. I've run independent restaurants, I've been an independent operator, I've been a chain operator a la the Wag's, and I've been a franchisee," he says.

"I like being a franchisee, because if you have a good franchise, they do the heavy lifting for you. Follow their lead and they should take you to the promised land. There are bad franchises out there that will never get you there," he says.

"We obviously made a pretty good assessment of Denny's. We also took a run at acquiring Denny's. But that's another story. Our partner backed out on us, so we weren't able to complete that acquisition," he says. "I don't know, I'm probably more open than most. But that's the truth, I got bored. I missed running my restaurants. I like running restaurants."

Flush with victory and doing well with his 28 Denny's, Metz soon acquired four Bennigan's. See "Biggest Mistake?" below.

Key accomplishments? I like empowering my managers to make money. I think the general managers are the hardest working people in my company. We don't pay probably the most, in terms of salary, but we pay very close to the top. And every one of our GMs gets a bonus based on 10 percent of their bottom line.

Starting in our fifth year (this is our fourth), we will be taking our best-performing general managers and making them managing partners and giving them 20 percent of their bottom line. Not because we're magnanimous, but we think that prevents turnover and empowers them to act like owners, as opposed to employees. So my biggest accomplishment is to empower the GMs to run their own business. And that's what I enjoy most. I also like making money.

Another way to say it is that I like the idea of the managers acting as owners so they work for themselves. The key is they are working as much for themselves as they are for me.

Biggest mistake? One of my larger mistakes was buying the Bennigan's. I had the brilliant idea that after becoming a Denny's franchisee we would do the same thing with Bennigan's.

So we became a Bennigan's franchisee. We acquired two properties out of bankruptcy, and two Houlihan's out of bankruptcy and converted them to Bennigan's, and we acquired two existing Bennigan's from Bennigan's.

It may turn out to be an okay deal, but we've had more problems operating the Bennigan's and becoming a Bennigan's franchisee than we have as a family restaurant operator. The reason for that is the Bennigan's brand has some issues. They're struggling much the way Denny's was struggling, yet they don't have the firepower to compete with the other franchise concepts.

The Denny's brand is the largest family restaurant brand in its segment. Denny's new management team has done an excellent job of repositioning the brand, fixing the menu, renovating the stores, and advertising the hell out of the brand. Bennigan's, on the other hand, is one of the smallest casual theme chains. Bennigan's competes against Chili's, Applebee's, Friday's, and Ruby Tuesday. Other than Ruby Tuesday, the other three all have significant advertising budgets. Both Chili's and Applebee's spend in round numbers $100 million in media [each]. Bennigan's spends zero. That's problem number one. Denny's, just for comparison, spends $60 million.

My biggest mistake was not fully analyzing the casual theme segment prior to getting into it. I didn't analyze the segment and I didn't fully analyze the brand. The Bennigan's brand was really broken when I got into it. And therefore it doesn't have the drawing power and staying power that the other brands have. What we've had to do is become intimately involved with corporate in repositioning the brand. In our San Antonio market where we control four stores, we'll spend close to $200,000 this year in advertising those stores.

Smartest mistake? I have not and will not sell our real estate. We've turned down south of 7 percent caps on our real estate holdings. When people call and ask me if I want to sell my Denny's, I basically say yes, but only at stupid cap rates. I'll sell them at 4 to 5 percent cap rates. So instead of selling an $80,000 cash flow for a million, if you offer me close to $2 million I'll think about it. And that's probably a stupid mistake. I probably should take the $2 million and run, but nobody's offered me $2 million. They have offered me a million and a half, which is like a 6 cap. I probably should have taken it but I haven't. I think in the long run I'll be fine. And the reason I'll be fine is it's my theory that all I'm doing is warehousing the dirt. In other words, I have basically an acre to an acre and a half pieces of real estate that in the long run will be worth more than what people are offering me today.

We're really in the real estate business. When we were just doing triple net real estate and I was taking closed restaurants and leasing them to third parties, we weren't able to capture some of the upside. By getting back into the restaurant business we control our own destiny.

Management method? I have on overall director of operations. I also have a director of operations for Denny's and one for Bennigan's. The Denny's director of operations has district managers who report to him. Our real key is that we really try to empower the general manager to take an ownership interest in that store, to act like an owner, as opposed to an employee. It's not always easy, which is why the district managers have to constantly work with these guys [the GMs] to think more and do more.

I get each of my district managers and my director of operations together four times a year. We call them district manager meetings, but they're really leadership meetings. One of those times I get all of our general managers together. In addition to that, I visit each store personally three to four times a year. I make both announced and unannounced visits to all my stores.

Management style? I rely on my general managers, district managers, and directors of operations. My directors of operations tell me the good, the bad, and the ugly. I can dial in to all my stores remotely, so I can pretty much validate everything that anybody tells me. Tell me whatever you want, but I'm going to double check it.

How do you do it? We incentivize the general manager with bonus money as a percentage of his net. We set the rents because we own the real estate. All of our rents at all of our restaurants are set at 6 to 6.5 percent of sales. So there's a nice bottom line to almost all of our stores. We take the rent, which is fixed, and we take $52,000 a year for admin, and $26,000 a year for cap ex for each store. So the profit is after rent, cap ex, and admin.

We have a unique incentive plan. We provide our general managers with cars. If they make a certain income level in our stores, then we award them a car, which we pay for. We pay insurance, and we provide them with a brand new car. We provide PT Cruisers, and we put the Denny's or Bennigan's logo on the side. Everybody loves the free car. The reality is these GMs are very proud to be Denny's general managers.

How will you continue to do it? Pretty much the same way. The only thing we'll be doing differently is starting next year, our fifth year, we will be offering our higher performing general managers [the choice] to become managing partners. Instead of getting 10 percent of the bottom line they will get 20 percent. The reason for all this is that you can't grow without good people, and you have to keep your good people if you want to grow.

Greatest challenge? To make the Bennigan's perform as well as everything else.

How do you hire and fire? We've learned from our own mistakes that it's easier to let people go if they're not working out than to try to retain them. When we see the signals a person's not working out, we let them go. We do a lot of exit interviewing. Firing? No theft, period.

How do you find good people? It's very difficult to find good general managers. Hiring is hard. The easiest way is to find a well-run store in the Denny's system and steal the general manager. I mean, just to be honest. We're not allowed to do that. Obviously it wouldn't work very well for the system. We've tried every other method thus far with no success, but we're continuing to try headhunters, personal contacts, Denny's contacts, newspaper ads, and Monster.com. We've gotten referrals from Denny's and Bennigan's corporate. I don't have any answers there. I wish I knew.

How do you train them? We have an extensive three-person training department--our director of operations, plus a couple of full-time trainers. They handle all of our managers-in-training.

How close are you to actual operations? Pretty close, pretty hands-on. I can cook, take the line. I'm very opinionated. You have to meet brand standards. I don't know how else you can do this business.

How does size of franchise matter? It makes a lot of difference. Bennigan's is one of the smaller ones is in its segment. That gives them a disadvantage. Denny's larger size gives them an advantage.
Personal
How would you describe your personality? I think I'm laid back and easy, but that's not what everybody else says.

How do you spend a day, typically? I get up early, check my email, and exercise. I won't go to work until I've exercised. Then I work until six or seven at night. I don't really start work till nine or ten. It doesn't matter if it's from my home in New York, or my office in West Palm Beach. I prefer working from home. My business is on the phone and computer. Then I get on a plane and visit the stores.

Favorite activity? I work. I enjoy my work.

Exercise? I run. I ski in the winter. I work out, and I bike. And I sail. My sailing has suffered since I got back in the restaurant business. I can't stay in contact on the sailboat.

Fun? Work is number one. Ski, sail, and spend time with my kids.

How do you measure your growth? Growth to me is our operating income. (That's excluding my real estate income and debt repayment.)

2006 goals? Denny's: stay at 24 units; really focus on increased unit profitability. Increase guest counts and menu prices. Maximize operating profit without cutting any corners. Give every general manager that makes $100,000 a free car. We have six or seven cars on the road now. I'd like to see a minimum of 12. Bennigan's: Break-even would be good. I think we will.
Published: April 4th, 2006
Share this Feature
Recommended Reading:
Comments:
comments powered by

Disqus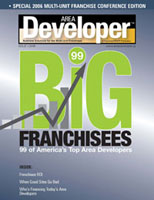 Multi-Unit Franchisee Magazine: Issue 1, 2006
It's time for a fresh start. Join Kona Ice! Low investment, fastest growing with over 1,300 franchises in 12 years, #1 in franchisee satisfaction...
Cash Required:
$20,000
Discover opportunities with Liberty Tax. As one of the nation's largest and fastest-growing tax preparation companies, there are tremendous...
Cash Required:
$65,000