Home Field Advantage: You May Have A Built-In Exit Strategy In Your Own Backyard
When franchise sellers seek exit strategies, they most often look to strategic buyers, other franchisees, their franchisor, or financial investors such as private equity as potential buyers for their businesses.

While these groups are often "top of mind" given their predominance of activity in the mergers and acquisitions marketplace, they do not represent the only opportunities for seller liquidity. Often overlooked is the company's existing management team or a key individual who may be qualified to complete a transaction while offering unique transaction structures to the selling parties.

More often than not, entrepreneurial sellers overlook their existing management team as a potential acquirer. Reasons for this range from capital resource issues to confidentiality. However, many qualified individual operators and management teams possess the resources and leadership skills necessary to complete this type of "management buyout." Depending on the size of the organization, this may include a senior operating member, a chief financial officer, a district manager, or some combination of these individuals.

Financial capability is often the main reason franchise business sellers don't seriously consider their management teams as realistic buyers. However, what they fail to account for is that in many cases these same management teams have been responsible for a great deal of the daily success of the company. As such, they tend to be very financeable. In most cases, debt providers are extremely comfortable financing a transition to an existing management team. Their historical record of performance, along with minimal disruption in the transition of the operation, provides the type of stability senior lenders look for.

Furthermore, equity capital has historically been very supportive of these types of management buyouts. They too gain a great deal of comfort with the stability of an internal transition and the management team's familiarity with the business. As a result, transition and operating risks are significantly reduced. Given the increasing availability of private equity capital for franchisee investments over the past several years, the lack of personal capital from the management group is not necessarily a limiting factor in closing these transactions. Additionally, with creative deal structures, the seller can assist in providing equity capital to the team with a structure that facilitates an orderly redemption and transference of ownership.

Secondly, we often find management personnel excluded as prospective buyers as a result of the seller's concerns about confidentiality and employee continuity. In many cases, the fear of losing key personnel at such a critical point often outweighs any thoughts of providing such personnel the opportunity to make an offer for the business. With the proper communication to key employees, sellers can preserve the integrity and confidentiality of the sale process, while also soliciting bids from third parties and the management team. Including the team in the process often helps to energize their performance.

Another dynamic we often encounter is the "employer-employee" mentality. Sellers may not accurately perceive one or more of these insiders as having the capability or desire to take on more than their current responsibilities. This can be an unfair assumption and should be examined objectively. These individuals' passion to run the business may mirror that of the current franchisee. Regardless of their equity stake in the current capital structure, these individuals are the heart and soul of the company, executing plans on a daily basis with a strong vested interest in its survival and success.

The benefits of a sale to key management employees can be numerous. First, the seller is able to provide a very special type of opportunity to long-time, valued employees--an opportunity that can change the lives of the company's key people and create an opportunity for real wealth creation. Second, the seller has the ability to establish an ongoing legacy with the business he has spent years nurturing. Instead of transferring the business to a third-party, where the identity of the business may become lost, a sale to the management team helps perpetuate the identity of company.

The seller can also find benefits in the deal process itself. From a transaction perspective, a sale to existing management can be easier than to a third party. Given management's familiarity with current operating performance and policies, there is often much less concern regarding due diligence. Operationally, the team is already accustomed with asset conditions and the way the business has been operated historically. Moreover, there is comfort regarding the accuracy and integrity of the seller's financial reporting. This leads to a smoother and faster overall process.

Valuation dynamics are also typically improved. Given their knowledge of the business and their inherent comfort level, management teams can often represent the most confident buyers, resulting in stronger pricing for the seller. Finally, a sale to the management team can provide the seller with unique structural deal options such as a continued equity investment, interest income, or beneficial income tax structure. An experienced team of mergers and acquisition advisors and qualified tax and legal counsel can help structure a deal that is advantageous for both the seller and long-time personnel.

As you start down a path of considering exit strategies, "look in your own backyard" and consider the option of including your existing team in the process.

Dean Zuccarello, CEO and founder of The Cypress Group, has more than 25 years of financial and transactional experience in mergers, acquisitions, divestitures, strategic planning, and financing in the restaurant industry. The Cypress Group is a privately owned investment bank/advisory services firm focused exclusively on the multi-unit and franchise industry for more than 17 years. Contact him at (303) 680-4141 or at dzuccarello@cypressgroup.biz.

Published: March 2nd, 2009
Share this Feature
Recommended Reading:
Comments:
comments powered by

Disqus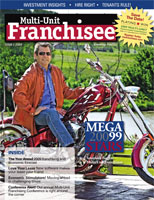 Multi-Unit Franchisee Magazine: Issue 1, 2009
Invest in a legacy brand with 40 years of experience serving up crave-able food in a fun environment. Here's all you need to know
Cash Required:
$1,500,000
There's nothing quite like the perfect cup of coffee. It wakes you up and gets you on the right path. Now, you've got the chance to build a lifestyle...
Cash Required:
$150,000