A Couple of Winners: Husband-and-Wife Team Make Business a Family Affair
Todd and Audra Fetter, winners of the 2017 MVP Influencer Award for a Husband & Wife Team, have always had a team approach to marriage, but the decision to become hands-on franchisees has changed the playing field for communicating as a couple.
"Knowing when to drop the business discussion and become plain 'ol husband and wife has meant learning how to have open and candid conversations, without the emotional additions," says Todd Fetter. "It's hard, but so very important to have candid discussions."
Fetter was looking for an investment that could include his wife and five children when he launched his franchise quest. The Fetters, huge wings and sports fans, found the perfect family fit with Buffalo Wings & Rings, based in nearby Cincinnati.
With eight restaurants now open in Ohio and South Dakota, Fetter says the secret to working in business as husband and wife is knowing your roles: he focuses on site selection, financing, and construction; she is in charge of operations and the day-to-day business. Two of their adult sons are involved in operations, with room for more, he says. "We call ourselves the Fetter Empire."
As a result, for the first time after multiple entreprenurial ventures, Fetter has no exit strategy planned. He credits the support of his family and franchisor for the staying power. "It truly feels like Buffalo Wings & Rings is a family affair--with our family, corporate leadership, and our team," he says. "They are always willing to listen and are responsive."
With two additional BW&R units in the works, he strategically targets territory to keep the businesses close operationally and the family closer, including his employees. "We love our people," says Fetter. "When they are at work, they feel as though they are working with us, not for us. And that is a huge difference."
The Fetters also practice what they preach. They never miss a child's sporting event or function and have a 100 percent attendance rule for family vacations and "Fetter Empire" family meetings. All of their stores are also active community partners.
The MVP Award for this husband-and-wife team was for demonstrating growth, perseverance, and excellence as a team--which jibes perfectly with Fetter's advice to other franchisee couples: "Stick it out. It is extremely hard work, but the rewards are phenomenal."
Name: Todd and Audra Fetter
Title: Franchisees
No. of units: 8 Buffalo Wings & Rings
Age: 51 and 50
Family: Daughter Kyla (30) works in the surgery center at the hospital; son Kellen (29) is head of operations at the Lima store; son Keaton (26) handles the farming (all the corn and bean planting and most of the harvesting, and hog farms); son Kieran (23) is regional manager of the Columbus store; and Hubertine (14) is the daughter we adopted from Africa
Years in franchising: 4
Years in current position: 4
Personal
Formative influences/events:
My father and my grandfather's entrepreneurial spirit rubbed off on me. Audra comes from a family where they believed in getting a job and staying with it. Her father was with his company for nearly 40 years. My father did farming, sold real estate, and had a self-starting, entrepreneurial spirit. My influence was my family, so it wasn't that big of a leap for me. That's what I knew as the norm. When I had a job with Honda welding seat frames and left to sell real estate, my in-laws went nuts. I just have a high tolerance level for risk. I like to get away from the trunk of the tree--I like to get out on the limbs.
Key accomplishments:
My family is involved with me in my Buffalo Wings & Rings business. That is a huge accomplishment, but it's difficult at times. What a huge accomplishment it is to sit down at Thanksgiving and open presents at Christmas and then still have some, let's call it "candid" discussions about business and practices together. Another key accomplishment for Audra and me is that we are so proud of the retention of our employees that we've had since day one. We've had nine people who have risen through our ranks to become managers at our stores. Of those people who we promoted up the ladder from servers, hosts, and bartenders, we have 100 percent retention. I think that's a huge accomplishment.
Work week:
It really is a work week.It's a seven-day-a-week job. It's like Jim Collins says with the "20-mile march." It's the things you do every day. For me, I keep a written log of the sales, bank account balances, and sometimes even where we rank in the system. I do that every morning with my cup of coffee, even on Sunday morning before church. On Sunday night, Audra and I will be at Bob Evans or somewhere having coffee and talking about the week coming up. I take my time off like everyone does. But there isn't a day that goes by where I'm not thinking about or talking about the business. If I go on vacation, my briefcase comes with me. I don't view it as work. I love to do it. We try to get to the different stores as often as we can and balance that with our 14-year-old daughter's school activities. We have four grandsons too, so we make time for them. We are sending emails at 12 minutes after 6 in the morning and sometimes at 10:30 at night. It's what we love to do. I don't complain about the hours, because we love to do it. Audra loves communicating with the managers every day of the week. We aren't bosses who just sit there and cross our arms. We tell them that they're not working for us, they're working with us. They see me in the apron in the dish area or Audra setting up the food and I think that motivates them. When you work with employees, they work better. We have a challenge at one of our stores where they try to race me to the tables when a party leaves. I have the rag in my hand and they try to get to the table before I can. They respect that when you work with them.
What are you reading?
We're currently reading TJ Schier's book S.M.A.R.T. Restaurant Guide to Effective Food Service Operations. I recently read Liar's Poker about Wall Street by Michael Lewis. I like to read things that have some realism to them. Bill O'Reilly's Killing Jesus is one I recently read. I have Killing Reagan but haven't started it yet. Think and Grow Rich by Napoleon Hill and The Goal by Eliyahu M. Goldratt are two good ones. Then we read all of the publications, the franchising news, and everything we can get our hands on. We have always wanted to see ourselves in those magazines--and I guess now here we are.
Best advice you ever got:
My grandfather, Russell Fetter, never wore a watch. He said that you weren't done based on the time on a clock. You were done when the job was done. I spent a lot of time with that old man, and that's how I've tried to approach life and how I've tried to mold my work ethic.
What's your passion in business?
Audra and I spoke about this recently. Whatever we do, we like to build things and to build the infrastructure to support it and develop the staff to support it. I've built up several businesses and I've sold some. It's tied to my approach in coaching. I've coached high school girls basketball. The girls had only won about 125 games in 30 years. It was a pretty horrible program. In 3 years, we won a conference championship, a sectional championship, and had a winning record. I also coached Midget Football for 17 years. When I became the head coach, I was so driven to build the program. We never had a losing record in more than a dozen years. So I like to win at everything--but I really enjoy the challenge of taking something from nothing and making it great. It's the same with business.
Management
Business philosophy:
If you're not willing to do it yourself, you can't ask someone else to do it. Lead by example. That goes from the words you use to always speaking the truth.
Management method or style:
I have a very hands-on management style. Just do it. I like to be visible and active in the restaurants. Watching and observing is important at times, but I like to get up and be involved. We have working managers who have learned that management style from Audra and me. If they accept a management role with us, they know what we're expecting because they've seen us in action.
Greatest challenge:
Initially, financing and learning that piece of the puzzle in franchising was a challenge. Secondly, learning how to stage yourself for growth. One to two stores is a big jump, but then two to eight is a whole other ball game. It takes different skill sets and different types of support to make it successful. We're speaking with consultants. We aren't arrogant enough to think we have all of the answers. So we asked corporate and they helped us to work with folks to develop a process to get to the next level. The learning continues.
How do others describe you?
I hope that people would describe me as hardworking, honest, fair, and consistent. I've learned in coaching that if you aren't fair and consistent, you lose credibility quickly. They'd also probably say that I don't get mad very often, but if I do, boy you better run and hide (chuckles.)
How do you hire and fire, train and retain?
We hire through Indeed. We also tell good servers and good bartenders to refer their friends who they know will be good employees. We train very hands-on and it's constant. Each general manager needs to have a trainer and we train for a week. We do menu testing and other testing so that when they hit the floor they are a good representation of the brand and ourselves. If someone doesn't do well on testing, we go back into training. Corporate has told us that our retention is incredible. We took a picture when we first opened, and I can count a dozen or so who are still with us. We try to show them the ladder to success.
Bottom Line
Annual revenue:
$15 million (approx.).
2017 goals:
Slight, controlled growth. We bought an existing store in Omaha this year, and we are opening the first Buffalo Wings & Rings in Minnesota, in Mankato. We have some irons in the fire that should hit in 2018. We have all-manager meetings where we gather the team, bring in speakers, get a good meal, and break out the markers and boards to brainstorm and discuss strategy to keep improving. This year we've focused on our stores and being more efficient and more profitable. The 2017 focus has been on what we can do to improve our individual locations, and what we can do to help our managers be successful. Same store growth is really the 2017 focus--not just sales, but maturity and improving the experience.
Growth meter: How do you measure your growth?
In years past, we were focused on growth but this year we decided to focus on the existing stores. Without focusing on your existing stores, there won't be any growth. The sales will come if you take care of the guests.
Vision meter: Where do you want to be in 5 years? 10 years?
In 5 years, I want to still be growing the brand. I am in the markets where I want to be. Members of the family keep telling me that we need to look at potentially going a little farther south, so we have somewhere to go in the winter months (chuckles). I want to fill in the gaps between my existing stores and cluster in markets. In 10 years, I want to continue to develop my inner team and be in a position to share information and begin to grow up and mature the inner circle--whether family members or others. After that, I'm looking at Key West or something like that to relax and enjoy it all.
What are you doing to take care of your employees?
We are launching a 401(k) pilot program at one of our locations. You don't want to offer something and then have to take it away. So we're going to test it at one of our locations and make that part of our compensation package if it works. We're talking about other benefits for the employees. We're reworking our bonus structure right now to incorporate more of the guest experience into how we reward them. So we're bringing guest satisfaction into our bonus structure. We try to be competitively priced in pay. We're taking almost every single general manager to the Buffalo Wings & Rings conference this year, so we're keeping them involved and letting them see that side of the business.
What kind of exit strategy do you have in place?
This is the first time I've ever been in business with my family members, and I'm having so much fun that I really don't have an exit strategy. Two sons are directly involved, my wife is directly involved, and I'm just loving what I'm doing. I'm sure I'll exit one day, but right now I'm good.
Influencer Award for Husband & Wife Team
Why do you think you were recognized with this award?
My wife does a great job with the operations part of the business, of being the face. I do a lot of the site selection, but when it comes to running the business, she's fantastic. We have a great brand and have a lot of support from Buffalo Wings & Rings. Without that, we wouldn't be great operators. Audra keeps me focused and centered. There are a lot of great candidates from across the franchise world who do a lot of great things in their communities. It's really the whole team that Audra and I have in place that allows us to be successful and was the reason we won the award.
How have you raised the bar in your own company?
Through our actions. How we treat and take care of people helps to make sure we're doing business right. How did you treat each other? When the big guy upstairs asks me that question, I want to have a good answer. That's the philosophy I take to it.
What innovations have you created and used to build your company?
I'm going to applaud the women who handle our training under Audra's tutelage. They have innovated. We gave them the freedom to do that. We've made some changes on some of the blueprints and have provided feedback based on our experience that we feel has helped the brand evolve a little bit.
What core values do you think helped you win this award?
Do the right thing. Treat people right and work hard. We're all in this to make money. We hope everyone loves what they do, but we all have bills to pay and need to buy groceries. We're all in this for the same reasons, so you should treat your people right.
How important is community involvement to you and your company?
We take money from our sales and give it back. In 2016, one of our stores gave back around $16,000 to organizations within the community. We have benefits and fundraisers where we give a percentage of sales back to groups and organizations. We sponsor Little League teams, sports tournaments, bowling leagues, and more. We try to be active. We don't want to just take from the community, we want to give back. I'm proud of that. It's fulfilling to be able to do that.
What leadership qualities are most important to you and your team?
Lead by example. Be honest. Be fair and consistent. If you do those things, you can hardly have any problems--and if you do, they won't be problems that you generated.
Published: September 7th, 2017
Share this Feature
Recommended Reading:
Comments:
comments powered by

Disqus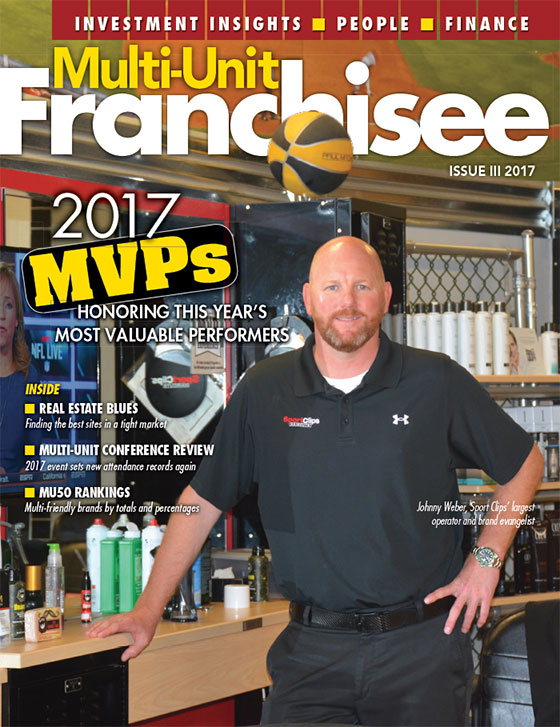 Multi-Unit Franchisee Magazine: Issue 3, 2017
Pizza Factory houses hardworking owners, family-friendly dining and high-quality products. Restaurant design options include a Pizza Factory Express...
Cash Required:
$90,000
A business-to-business franchise opportunity for executive entrepreneurs! AlphaGraphics is now celebrating 52 years of history, and is recognized...
Cash Required:
$125,000