Hard-Hitting Success: Former NFLer Scores Big, Does Good
When it comes to making his mark and doing good, Brendon Ayanbadejo, recipient of this year's Pro Athlete Influencer MVP Award, wants you to know he is just getting started.
Ayanbadejo is halfway through his current mission to open 40 Orangetheory Fitness facilities in California's Los Angeles, Santa Clara, and Santa Cruz counties as a franchisee and area developer. The former baltimore ravens linebacker turned entrepreneur has quickly become a fitness ambassador and top revenue generator for the brand.
"Receiving this award validates the journey that I'm on," says Ayanbadejo, a three-time NFL Pro Bowler who spent 12 years in the NFL. He was fresh off a 2013 Super Bowl with the Ravens when he walked into an Orangetheory Fitness near his Los Angeles home to give the heart-monitored, high-intensity workout a try. When he decided to retire from the game, Ayanbadejo set his sights on a new venture that was the perfect fit.
"The franchise space is so much about teamwork and team building and that is what I'm good at, so I'm so excited," says Ayanbadejo--who, in 2013, after years of offseason studies, also earned his executive MBA from George Washington University as part of an invitation-only School of Business program for professional athletes.
Ayanbadejo brings the same energy, passion, and leadership to franchising that he was known for on and off the field as Ravens captain and NFL Players Association representative. The son of interracial parents, he also is known for advocating for marriage equality, including same-sex marriage. Whether training staff, teaching daily classes, opening new gyms, or constantly monitoring client feedback, it's all about the positivity, he says.
"I always try to improve and get better every day," he says. "I started playing football really late, and every day I just wanted to get better at the sport. It is the same thing in business and the same thing in life. It is kind of like the saying, 'How you do one thing is how you do everything.' I'm always trying to get better."
For Ayanbadejo, no challenge is too big. He hopes to invest in additional complementary health and fitness brands and is exploring international expansion possibilities that he believes can directly reduce disease rates by spreading the powerful benefits of health education and fitness.
"I know I'm still a small fry, but I have a lot of goals, a lot of ambition, passion, and two feet on the ground," says Ayanbadejo. "There is a lot more that I want to do and accomplish. Part of it is getting wealthy, but another part of it, which is bigger and more important, is changing the world with my legacy."
Name: Brendon Ayanbadejo
Title: Area developer, franchisee
No. of units: 20 Orangetheory Fitness
Age: 40
Family: Wife, Natalee, daughter Anaya 11, son Amadeus 6
Years in franchising: 4
Years in current position: 4
Personal
Formative influences/events:
It was rough growing up in the inner city of Chicago. We lived in a single-parent home with three kids. My mom led our team with everything she had--that was our family unit, that was our team. Everyone else in the Lathrop Homes projects in northeast Chicago was just as poor as us. We all lived each day to the fullest and dreamed about being athletes, stars, or changing the world. Ironically enough, my older brother Femi (former NFL player Obafemi Ayanbadejo) and I did just that. Mom has always taught us to have an unwavering belief in ourselves. This single mom from the projects raised three children who racked up five college degrees, including two MBA degrees, 20 seasons in the NFL, three Pro Bowl appearances, two Super Bowl championships--and most important, six grandchildren.
Key accomplishments:
Helping change equal rights laws in the U.S. 2012/2013. Earned my Executive MBA at The University of George Washington in 2013. Baltimore Ravens 2013 Super Bowl Champion. Owner of the highest-grossing Orangetheory Fitness location in 2016.
Work week:
Every morning I drop my kids off at school and teach three fitness classes. Once I am done with the workouts for the day, I hit the KPI portal and Listen360 for customer feedback. I check in with my regional staff, managers, employees, and members as well. We are rapidly expanding at the moment. Real estate, letters of intent, and lease negotiations are a heavy part of my daily agenda at the moment, along with coaching classes. I also am in charge of launching our new-to-market studios. I train all of our fitness staff on the art of how to be a successful Orangetheory Fitness coach. I have to say that is one of the most rewarding parts of my job.
What are you reading?
It's Your Ship by D. Michael Abrashoff.
Best advice you ever got:
Always believe in yourself. (Mom)
What's your passion in business?
My passion in business and life all boils down to helping people achieve their goals. When my staff achieves their goals, the business wins. When our members achieve their goals, the business wins. We put the staff and members first. Being a successful business owner means you are a revenue generator. When the business is a robust revenue generator, we also become a robust income distributor. When I see our employees buying new cars, homes, wedding rings, and having children I would have to say that it makes me feel a little tingle inside my heart and soul.
Management
Management method or style:
The team, the team, the team! I boldly lead by example. I like to lead from the front. We all have to continue to move up or out.
Greatest challenge:
Complacency. There is no time for it. Good is the enemy of great. Good is not good enough.
How do others describe you?
That's a great question. I honestly do not know. Hopefully they say I am well-rounded, intelligent, and that I genuinely care.
How do you hire and fire, train, and retain?
Human capital is the most important asset to any non-IP based business. I let my managers and regional managers hire their staff. They are the ones who have to work with them on a daily basis. They are also responsible for training their staff. KPIs are attached to the performance of our locations. Managers are graded and earn bonuses based on their monthly KPIs. As mentioned earlier, I do get to train some of the staff. They go through a very intense 40-hour training, which I lead. It is an audition process. Even though they complete the certification training, there has to be a personality fit with their working team. When prospects see the value and commitment put into the integrity of the brand, as well as the high level of proficiency from the team, they are immediately excited to be a part of it--or intimidated and decide it's not their true passion. As far as firing goes, we always give the employee an opportunity to up their game and meet our standards. Action plans are typically 2 weeks to 30 days in duration to meet the minimum criteria in our evaluation process. It's pretty black-and-white. Evaluation scores, along with completion of the action plan, will dictate employment status. Behavioral infractions are a different beast. While written warnings do get issued, some infractions call for immediate termination.
Bottom Line
Annual revenue:
In 2016, overall company gross revenue as master franchisor was $19.7 million; revenue as a franchisee was $8.3 million.
2017 goals: How do you measure your growth?
Close out the year with 25-plus open units to market. We are currently sitting at 18.
Growth meter:
So far in 2017 we have opened two units. We would be excited to open eight more locations this year.
Vision meter: Where do you want to be in 5 years? 10 years?
I plan on being a multi-brand franchisee in the next few years. I also plan on being international. In the next three years the plan is to have a fully mature market with 40 open stores. As of late, I have the angel investor bug as well. I might even come up with my own franchise concept.
What are you doing to take care of your employees?
Little things go a long way with our staff. Holiday bonuses, team meals and night outs, and incentivized team competitions all build the team. We also have emergency funds readily available for the team that they do not have to pay back. We have bought flights home to see family members, replaced stolen laptops, and provided cash when tragedy strikes.
What kind of exit strategy do you have in place?
There is no exit strategy in place. If and when a sale takes place we will see how many multiples we can get for our units. I would be more than happy to get all 40 of our units to market and continue to cash flow at our current margins, which are pretty spectacular.
Pro Athlete Influencer Award
Why do you think you were recognized with this award?

I believe I was selected because of precise execution of my post-NFL goals. In 2010, I started my MBA. I completed it in 2013 and retired from the Baltimore Ravens after winning the Super Bowl. I also signed my Orangetheory Fitness contract that year. In 2017, we have 18 open stores and are just about halfway through our projected business model. I suppose the bar is not too high for former professional athletes in business. I have looked up to guys like Ronnie Lott and Joe Montana for years. There are a bunch of former and current younger athletes out there disrupting the business norm as well. Israel Idonije, Gary Brackett, Drew Brees, and Ryan Nece, to name a few, are doing just that.
How have you raised the bar in your own company?
Just as in the NFL, my job was to be an excellent football player, and to also protect the shield. My job now is exactly the same. Be an amazing operator and disrupt my corporate big brother. There is a reason why we have the highest-grossing studio of all time, and 6 of the top 30 performers in the company from my regions. We have a commitment to excellence and continue to set the excellence bar higher and higher.
What innovations have you created and used to build your company?
I would have to say the blueprint is there for us within the FDD. We have done a particularly good job of not watering down the product. In my experience, I have learned that revenue is tied in to studio usage. The more people work out, the more revenue is going to hit. We have come up with fun ways to pack the studio. With the additional utilization, we have had to be strategic in how we usher members in and out of the studio. We came up with some unique solutions that are now implemented not only in all of our 18 studios, but also around the nation as well.
What core values do you think helped you win this award?
Whether it is known or not, I firmly believe in conscious business practices. It's important to positively affect one person. Maybe that's your first hire. From there we want to positively impact the neighborhood. Perhaps that's your first member. Eventually we want to impact our community, city, and nation. Ultimately, sustainability and conscious business trump the bottom line. I'm not here to get rich. I am here to impact as many lives with health and fitness as I possibly can. With this mindset, there are a lot of businesses that I wouldn't be a part of because I wouldn't be able to sleep at night. On the other hand, there are also a lot of companies that are right in line with my core values that I would be happy to have an association with.
How important is community involvement to you and your company?
We are always doing something in the community. We have partnered with Angel City Sports so adaptive sports athletes have a place to play and complete. As a company, Orangetheory Fitness raised almost $2 million for Augie's Quest benefiting ALS research. We recently did a charity with Project Angel Food, a charity that delivers meals to the needy. We also do an annual cancer-based charity in October. The list goes on and on. We even donate old equipment to local high schools. Without the community we are just four walls with fitness equipment inside of them.
What leadership qualities are most important to you and your team?
Say what you mean and mean what you say. It's all about 3 C's: communicate, critique, and congratulate. I like to build our staff up even when we need them to make some changes. I will typically find out what they do really well and will sandwich it with a critique in the middle. We also have our leadership team do this as well. Along with communication and leadership you have to be able to forecast and have these conversations ahead of the curve. We always try to add a measurable metric to our staff's performance so the information comes from an objective view.
Published: August 24th, 2017
Share this Feature
Recommended Reading:
Comments:
comments powered by

Disqus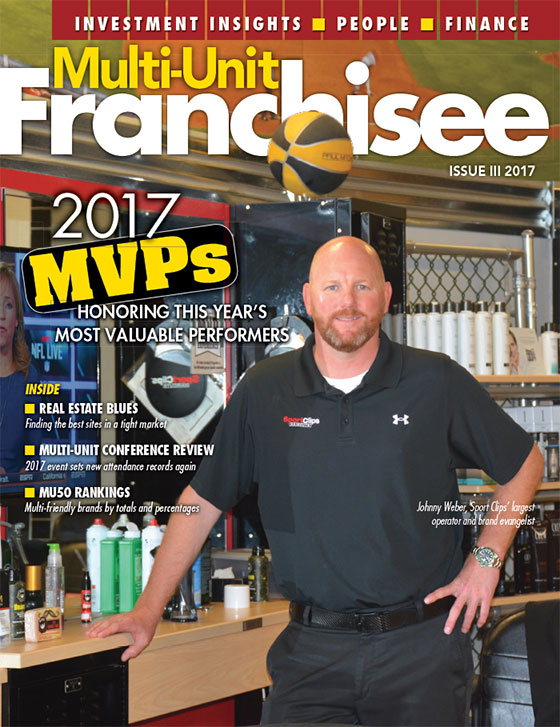 Multi-Unit Franchisee Magazine: Issue 3, 2017
MOOYAH Burgers, Fries & Shakes (MOOYAH) is a fast-casual concept committed to providing the best-tasting burger experience possible by specializing...
Cash Required:
$500,000
Basecamp Fitness is empowering entrepreneurs to build an innovative fitness franchise in their markets while helping create happier, healthier...
Cash Required:
$250,000