A Life of Service: From Refugee to JIB's Largest Franchisee
It's easy to see why Houston-based franchisee Atour Eyvazian was honored with Multi-Unit Franchisee magazine's 2012 MVP Noble Cause Award. His story of a treacherous escape from war-torn Iran at age 19, followed by his move to the U.S. to achieve the American dream as Jack in the Box's largest individual operator, writes itself. Along the way, he has practiced business the same way he lives life--with passion and unwavering support for those in need.
"I grew up looking at life from a different angle," says Eyvazian. "Everything we do, every line of work, is about serving people in some capacity, about adding value to somebody's life. At the end of the day it is all about what you do for other people."
Eyvazian's journey began in 1984, when his parents helped him escape across the rugged mountains of Iran on foot, only to be arrested and jailed as he crossed into Turkey. The young man remained imprisoned for 40 days until he bribed his way out with money his mother had sewn into his jeans.
When Eyvazian eventually landed in the United States, a relative took him in and suggested a job at a Jack in the Box in California. He says these two events--and the birth of his children--are the most significant in his life. He will forever be loyal to both the country and business that so lovingly embraced him, says Eyvazian, who became a U.S. citizen in 1989, the same year he joined Jack in the Box's corporate office.
Eyvazian started at Jack in the Box scrubbing toilets as a janitor, ravenously learned to speak English, and eventually worked every job behind the counter until, in just two short years, he became a restaurant manager. He quickly rose through the company to ultimately serve as manager of guest service systems, overseeing almost 700 restaurants. The Jack in the Box tuition-reimbursement program allowed him to earn an undergraduate degree and a master's degree in business administration. Some smart real estate investments opened his world to franchising ownership opportunities. In 2007, he moved his wife and two children to the Houston area, where he now operates 109 Jack in the Box franchises. (When we last visited with Eyvazian two years ago he had a "mere" 59 Jack in the Box locations).
The recipient of numerous awards--including The National Restaurant Association's first-ever American Dream Award-- the ever humble Eyvazian is uncomfortable with the spotlight. The MVP Noble Cause Award was an emotional moment that he credits to the experiences he has gained working with the H.E.A.R.T. (Housing, Entrepreneurship, And Readiness Training) Program. He currently serves as chairman of the board for the program, which provides real-world training for low-income adults with developmental disabilities.
Eyvazian will never take his freedom for granted. He is passionate about encouraging others to succeed and believes in loyalty, building relationships, delivering what you promise, and never giving up. And he describes luck as "Labor Under Correct Knowledge," something that happens when you don't give up.
"No matter what we go after my father used to tell me, 'Some people run when they fall and get hurt and they don't get up and run again," says Eyvazian. "There is no substitute for hard work."
Name: Atour Eyvazian
Title: Franchise owner/operator
Company: JIB Management, Inc.; AA Management, Inc.; Cal-Tex Restaurants Inc.; A&A Restaurants, Inc.; San-Tex Restaurants, Inc.
Brands: 109 Jack in the Box
Personal
Age: 47
Family: Wife, Melita; daughter, Emma; son, Ethan
Years in franchising: 8
Years in current position: 8
Key accomplishments:
B.S., business administration, University of Phoenix; MBA, University of Phoenix; National Restaurant Association (NRA), first recipient of the American Dream Award; honored at the NRA "Faces of Diversity" (2007); Jack in the Box, Regional Franchisee of the Year (2007); Jack in the Box, National Franchisee of the Year (2008); Franchise Update Media Group, MVP Noble Cause Award (2012); involvement with the H.E.A.R.T. program, and elected president of the board (2012).
Biggest mistake:
Not starting earlier in franchising. I feel I would be a lot farther along if I had started earlier.
Smartest mistake:
Not starting earlier in franchising. Delaying my involvement with franchising afforded me the ability to attend college and earn my MBA, an accomplishment I might not otherwise have done if I had started earlier.
How do you spend a typical day?
Involved in the day-to-day operations of the business.
Work week:
70-plus hours a week.
Favorite fun activities:
Spending time with my family and children.
Exercise/workout:
I try to work out four to five days a week, weight lifting for the most part.
Favorite tech toys:
iPad
What are you reading?
Great by Choice by Jim Collins
Do you have a favorite quote/advice?
"There is no substitute for hard work." (Thomas Edison)
Best advice you ever got:
Work with your people and you will go far in business.
Formative influences/events:
My upbringing and coming to the United States. Starting from the bottom of the company and working my way to the top.
How do you balance life and work?
Merge both personal life and work life as closely as possible.
Management
Business philosophy:
People are everything. If you lead your people to success and provide them with the tools they need to succeed, you will succeed.
Are you in the franchising, real estate, or customer service business? Why?
I am in the people business. Everything we do in life deals with people. Without people, there is no business. If you remember that, and learn to be a part of that "people business," you will be successful.
As an operator, what are the two most important things you rely on from your franchisor?
Support of the brand and systems of the brand, which they have been extremely good to me on.
What gets you out of bed in the morning?
My drive. I know I have a business to take care of and people rely on me for that. They are the reason I move forward.
What's your passion in business?
The people who work with me in this company and the satisfied guests that frequent my establishments. Knowing that we provide a service to people that makes them happy makes my day.
Management method or style:
I am very hands-on from the beginning of the process to the end. I like to see everything through to the end. I learn and understand all aspects of whatever needs to be done and I pass that knowledge on to my employees. Once they understand the process, I delegate to them to move the project forward.
Greatest challenge:
Finding the right people and training them so they, too, can be successful, not only for the company, but for themselves as well.
How close are you to operations?
I am hands-on 24/7. I am in the day-to-day operations overseeing everything.
Have you changed your marketing strategy in response to the economy? How?
Of course. Every business has had to adapt and change to this economy and we are no different. We have to be flexible to what the people need and expect of you and meet that demand in order to continue being successful.
How is social media affecting your business operations?
Jack in the Box has always been a part of social media and today is not any different. Everyone knows who Jack is and he has a big fan base. People love the character and love the food.
How do others describe you?
Ambitious, fair, and generous. I will not ask anyone to do something that I would not do myself.
How do you hire and fire?
Try to find people that fit the position. We have an interview process we follow for hiring.
How do you train and retain?
Jack in the Box has great training programs and systems in place and has made it easy for franchisees to train our employees.
How do you deal with problem employees?
We don't see employees as problems. We see problems as problems and treat the problem.
Bottom Line
Annual revenue:
NA
2012 goals:
To be better than 2011.
Growth meter: How do you measure your growth?
By the growth of my people.
How has the most recent economic cycle affected you, your employees, your customers?
The same as it has affected every business, employee, and customer in this economy.
Are you experiencing economic growth/recovery in your market?
Yes.
What did you change or do differently in this economy that you plan to continue doing?
Going back to the basics of the business.
How do you forecast for your business in this economy?
By looking at the trends.
Where do you find capital for expansion?
From banks.
Is capital getting easier to access? Why/why not?
It has become easier, compared to last year.
Have you used private equity, local/national banks, other institutions? Why/why not?
I have used local banks in the past. I have a great relationship with both national and local banks.
What kind of exit strategy do you have in place?
My plan is to keep the business and take care of my family.
What are you doing to take care of your employees?
We treat them as well, if not better, than they want to be treated. We provide our employees with opportunities to grow within the company.
How are you handling rising employee costs (payroll, healthcare, etc.)?
It has become part of doing business in our industry.
How do you reward/recognize top-performing employees?
We conduct regular award ceremonies where employees receive awards and trophies as well as bonuses and employee incentives.
2012 MVP - Noble Cause Award
For Passionate, Unwavering Support For Those In Need
Why do you think were you selected for the Noble Cause MVP Award?
I believe my contributions and dedication to H.E.A.R.T. and the people who work with me in my organization are the reasons I was recognized as an MVP winner.
Tell us more about what you did.
I am involved with a local organization called H.E.A.R.T. that works with disabled adults providing them with education, training, and jobs that allow them to be more independent than they would be otherwise. I have had personal experiences with a family member who was disabled at the end of life, and this made me feel a close bond with this organization. Helping them grow and help others has provided me the opportunity to be involved and help others who otherwise would not have the help they need. I owe the MVP Award to that experience.
As a multi-unit franchisee, how have you raised the bar within your company?
We try to do our best and compare and compete with ourselves. At the end of the day you are your own competition.
Give us an example of innovations you have created and used to build your company.
We have put systems in place that allow us to track everything we do through our company portal. Everything is submitted from operations (paperwork) and my office organizes it and puts it into usable data that helps our day-to-day operations.
What core values do you have that you feel led you to winning this MVP Award?
Passion for humanity and people.
Published: July 6th, 2012
Share this Feature
Recommended Reading:
Comments:
comments powered by

Disqus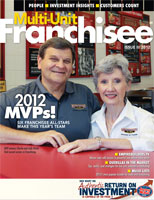 Multi-Unit Franchisee Magazine: Issue 3, 2012
With 500+ restaurants in development worldwide, Wayback Burgers is America's favorite hometown burger joint and one of the world's fastest-growing...
Cash Required:
$250,000
With many attractive development territories available for multi-unit growth, there has never been a better time to become a Penn Station franchisee.
Cash Required:
$300,000