A Valued Leader: Craig Joy Takes Care of Guests and His Employees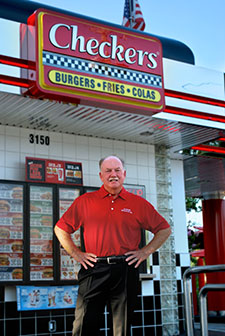 You'll find Craig Joy with his sleeves rolled up working alongside his employees at his Checkers restaurants in Florida. The multi-unit franchisee takes a people-driven approach to running his business and, as a result, maintains a very high retention rate for his employees.
His franchisor loves him too. "We're lucky to have him," says Checkers Vice President for Franchise Development Jennifer Durham. "Crew members look to him as an inspirational leader. He gives them an opportunity to grow more than the average fast-food job. He cares about his people and really gives them an opportunity to grow professionally."
And it's clear that Joy, Checkers' 2013 Franchisee of the Year, takes pleasure in new, more efficient ways to operate his six restaurants in the Tampa area. For example, Checkers has a "Peak 150" strategy, meaning the time between order and food delivery is 150 seconds. In implementing that strategy, Joy also used technology to make things go even more smoothly by installing drive-thru timers that clock vehicle time from the menu board to the pick-up window. He was also one of the first to use an outside employee taking orders behind the menu board with the use of a tablet, and the first to roll out the brand's Cold Creations sweet treats line. And in 2013, he piloted Checkers' wireless order-taking system.
Joy, who began franchising with Taco Bell and became a Checkers franchisee in 1990, says he's keeping a close watch on how technology affects his business. "While people will always be at the forefront of our business, I try to keep an open mind as to what is going to drive business in our ever-changing environment," he says. "Technological advances in our business can lead to greater increases throughout, leading to ease for our guests and, in the end, increased sales. This is why we're in business."
"Craig is a valued leader in our system. He's an excellent operator who's always willing to test new programs in his restaurants and provide feedback that benefits the entire system," says Rick Silva, president and CEO of Checkers and Rally's Restaurants. "As a longtime member of our Franchise Advisory Council, he has been a trusted advocate for innovation and someone we can count on to provide feedback that's honest and direct, as well as professional and sound. Craig is a true partner who makes us all better."
Q&A
Name: Ronald Craig Joy
Title: Owner, President, Sunstate Restaurant Management, Clearwater, Fla.
No. of units: 6 Checkers Drive-In
Age: 65
Family: Wife Janice, children Cristi, Ryan, and Holly, 5 grandchildren
Years in franchising: 30
Years in current position: 23
Published: October 16th, 2014
Share this Feature
Recommended Reading:
Comments:
comments powered by

Disqus