All in the Family: The Ramseys are a Well-Oiled Franchise Machine
Tulsa resident Bill Ramsey had worked hard in the international manufacturing business all his life, and was a bit disappointed when he learned that none of his five children were interested in following him into that industry. He didn't have a lot of family growing up, so he was determined to keep his close.
After a family meeting--where he learned that his children were much more enthusiastic about operating restaurants in a cool chain like Schlotzsky's than following him into international manufacturing--Ramsey signed a franchise agreement with the company in 1994. He opened his first location in 1995, and under his leadership--a man with no franchise or restaurant experience--made brand history by becoming the franchise's first million-dollar store.
"On Feb. 16, 1995, we opened the doors to our first Schlotzsky's, and none of us were prepared for what would come next," says Ramsey. "During those early days, people would arrive at sunrise, craving the Schlotzsky's sandwiches that had disappeared from Tulsa more than a year before. We were amazed that we were more than doubling our projected sales figures. After nine months and 27 days, we had surpassed $1 million in sales--a landmark for Schlotzsky's."
Ramsey, who quietly sold Ramsey Industries in 1999, wasn't really surprised that his past experience was beneficial in new and different venture. "Remember, making a sandwich is like manufacturing--you have to have a production line to do it," he says. "Schlotzsky's didn't have a proper line and they let me design one. It's the one-pass system, using a double-sided table for drive-thru and inside. We helped expand the food lines, sandwich lines, soups, and pizzas. From doing all this we were able to achieve $1 million in sales."
Today, with three stores in Tulsa and four in Oklahoma City, Ramsey is the brand's largest franchisee and continues to work with Schlotzsky's to develop and test new products, better service models, and more efficient production systems. He has served on the Schlotzsky's Franchise Advisory Council for the past two years and has been re-elected for another two-year term.
While the senior Ramsey is still firmly at the helm, he has gradually turned over more of the day-to-day operations to his children. Each has a specific role. Shane, 35, is president of RAM-Z and director of operations. His twin sister, Tina Harris, is office manager and handles HR, PR, and insurance. Justin, 30, is outside district supervisor for the Oklahoma City and Tulsa stores. Their father continues to "watch after the financial part and try to come up with new things to create," he says.
Ramsey enjoys working with his children, but they've had to work their way into their current positions, he says. "I always told the kids that they had to learn things from the ground up. Education is great, but it can only teach you by the book. The experience factor is worth two books. So they've had to work as managers, learn the products, and handle customers. When they walk into a store, I told them, the crew members need to see them take over a position and run it faster than they can do it."
Running a family business, of course, has its own set of challenges. "I've had to learn a lot myself about separating business and family--being a boss during the day and a father at night," Ramsey says.
Overall, he's pleased with how the younger Ramseys are growing the business. "Their vision is a little bit different from mine, and that's okay. They're keeping things rolling smoothly, and operation-wise we're profitable. We had double-digit sales increases three years in a row (2006-2008), a 7 percent increase in 2009, and we're running about 3 percent ahead right now." The company plans to add a new store each year for the next five--some of which will be co-branded with Cinnabon Express.
Ramsey says he's looking forward to spending more time with his wife, on the golf course, and with the children and grandchildren. "We're really lucky--all our kids and grandkids are great, no problems whatsoever. We're a close family." However, retirement is not imminent. "As long as I'm in good health and still wake up in the morning wanting to go to work, I'll keep doing it," he says.
His advice to his fellow hard-working franchisees includes the following: "Do whatever you need to draw customers in. It's a fight to keep the same customer count and to build the count. Have excellent products and service all the time. Keep a clean store, and make sure your crew looks good. All this counts. Then try to control the costs of labor and food, so you can make a profit in this economy. If you do all that, you will survive and can build for the future."
2010 MVP AWARD WINNER
You were recognized for demonstrating outstanding performance and innovation in growing your organization and the brand(s). Tell us more about what you did.
As part of the Schlotzsky's system since 1994, our family, the Ramsey family, operates seven restaurants in Oklahoma. With each member of the family taking on a specific role--operations, marketing, human resources, district manager--we're a well-oiled machine. We've led the way when it comes to testing and implementing products and procedures, which in turn guided us to record-breaking sales. In 2009, while facing a dwindling economy, RAM-Z finished the year 7 percent over double-digit increases of 2008.
As a multi-unit franchisee, how have you raised the bar within your organization?
In the last few years, the company has concentrated on modernizing its locations by updating them with the latest Schlotzsky's design elements, being innovative to improve our service model, and using technology to achieve a more efficient and profitable operation. The company's service model has been greatly improved with the introduction of limited table service. This model was designed and tested in our locations and has been adopted by Schlotzsky's as a standard in all of its corporate locations and many franchised locations. We have also installed a top-of-the-line Aloha point-of-sale system in each location to further increase productivity, speed of service, and order accuracy. The new POS system will also give us greater control over food and labor costs and streamline the consolidation of data needed to manage it most efficiently.
Give us an example of innovations you've made to build your company or system.
As innovators, we have created new menu items including the large dinner pizza, and helped design sandwich production systems and other initiatives that have been implemented system-wide. We now plan on growing the business by adding six more restaurants in Oklahoma and co-branding Cinnabon Express for certain locations.
What core values do you feel led you to win the MVP Award?
As a group, our family is dedicated and passionate about the Schlotzsky's brand and is always willing to share our knowledge of franchising with others. When we're not focusing on business, participating in the Schlotzsky's Franchise Advisory Council, growing our catering sales, or implementing new programs, we try to give back to the community through involvement with organizations such as the Juvenile Diabetes Research Foundation and the Miss Oklahoma Pageant.
Name: Bill Ramsey
Title: CEO/Manager
Company: RAM-Z, LLC
No. of units: 7 Schlotzsky's
PERSONAL
Age: 70
Family: Wife, Kay Ramsey (married 38 years), 5 children, 8 grandchildren
Years in current position: 16
Years in franchising: 16
Key accomplishments: Owning and operating a successful family business and watching it grow.
Biggest mistake: Trying to grow too fast in a down economy.
Smartest mistake: Can't think of one.
How do you spend a typical day?
I work in my home office in the mornings, answering emails and phone calls. I go to the office in the afternoon to go over business with my children. Work week: Whatever is needed.
Favorite fun activities: Golf, spending time with my wife and family.
Favorite stuff/tech toys: My iPhone and golf GPS range finder.
What are you reading? Business magazines and books on business.
Do you have a favorite quote or advice you give?
Always do your homework before you make a critical decision.
How do you balance life and work?
I try to separate business time from family time and treat my children as business partners during business hours and be a father to them during family time.
MANAGEMENT
Business philosophy:
We will create a respectful and highly productive work environment for the members of our team. We will always remember that people are our most valuable asset and that each of them plays a vital role. We will always treat people according to the family values that are the foundation of our business.
Would you say you are in the franchising, real estate, or customer service business? Why?
We are in all three because I work closely with the franchisor as a member of the Schlotzsky's Franchise Advisory Council; we are always looking for prime real estate for our next store; and we provide excellent customer service to continue to be successful and grow.
What's your passion in business?
A vision and dedication to growing.
Management method or style:
I expect the family and employees to learn from the ground up. I have high expectations.
Greatest challenge: Getting financing for future growth.
How close are you to operations? Very, daily.
Personality: Friendly, hard-working, respectful.
How do others describe you? Businessman, respectful, man of integrity.
BOTTOM LINE
Annual revenue: $8.1 million (2009)
2010 goals: $8.6 million same-store sales, plus open a new concept store.
Growth meter: How do you measure your growth?
Last year's revenue versus this year's revenue and profitability.

Vision meter: Where do you want to be in 5 years? 10 years?
Building one store per year for the next 5 years.
How has the most recent economic cycle affected you, your employees, your customers?
We haven't been able to expand as rapidly because financing was not available.

Are you experiencing economic growth/recovery in your market?
Yes, we ended 2009 with a 7.11 percent increase in sales over 2008. We are currently up 3.45 percent in sales year to date over 2009.
What did you change/do differently during the recent tough economic times that you plan to continue doing into the future?
We have stepped up our customer service model by providing table service and having our employees give the customer a wonderful dining experience. We updated our restaurants to give them a fresh look and continue to offer our customers new products to keep them coming back.
How do you forecast for your business during trying times?
Can you even forecast at all? We looked at each store's marketplace and forecasted that store's sales based on what we think the store is capable of doing.
Where do you find capital for expansion?
Because financing was not available for our new store through financial institutions, we put together an investor's package and sold units to investors. Is capital getting easier to access? Why/why not?
No. The attitude of financial institutions toward the restaurant industry and small businesses has not changed.
Have you used private equity, local banks, national banks, other institutions? Why/why not?
Private equity. We now have a partnership with our investors to open our new store this fall. What kind of exit strategy do you have in place for your business?
I'm in the process of working out an exit plan with my children.
Published: November 22nd, 2010
Share this Feature
Recommended Reading:
Comments:
comments powered by

Disqus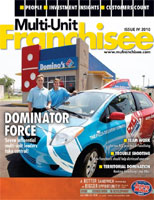 Multi-Unit Franchisee Magazine: Issue 4, 2010
With more than 230 locations operating and 350 more sold and in development, Dogtopia is the largest and fastest-growing dog daycare provider in the...
Cash Required:
$300,000
As the personal care movement continues to develop and more people recognize the benefits of a regular self-care routine, the demand for Waxing the...
Cash Required:
$150,000