All The Right Moves: Guillermo Perales puts the Focus on Operations and Growth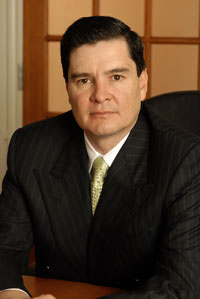 Guillermo Perales is at it again. When we spoke to him last year (MUF Q4 2012) he was on the grow and flirting with 400 locations throughout his restaurant kingdom. Now he has been recognized with the Multi-Unit Franchisee magazine MVP Award, while busy remodeling more than 40 of his Burger Kings, Popeyes, and Golden Corrals, cutting the ribbon on three new Popeyes, and in the building stages of several more units in his core markets of Dallas, Houston, and Orlando, Florida.
"We've still got around 400 total locations," he says matter of factly, "But we did sell off 10 Golden Corrals in January and have been heavily remodeling a number of our other units." He says another handful of restaurants are awaiting building permits that are "tough going." And when we spoke, he was cooking up a deal to purchase two more existing restaurants but wasn't ready to divulge any more info.
Perales history is well-known around these pages. The Mexican native graduated with honors before heading to the U.S. and corporate life. His first job, with Mexican company Gruma Corp. in the 1980s, gave him the experience he needed and provided a stepping-stone to starting his own business. One thing he learned during those years was, "It's better to be a part of a bigger system. It takes away some of the risk when you have a recognizable name, and it makes financing easier to get," he says.
Dallas looked full of potential and Perales settled in. He identified some key sites and by 1997 had opened his first Golden Corral in Dallas. An SBA loan helped him meet the financial criteria and get things off the ground. There's been no letting off the gas since.
He's currently operating Burger King, Popeyes, Arby's, CiCi's Pizza, Golden Corral, T-Mobile, and Del Taco locations. His restaurants are now all in the Dallas, Houston, and Orlando DMA's. He's the largest Hispanic franchisee in the country and fourth largest franchisee overall. Growth, real estate ownership, and centralized locations are cornerstones of his operation. And going big is his calling card. "With one unit you can fail, but with several you can support the network," he says.
His MVP Award is the latest in a long line of recognitions. One of the reasons he was selected relates to his extensive and ongoing community involvement. He co-founded the Latin America/DFW Fund to raise money for Latino-based programs and initiatives, and he has supported programs that encourage Latino students to stay in school. And with nearly 400 franchise locations, he provides job opportunities in the communities where he does business. Today those jobs number more than 10,000.
"Finding the right people, training, and retaining them is always challenging," he says. "And different concepts have different training demands, policies, and procedures."
As he told us late last year, remodeling units was on the front burner for 2013. He wasn't kidding, 40 so far this year and dozens more to come. And he's always looking for areas to add or build new units. "We would already have more units built but we are facing some tough going getting building permits for the locations," he says. He's also been busy traveling. The day before we spoke he had been in China and he was preparing to head to Chicago on business. But, he says, he's got a great team of dedicated professionals that he trusts to run things when he's away.
It's difficult to say what's next for Perales. But he's got irons in the fire and you can bet it will involve growth. Whether it's a conversion, a new build, a refranchise, or a remodel, Perales has the dedication, experience, and resources to make it happen. And at almost 400 units and growing, there's no limit.
Name: Guillermo Perales
Title: President and CEO
Company: Sun Holdings, LLC
No. of units: 398: Burger King (172), Popeyes (73), Arby's (52), CiCi's Pizza (49), Golden Corral (33), T-Mobile (12), and Del Taco (7).
Personal
Age: 50
Family: Wife, Adriana, and three children, 14, 12, and 8.
Years in current position: 15
Years in franchising: 15
Formative influences/events:
When I turned 50 last year it was a kind of milestone for me. It caused me to stop and reflect on where I had been and consider where I am going. I believe I have done things well and the philosophies I have developed over time will hopefully continue to serve me well as I proceed into the future.
Key accomplishments:
We have helped get more Latinos into franchising, both as franchisees and suppliers. I feel I have been a leader and a role model in this community. I'm glad that my business has been able to provide so many jobs for people--more than 10,000. I'm still proud to be the largest Hispanic multi-unit franchise operator in the country.
Decision I wish I could do over:
There have been things I would have done differently - like when I bought some Denny's restaurants at a price that was too high and eventually ended up selling them. And there were times when I chose the wrong site to open a new unit. But I think the way to look at it is to learn from the mistakes so that you don't repeat them.
How do you spend a typical work week?
Even though I am now 50, I still maintain busy work weeks. I'm still putting in 70- to 80-hour weeks. I want to be available for whatever might come up. I travel a couple of times most weeks to association meetings, conferences, my stores, or other meetings. I'm part of our weekly manager's meeting and I'm reviewing financials.
Favorite fun activities:
I try to spend time with my family whenever I can, especially now that the kids are older. We like to go to Colorado, skiing together, and I like to play tennis.
What are you reading?
Mostly trade industry publications. I have been traveling some lately and that allows me time to keep up on the industry. Of course I read Multi-Unit Franchisee magazine, QSR magazine, Dallas Business Journal.
Best advice you ever got:
Perseverance and persistency.
What's your passion in business?
I would have to say managing the business. I believe that every day in business provides a new challenge or opportunity. So for me, I am always looking for new growth opportunities and what we can do next as a company.
How do you balance life and work?
It's tough. I try to find a balance with exercise, work, travel, and family time. You just try to keep an even balance there.
Last vacation:
I'm on the board of BBVA Compass and they recently sent the directors to Hong Kong, China. It was a working trip but my wife came and we had a chance to enjoy China while we were there.
Management
Business philosophy/management style:
Organic growth through a lot of new construction and searching for purchases. Since day one we have focused on growth, building, and buying. We've also consciously been trying to stay strong in our Texas and Florida markets (Dallas, Houston, and Orlando).
Greatest challenge:
The larger we've gotten, the more exposure we have had to legal trouble. That's one of the reasons we now have four attorneys on staff to help us make sure we are doing everything by the book. On the corporate level, it's difficult to find good people that will stick with you. At the unit level, the problem of employee retention remains. We're always dealing with turnover in this business.
How I give my team room to innovate and experiment:
Let me first say that we are a very operations-driven company. So within that I empower each of my brand managers to think and manage on their own. They are encouraged to problem solve and develop new ideas. I love when they think innovatively and try new things. They have that freedom. However, they are accountable and they must get results.
How close are you to operations?
I'm close, but at 400 units I rely on insight from my brand managers. But I do see the numbers every week and visit my stores. Believe me, I keep an eye on cash flow.
What do you rely on/expect from your franchisor?
It's very important to me for the franchisor to take care of the brand. We all have a lot riding on this business. So I expect them to attract the right franchisees, support us with marketing, provide good operations and systems. Good management at the top of the brand is essential. Popeyes has done a great job of managing the brand over the past few years.
What I need from vendors?
I expect vendors to deliver the right products, on time. That should be a given. But I also need them to watch the dollars and be willing to talk numbers when necessary. Negotiation is important.
How is social media affecting your business?
Our brands are all experimenting with social media to varying degrees. They are putting together and using systems that capitalize on the marketing and monitoring aspects of social media. For our part, I have a person dedicated to marketing and social media. There is value here.
How do you hire and fire?
At this stage I don't do any hiring or firing at the unit level. But I expect my managers to be on top of things there. I'm keeping my finger on our benchmarks and financials, and when a store is not performing we are not afraid to make a change.
Fastest way into my doghouse:
Not responding efficiently to questions. Poor performance is another. Basically, anytime I sense a lack of commitment or dedication to the job and this company.
Bottom Line
Annual revenue:
Over $400 million annually.
2013 goals:
We plan to build around 15 new units this year. We will also continue to do many remodels, probably 30 Burger King, 15 Popeyes, 4 Golden Corral, and 5 Arby's remodels in 2013.
Growth meter: How do you measure your growth?
Last year was huge for us with the Burger King and Arby's deals. We set development schedules. We like to develop our sites and own the property, that's one way. But we also buy existing franchises from others. So we measure our success based on our development schedules.
Vision meter: Where do you want to be in 5 years? 10 years?
More growth, of course. I would like to add more brands and locations that become available in our main markets of Texas and Florida. That's where we want to dominate. I'm open to looking at new or established brands; whatever the smart decision is for us. The goal is to grow organically. We're always looking for potential new sites and ways to build out faster. I'd like to double our size in 5 years.
Are you experiencing economic growth/recovery in your market?
In Dallas, my perception was that the recession hit later and the recovery started sooner than most other metropolitan areas. We're now seeing double-digit growth at our stores in Dallas.
How do you forecast for your business in this economy?
Through benchmarking and year-over-year comparisons.
Where do you find capital for expansion?
We used to rely mainly on banks, but when the economy went down we had to get more creative.
What are you doing to take care of your employees?
We provide English classes and are working on a scholarship program.
How are you handling rising employee costs (payroll, healthcare, etc.)?
The new health insurance will be a challenge. We may have to raise prices to comply.
How do you reward or recognize top-performing employees?
Recognizing performance and providing a healthy bonus/incentive plan.
2013 MVP Questions
Why do you think you were recognized for the "American Dream" award?
I can't say for sure but I hope it's in part because I have come to America and created a successful business that provides many jobs within the community. I have also tried to be an active participant in these communities and make sure that I am giving something in return. I am honored to have been recognized by the MVP Award.
As a multi-unit franchisee, how have you raised the bar within your own company?
We benchmark our results against other franchisees in the systems we're involved with. Measuring these results and making adjustments are necessary. I would also say that we have been aggressive developers, taking over existing locations and building new ones. We also try to identify needed changes and make them quickly. It's important to always look for ways to improve.
Give an example of innovations you have created and used to build your company.
We created our own training software program that helps us keep stores properly scheduled and staffed. Labor costs are such a significant part of our operations. With our system we can schedule staffing to ensure great customer service while controlling labor costs and maximizing profitability. I might also add that we give out gift certificates to students in area schools when they excel in the classroom.
What core values do you have that you feel led you to winning the MVP Award?
I think it all boils down to focusing on operations. It's important that we have the right people with the right attitudes and dedication. If we all do this the result will be that we are the best at whatever we do.
Explain the role of community involvement to you and your company.
I believe a business cannot truly thrive without taking an active hand in cultivating strong communities. I co-founded the Latin American/DFW Fund to raise money for Latino-based programs and initiatives. We support education and provide incentives for Latino students to stay in school. Almost five million free meal certificates are distributed every year to local students through the program. And we provide 50,000 free meals each year to armed services veterans on Veteran's Day. I've also served on numerous local boards.
What are the important leadership qualities to you and to the members of your team?
I look for people who are dedicated and committed to the cause. Hard-working, honest people who want to be a part of this team and want to make this team the best. And that goes from my executive team here all the way down to the frontline employees in the restaurants.
Published: August 7th, 2013
Share this Feature
Recommended Reading:
Comments:
comments powered by

Disqus

Multi-Unit Franchisee Magazine: Issue 3, 2013
The Joint® Chiropractic is reinventing chiropractic care. Our vision is to become the largest, most respected provider of chiropractic services...
Cash Required:
$100,000
Join one of the fastest-growing fast-casual restaurants with excellent financial potential, multiple business models to choose from, and an all-start...
Cash Required:
$100,000