Alternative Payments Are Expanding: New Developments Are Changing How Customers Pay
There has never been a time where the nature of commerce is changing as rapidly as it is today. Technology been moving at blazing speed, not only around mobile payments and tablet-based POS systems, but also in the very payment types now available. No longer is it just cash, check, or charge. A quick look at our data and projections about those payment types points to a 10-year trend showing major shifts since 2006 (all numbers are in billions of transactions):
| | | | |
| --- | --- | --- | --- |
| | 2006 | 2016 | +/- |
| Credit, debit, prepaid, EBT | 56 | 115 | +104% |
| Cash | 49 | 47 | -3.4% |
| Check | 25 | 9 | -61% |
New players such as PayPal, Google, Bitcoin, and Apple are changing the landscape. Let's examine these to see if we can expect a change in consumer behavior, and an opportunity for franchising to gain a competitive edge in the marketplace.
PayPal
PayPal is pushing extremely hard to gain acceptance in the brick-and-mortar space. For instance, did you know that you can pay at Home Depot with your PayPal account? Earlier this year, PayPal also did a deal to enable any merchant that accepts Discover cards at the POS to also accept PayPal. However, in the case of deals like Home Depot it is almost strictly just a marketing ploy, as usage has been minimal at best. In the case of Discover, there has been a lot of pushback from the processors, who are saying they don't want to allow that, even though it is technically possible; and even if they did want to, the hardware would have to be programed to allow a customer to choose PayPal or Discover once the card is swiped. PayPal's new wallet has been integrated with Apple's Passport, which may give them and Apple something to work on. And paired with PayPal's Beacon device, a consumer could check in and make payments hands-free. PayPal's publicly stated goal to get to 1 percent of the total brick-and-mortar transaction volume seems small--until you think about how much that really is. The next challenge will be getting consumers to care. If you have a PayPal account, watch your mail: you will likely be getting a PayPal "credit card" soon, if you have not already.
Google
I am not really sure Google has discovered what they really want to be in the payments space yet. To give them credit, they seem to have a strategy of shutting down tactics very quickly when they realize they're not working, rather than putting a ton of money into something that may never take off. An example of this is abruptly shutting down their gift and loyalty function in Google Wallet in August.
Bitcoin
There has been a lot of press about Bitcoin (an online virtual currency), but what is it really, and why should anyone care? You purchase Bitcoins with pretty much any currency, which is converted to Bitcoins. My take on this is that Bitcoin is a just a geek's cash. It is electronic, which is cool and geeky, and has all the attractive attributes consumers and merchants want from cash: it's cheap to use, all sales are final (no chargebacks), and it's anonymous. Once a transaction takes place there is no record of the identity of the paying or receiving parties.
It's that last one--anonymity--that may be Bitcoin's downfall. Bad guys selling drugs, porn, and even terrorist organizations have adopted Bitcoin as a way to transact business. This has put Bitcoin in the crosshairs of many governments. But think of the advantages to governments as well. They can have a currency that does not cost anything to mint (no more physical coins) and won't need to print more paper money as it wears out. The saving would be in the billions just on this alone.
This trend will be fun to watch. I am starting see Bitcoin "ATMs" popping up in a few major cities. Can POS be that far behind?
Apple
I still think Apple is the one with the right tricks up its sleeve. They seem to be easing into the payments space without much notice. With every new iPhone launch come rumors about whether or not it will have NFC in it. And when it doesn't, competitors let out a deep breath and think they are okay until the next release.
Well, I am not so sure they are off the hook this time. What about the fingerprint ID on the iPhone 5s? Most people tell me they think it is kind of cool, but not really worth upgrading their phone for. But guess what? Now when you buy something from iTunes on that phone, you no longer have to enter a password; you just use your fingerprint. How many of us have iTunes accounts and are now paying with our fingerprint? Now imagine no credit cards at the POS--just a fingerprint scan and you've paid through iTunes. If I were Google Wallet or PayPal, I would be more than just a little worried about this.
Did you notice something else that is pretty cool on the new iPhone (as well as for anyone who upgrades to iOS 7) called AirDrop? I was amazing my friends at an event recently by AirDropping photos directly to their phones--no email, no text. AirDrop just drops my photo or video right onto another person's iPhone as long as we are close. You have to enable it to work, and you have to accept an incoming photo, but can payments with this technology be very far behind? Why couldn't I just AirDrop an iTunes credit from my account to yours, or to a merchant's? And just because I may not like the iPhone, I could still have an iTunes account and use my fingerprint to pay at a POS. Maybe this solves BitCoin's problem too....
Tom Epstein is CEO and founder of Franchise Payments Network, an electronic payments processing company dedicated to helping franchisors and their franchisees improve system performance, increase revenue, and reduce expenses. Contact him at tomepstein@franchisepayments.net or 866-420-4613 x1103.
Published: February 20th, 2014
Share this Feature
Recommended Reading:
Comments:
comments powered by

Disqus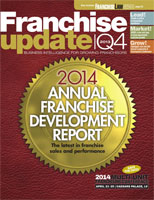 Franchise Update Magazine: Issue 4, 2013
Conferences
InterContinental, Atlanta
OCT 18-20TH, 2023
The Hungarian Franchise Association was founded in 1991 as an interest representation organization of the franchise business community.
In 2022 Empower Brands emerged when Lynx Franchising and Outdoor Living Brands united. Empower consists of JAN-PRO, Intelligent Office, FRSTeam,...