American Dreamer: "No One is Holding You Back But You"
Shahin Urias learned early in life that giving up was not an option. Urias, whose father was in the military, grew up in survival mode during a tumultuous era in Iran. At just 10 years old, following the unexpected death of her mother, Urias became the family caretaker. She would later protect her own children from harm in the war-torn country, inside a mud basement turned makeshift bomb shelter, with no electricity or running water.
Her story on the power of perseverance makes Urias a well-deserved recipient of our 2018 American Dream MVP Award. The owner of six Sport Clips salons, Urias was honored for achieving remarkable success in a new country, where she taught herself English after the family arrived in the U.S. in 1992.
"I started working at a cafeteria in Austin and it helped me a lot by listening and repeating back what I heard," she recalls. "I also studied with my kids because they were also learning English. I used their books to learn the basics and started using the words I heard."
Urias eventually enrolled in cosmetology school. For 11 months, she walked 3 miles to and from school, cared for her children, and worked nights at Luby's Cafeteria. She graduated with perfect attendance.
"I was very proud of myself for accomplishing that," Urias says. "I remember, after years gone by, I stopped by to say hi, and the owner of the school told me they are still using me as an example in the classroom."
With an added new role as a single working mother, Urias took on a part-time stylist job with Gordon Logan, who would soon launch the Sport Clips franchise, specializing in haircuts for men and boys. Urias worked her way up from stylist to manager of one of the top salons in the system for nearly seven years before she remarried and moved to Tucson. With the encouragement of her new husband, Urias opened her first Sport Clips salon in 2008.
"There is nothing you can't do, being consistent and setting long-term goals and facing all the roadblocks and challenges with an open mind and opportunity to make you stronger," says Urias, who became a U.S. citizen in 2000. "No one is holding you back but you."
Name: Shahin Urias
Title: Franchisee/team leader
No. of units: 6 Sport Clips
Age: 55
Family: Married with 2 boys and 1 stepdaughter. My oldest son, Elias, is serving in the U.S. Air Force; my youngest son works for a start-up company in Houston; our daughter lives in California
Years in franchising: 10 (with Sport Clips since 1993)
Years in current position: 10
Personal
Key accomplishments:
Ability to speak English without taking classes. Raising my two boys and getting them through college. Watching them grow up to become the people they are now. Establishing credibility among people who got to know me over the years. Becoming a U.S. citizen.
Work week:
I work every day and sometimes over the weekend. However, I manage to have work and life balance by making time to exercise, hike, and travel to see my kids or take vacations.
What are you reading?
Mostly business-related books.
Best advice you ever got:
Don't give up, there is nothing you can't do, no one will hold you back but you.
What's your passion in business?
I love what I do. I enjoy watching my team members grow in their career, I have a passion to make people happy, and that satisfies me.
Management
Business philosophy:
I don't have any business degree. I learned in business that if you stay true to who you are and what you stand for, and focus on what's important and stay on track, and not let anyone or anything cause you to stray away from your path and goals, you'll be successful and reach your goals.
Management method or style:
I coach and train, and once that part is done the expectations and accountability take place.
Greatest challenge:
To understand each individual and find a way to work with the challenges they face to reach the common goal.
How do others describe you?
Very passionate, caring, strong, fair, honest, patient.
How do you hire and fire, train and retain?
I do not hold that role any more. I train my managers to take that role, and we follow the Sport Clips system to hire and fire and retrain.
Bottom Line
Annual revenue:
$1.2 million.
2018 goals:
$1.8 million.
Vision meter: Where do you want to be in 5 years? 10 years?
In 5 years I want to own 12 locations. In 10 years, I would like to be able to retire and focus more on my passion of helping refugees who come to the U.S. and need help getting on their feet.
What are you doing to take care of your employees?
I have a very generous benefit package, competitive base pay, and incentive pay plan. We also have a small loan program to help them in times of need.
What kind of exit strategy do you have in place?
I do not have a written plan as of now.
MVP Questions
Why do you think you were recognized with this award?
My hard work, determination, leading by example, and my ability to lead and grow the market.
How have you raised the bar in your own company?
Leading by example. Holding up our values and believing in the system.
What innovations have you created and used to build your company?
I opened my first location in 2008 when the economy wasn't going in the right direction. There was no brand recognition in Tucson for Sport Clips, so I had to be creative for my business to survive. I started going door-to-door in residential areas. Introducing the business face-to-face in neighborhoods made a huge impact, and we were able to bring in more clients.
What core values do you think helped you win this award?
Hard work, dedication, following the system, leading by example, not giving up, even in times that are so hard, and facing challenges.
How important is community involvement to you and your company?
I'm involved in so many community programs. One program that is very important to me is childhood cancer. A campaign I organized for the Diamond Children's Cancer Research Center in Tucson raised $10,000. I said if we hit that goal I would shave my head. When we hit the goal, not only did I shave my head bald, so did a bunch of our clients. The event was very successful, and I was happy that I was able to donate 100 percent of the money to such a worthy cause.
What leadership qualities are most important to you and your team?
Walk the talk. Humble. Ability to surrender to people smarter than the leader. Communication skills and the ability to communicate the same message in different ways to team members with a different personality. Consistent.
Published: November 2nd, 2018
Share this Feature
Recommended Reading:
Comments:
comments powered by

Disqus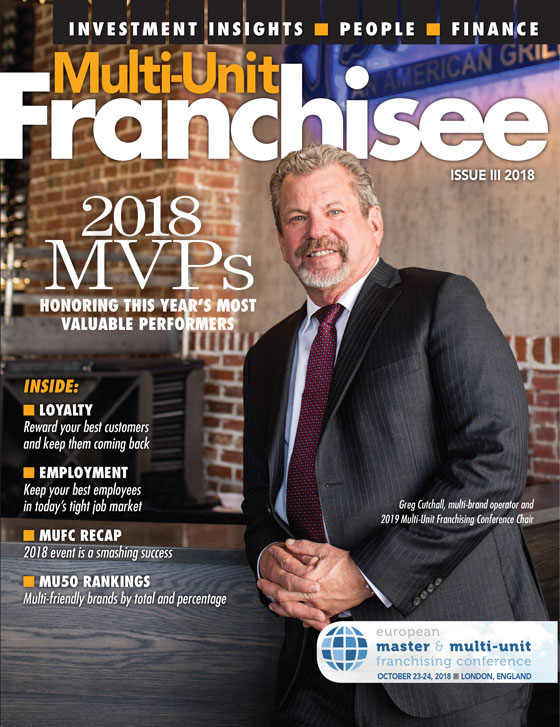 Multi-Unit Franchisee Magazine: Issue 3, 2018
Build a Future with the Computer Service Industry Pioneers. NerdsToGo is paving the way as innovators, entrepreneurs, franchisees, and successful...
Cash Required:
$70,000
Join one of the fastest-growing fast-casual restaurants with excellent financial potential, multiple business models to choose from, and an all-start...
Cash Required:
$100,000