Anatomy of a Turnaround: Bennigan's Creates a New Box
Building on nostalgia and innovation to "revolutionize" fast casual
As president and chief executive of Bennigan's Franchising Company, I have the honor of being at the helm of a renaissance. In Part 1 of this series (Franchise Update, Q2), I talked about our quest to restore the integrity of an iconic brand. Through a strategic analysis and overhaul of our training, operations, design, marketing, real estate, and supply chain, Bennigan's has differentiated itself and created a legendary brand experience for every guest, every meal, every day. Looking forward to what's next, how do we continue this renaissance beyond our four walls? How do we continue to stay true to the nostalgia of our brand while introducing new, forward-thinking concepts that are going to help our franchise partners succeed and grow, and keep winning new guests every day?
Creating a new box
At Bennigan's, we aren't thinking outside of the box, we are creating a new box. For us, this is not just about restoring a brand. We are revolutionizing the casual dining segment. That's a strong word, but we're not about being in the pack, or even leading the pack. We're going beyond that to engage, enchant, and enthrall our guests, our restaurant team members, and our franchise partners. So when I say we're creating a new box, I mean some truly new ideas that are going to change the game.
Our first breakthrough is a recent strategic alliance that gives us the ability to offer both real estate and financing options to potential franchisees. When you look at the landscape of what the obstacles of growth are, the two most common stumbling blocks are finding solid real estate sites and financing. The common questions are: Where do I go, and how do I get the money? Bennigan's is now working with a national real estate firm to put together a full arsenal of weapons to set franchisees up for the path to success. We are in a unique position to bring both of these tremendous assets to the table. With our ability now to offer approved space across the country and provide financing, this truly puts us in a category of one.
Next is our fast casual concept, Bennigan's On The Fly. The fast casual segment continues to grow, but unfortunately lacks the consistent service and hospitality of a casual dining meal. Too often, guests are rushed through the long line, feeling pressure to make a quick decision on food--often choosing an old standby because they aren't made aware of specials or new items--and then they sit down with no further interaction with anyone from the restaurant.
The experience is average, but not memorable. We can take fast casual to the next level by staying true to the warm and friendly service and hospitality our guests have come to expect. We will differentiate ourselves with a guest service coordinator who will act as a brand ambassador. Our Irish Hospitality will be felt in everything from the way we serve guests in the line to the way we bus tables, and how we engage with customers in the dining area.
The fast casual model takes us beyond our four walls to enjoy more points of distribution. Non-traditional real estate opportunities allow for development in airports, hotels, hospitals, cruise ships, universities, and other locations. This means the opportunity to put our food into the hands of more people than ever before. If they like that experience, they will seek out our traditional restaurants as well, and we will have created a loyal guest.
I am also excited to talk about another game-changer Bennigan's is introducing: catering. It is the largest initiative we have ever undertaken, and quite simply, no one else in casual dining is doing it to any scale. Thanks to our software partner, Monkey Media, we will be rolling out a powerful back-end system to execute local catering operations on a national level.
We are testing this in Chicago with phenomenal results and project that catering will become 15 to 20 percent of our sales. Our franchisees can expect to see 60 percent of this incremental increase added to their bottom line. Catering is an often overlooked opportunity, but when done well it is another touch-point to extending hospitality beyond our four walls and into the community.
The quest for the best
Even as we look beyond our four walls to our next initiatives, we must continue to focus on our restaurants and constantly refine our menu. Our quest for the best hamburger in the business led us through a thorough review of test patties available around the country. We ended up with a unique Bennigan's patty: a handcrafted, half-pound burger that will make its debut on our new summer menu. Our price point stayed the same, but we were committed to finding the absolute best beef that would make our burger stand out. It is this attention to detail and excellence in all we do that will continue to define our dining experience and differentiate us from our competitors.
It is an exciting time to be in the casual dining business. Our customers have more choices than ever before on how to spend their dining dollars. All of us in the foodservice business must continue our focus on the customer experience, challenging ourselves to create new boxes. Bennigan's has a unique opportunity to reclaim the nostalgia for our brand, while also redefining ourselves with cutting-edge food, service, and hospitality. In my humble opinion, that's not only the formula for a how you stage a comeback, it is also how you begin a "revolution"!
---
Paul Mangiamele, Bennigan's president and CEO, was hired in May 2011 to turn around and rejuvenate the brand. Contact him at 469-248-4419 or www.bennigans.com.
Published: August 28th, 2012
Share this Feature
Recommended Reading:
Comments:
comments powered by

Disqus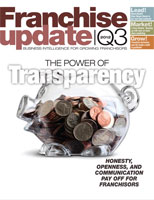 Franchise Update Magazine: Issue 3, 2012
Conferences
InterContinental, Atlanta
OCT 18-20TH, 2022
Atmosphere TV is the world's leading cable alternative, providing free streaming TV for businesses.
Gravity Software is a cloud-based, multi-entity accounting solution that simplifies inter-company transactions and financial reporting. Built-in...