Annual awards recognize success in lead generation and recruitment
In today's business environment, the mystery shopper - the person who pretends to be a customer or potential client while noting every conceivable plus and minus of their shopping or consumer experience - is a fact of life.

In fact, some franchise companies, such as Comfort Keepers, mystery shop themselves in an effort to determine what they're doing right and what they could do better. The data that's collected during this process is invaluable in improving operations, procedures, and service.

In franchising, where creating qualified leads and identifying prospective franchisees is crucial, franchise executives learn quickly to stay on top of the latest techniques for achieving their lead generation and recruitment goals.

This year marks the 9th annual STAR (Speaking To And Responding) Awards, in which Franchise UPDATE evaluates franchise lead generation and recruitment efforts - and recognizes outstanding achievements and best practices in these areas.

Each year, using a set of standard criteria, a mystery shopper makes contact with franchises by phone and over the Internet. Posing as a qualified prospect, the mystery shopper phones franchises' 800 numbers and documents how long it takes to get franchise information and reach a sales representative, and then rates the sales rep's quality of response. Franchise web sites are also mystery shopped to analyze such items as online content, accessibility, site readability and ease of navigation, online request forms and applications, and how long it takes to make contact with a franchise representative.

Every franchise company that registered for the 9th Annual Leadership & Development Conference by a certain cutoff date, was mystery shopped for its franchisee recruitment practices. This year, the number of franchises that were mystery shopped was 156. This year's STAR Awards winners included three home care franchises (see Franchise Watch, page TK for more on this growing field), and are as follows:

Best Practices, Overall


Winner: Comfort Keepers

Runner-up: Synergy HomeCare

Best Practices, Telephone


1st Place: Comfort Keepers

2nd Place: Link Staffing

3rd Place: BrightStar Healthcare

Best Practices, Internet


1st Place: Fantastic Sams

2nd Place: CertaPro Painters

3rd Place: PostNet International

Comfort Keepers
Overall Winner and 1st Place, Telephone
At Comfort Keepers, Jim Brown, director of franchise development, and Larry France, manager of franchise development, have transformed themselves into a two-man recruitment machine, handling all the phone conversations with potential franchisees for the 10-year-old, Dayton, Ohio-based company. Comfort Keepers, with more than 550 units internationally, continues to be a leader in placing caregivers in the homes of adults who need assistance to maintain or improve their quality of life.

"We try our best to answer every call as it comes in, and we actually take the time to talk with people," says Brown, who generally covers the eastern half of the United States, while France handles the western half. "If we happen to be on the phone, our policy is to return calls as quickly as we can. We're big believers in talking to prospective franchisees so that we can begin to establish a relationship with them."

In addition to excelling with phone conversations and interviews, Comfort Keepers has also spent a lot of time making its web site more user-friendly and informative. That strategy appears to be working. "We want to give the potential franchisee an open opportunity to learn about what we have to offer as a franchise. We link our web site with anybody we do marketing with," Brown says. "And we want to answer as many questions as we can with our web site, since it's responsible for more than half our leads."

Regardless of where the leads come from, he says, "It's of paramount importance how you treat them. We treat every lead equally. We contact them as soon as we reasonably can and try to stay close to them until they determine whether they have a lot or a little interest, if it's not the right thing or right time."

Says Brown, "There's no magic formula. I think it's a matter of staying disciplined and remaining accessible."

He also credits other efforts, led by Mary Bowman, vice president of marketing and communications, with the company's well rounded plans for generating leads and recruiting prospects. Communication objectives for the company web site, says Bowman, included something that is "visually attractive, very clear; not complicated or ambiguous, and easy for the user to actually get the information he or she needs."

The goal, she says, is "We want to be sure that prospects coming to our web site (and we're directing them there at every opportunity) can consummate the transaction to the extent they want. At the end of the day, it's an important sales tool that is valuable to the user or entrepreneur who wants an introduction to Comfort Keepers."

Bowman attributes Comfort Keepers' first place finish to two factors. "First and foremost, you have to start with a good quality company. That's absolutely where it begins. You have to have pride in the transaction you provide to consumers."

The company's primary objective is to allow seniors - with extra help - to stay in their homes, safely and happily. "There's no lack of demand for our services, which surveys show people prefer to many other types of care options," says Bowman.

Second, she says, is the quality of communication with franchisees. "It has to be very clear what your expectations are of franchisees. We want quality people in our network and we want to make sure they will also take pride in our brand." She says many of the brand's franchisees have had personal experiences in caring for loved ones and have recognized the need for the services the company provides. "Others are caring individuals with an entrepreneurial spirit who are ready to give back to the community and serve a very vulnerable population."

Synergy HomeCare
Overall Runner-Up; Franchisee Satisfaction, Welterweight Division, Service
Peter Tourian, CEO, founder, and sole owner of Synergy HomeCare, says that his sales people excel in the process of awarding franchises because they don't treat it as a sales process. "Each candidate is taken through a thorough franchise award process and qualified financially, professionally, and personally," says the former law enforcement officer and Arizona State University graduate.

"Each candidate is invited to a validation call, which I personally conduct each week. I have an open door policy with each candidate to discuss concerns and any questions that he or she may have. I feel that if a candidate is going to invest their future in Synergy HomeCare, they should have the option to have an open, honest discussion with the CEO at any time."

This approach to working with both prospects and current franchisees no doubt accounts for the franchisee satisfaction award Synergy also achieved. Tourian says his best candidate sources are referrals and word of mouth.

The 5-year-old non-medical home care company, headquartered in Gilbert, Ariz., was launched in 2002 and has been franchising since 2005. Synergy currently has 21 facilities in 15 states. Tourian says the company is in expansion mode and has plans to launch facilities in Canada.

Synergy's software systems and web sites were created in-house. "This is our own proprietary software system, which is designed specifically for non-medical home care and our franchise system. This allows our franchisees to focus on operating their business with a completely integrated software solution that is maintained by their corporate office."

Tourian is a big believer in the future of franchising. "The future is franchising - period!" he says. "Franchising makes it possible for any person, regardless of background, business experience, or education, to own and operate a business. Franchising makes it easier for an individual to pursue a franchise concept with confidence knowing that a proven system has been in place and duplicated successfully."

Says Tourian, "This is why I decided to expand Synergy HomeCare through franchising. I wanted to offer the same opportunity and a proven successful system to others who wanted to make a difference in home care, as I did."

Link Staffing Services
2nd Place, Telephone
Talking with Brandon Campbell of Link Staffing's franchise development department is like talking with an old friend. The friendly young point man for the 27-year-old industrial staffing service is excited to see the STAR Award sitting on his desk, but says he just enjoys speaking with and helping people determine whether they have a future with Link.

"When someone takes the time to call and ask for information, you have to put yourself in their position. Sometimes they can't talk about leaving their job to start their own business because they're calling from work. You have to be available no matter what time it is. We're doing them - and ourselves - a favor by providing that information and getting from them what we need to determine who's a viable candidate. We don't want to set anyone up for failure, so we ask questions and then we listen," says Campbell.

Most of Link's leads come from the Internet, where the same quick, responsive approach holds. "My practice is to get an email out to them immediately, and then I try to call everyone within four hours, at most. I may call for 5 to 10 minutes to engage them and figure out when is a good time to talk at length. I try to respect people's time, because they contact us at lunch and early in the morning," Campbell says. "I'm in the Central time zone, but I get up early to catch the folks on the East Coast. It's important to be flexible."

Houston-based Link Staffing, which began franchising in 1994, is looking for people who "share our values, which are, basically, to treat everyone with dignity and respect," says Campbell. "We deal largely with the blue-collar work force, whether we're putting them to work on a temporary basis or bridging them to a permanent job. We want franchisees who want to work in our specific field and who want to be involved in the community." (He also has been known to spend time talking about other franchise systems to prospects that don't know what they want and aren't sure that it's industrial staffing.)

Link Staffing, which plans to have 65 locations in 15 states by year-end, is also revamping the company web site, says Campbell. "We want to make our site more interactive and more focused on franchising. We hope to have the new site up and running by the end of the year."

BrightStar Healthcare, 3rd Place, Telephone
Shelly Sun, president and CEO of BrightStar Healthcare, says her company has the ideal person dealing with prospects who call in or email. "One of our fantastic employees (Ted Chavez, director of operations support) has a wonderful wife - Ruth Chavez is the salt of the earth. She's sweet-natured and she home-schooled all their kids. She believed in BrightStar so much that she wanted to help. So she does all the sales qualifying from her home office. Every person who calls or emails talks to her."

"We're very happy when people reach out to talk to us," Sun says. "We try to answer as soon as they call. We're returning calls every hour. Anybody who applies on our web site we contact five times in a three-day period." Whether the lead comes from their own web site or from a third party site, she adds, "We use eMaximation to send out five emails over a five-day period. Ruth contacts and qualifies them."

The personal touch is big at BrightStar Healthcare, which Sun and her husband, J.D., vice president of brand integrity, launched in 2002 and brought into franchising in early 2006. There are now 35 franchisees with the company, which provides "every service, medical and non-medical, in the home for all ages, from children to older adults" as well as medical staffing to any operation that employs medical professionals.

With an eye toward offering strong support for franchisees, the Suns created Ted Chavez's position as a sort of "concierge" to franchisees. "Ted gives the same personal attention later that we offer during the process of joining our family," says Sun. "He helps with everything from vendors to training to phone book ads. He's another support for small business owners. Especially at the start, there's a lot of stress on the new business owners, and they need someone like Ted to calm their anxiety and help them prepare for what they're doing."

The concept for the company, based in Gurnee, Ill., came from personal experience. "We were looking for these kinds of services for my husband's mother and we didn't find that available," Sun says.

It didn't take long for them to realize they were venturing into a growth industry. "Our industry segment is so hot. We're talking about highly educated Baby Boomers with more disposable income. They expect a high level of service and are willing to pay for it," she says.

"People are more willing to go into assisted living and also to have services provided in their own homes. There are lots of reputable companies that concentrate on non-medical. We wanted to do about 5 percent of our business in non-medical companionship, but primarily to offer every single service done in a nursing home, from nursing to therapy."

Fantastic Sams, 1st Place, Internet
Beverly, Mass.-based Fantastic Sams is not only a 31-year veteran franchisor with 1,400 locations nationwide, but is also one of the insightful companies that recognized early on that the Internet would revolutionize business, according to Jeff Sturgis, vice president of franchise development. "Since the Internet really kicked into gear five to eight years ago, Fantastic Sams started creating an online presence. But it was basic, not interactive."

When he arrived at Fantastic Sams more than a year ago, Sturgis knew changes were needed. He said the site was dated, and there was no separate design for potential franchisees.

"Things had evolved into a need for a site that is more interactive, provides more information, and is more engaging and 'sticky.' As a franchisor, we realized this was an important opportunity, since chances are the web site is the first-time portal through which prospects look into us as a franchise," he says. "It was important to present to them who we are and to quickly determine if they're interested." The goal is to give potential franchisees enough information to decide if they want to pursue an opportunity at Fantastic Sams, or not.

Sturgis asked colleagues about best practices and used that information as a model to build the structure of the site. He focused on functionality, while marketing staff and outside vendors mapped out the creative aspects.

Catherine Saar, vice president of marketing, says Fantastic Sams used Allen & Gerritsen, a local ad agency in Boston, to custom-build a state-of-the-art" site. "They're not typical franchise vendors," she says. "We went out of the system to see what we could learn from a consumer advertising perspective. We liked their creativity."

Saar says the company gathers lots of leads from the web site - but goes for quality, not quantity. "We're looking for qualified lead generation, so we ask a number of questions that help us understand the kinds of leads we're getting."

Best tips from this year's 1st Place STAR Award Internet winner? "Don't underestimate the planning process. And do a lot of beta testing - leave enough time for that." Most important, Saar says, a web site is something that should be continually improved. "It's a living, breathing entity and it needs to be updated frequently."

While the web site is an extremely valuable tool, Fantastic Sams uses a fully integrated marketing approach, says Saar. To date, the company hasn't used mystery shoppers, but "we're looking at it," she says. "We're just open to real-live feedback."

CertaPro Painters, 2nd Place, Internet
Steve Hearon, vice president of franchise development, says CertaPro is proud of its STAR Award for its web site. This franchisor of commercial and residential painting invested quite a bit in the site this year, he says, including having Stephen Bronte of Screen Matter, a local vendor, fine-tune it, adding lots of video clips and making the site much more interactive, which is bringing in the leads - and good ones, he adds. "We use our site in sales presentations, too. We direct all our candidates there because there's so much good information on it."

Hearon considers it of the utmost importance to make the web site as interactive as possible, and to be sure it looks professional. "You don't want a site that looks like it started up yesterday - even if you did start up yesterday," Hearon says with a laugh.

But he says management and staff are even more excited about their franchisee satisfaction award in the Service category of the Heavyweight Division (see sidebar).

"That's the one that means the most to us, even though the plaque is much smaller than our web site STAR Award," he says from CertaPro's Oaks, Pa. headquarters. "It reflects the hard work of our corporate staff and how they try so hard every day to provide service and support to our nearly 300 franchisees in more than 400 units" (all in North America).

CertaPro CEO Charlie Chase told Franchise UPDATE last year that the relationship between the corporate office and its franchisees is the key to success for everyone. "What's unique about us as a franchisor is that we encourage franchisees to tell us really the way it is, whether it's in person or on the bulletin board or online. We don't get upset. We respect each other - that makes for a stronger group."

Chase also continues his campaign to change the face of painting. "To anybody on the outside, it looks like an ugly business. Our biggest challenge is getting the smartest people to get past the 'yuck factor' and understand that while our work may not be elegant, our systems are."

PostNet International
3rd Place, Internet; Special Recognition: Most STAR Awards Since Its Inception
Brian Spindel, executive vice president and co-founder of the Denver-based "ultimate business center" franchise, says he and his corporate staff appreciate their STAR Award this year - not only because it's recognition of their talent and hard work, but also because it provides a real service to the business.

"We're always working on improving on the franchise development side, so the STAR Awards raise awareness associated with the Internet and phone. We're always interested to get the mystery shopper report back and see what we can do better. Any system that wants to remain relevant and competitive in this market needs such feedback on the look and feel of stores, customer systems, and training and support."

Spindel says PostNet, which will turn 25 next year, currently has 850 units globally, with 450 spread among 40 states in the U.S. "We're a growth company, looking to continually expand. We put a lot of effort and focus into attracting the right candidates and continue growing our network," he says.

The company web site is one of the most important tools for achieving this, says Spindel. "Our site, which was just re-designed for franchise development, is informative and allows the prospect to learn as much as he or she desires. It has testimonials and FAQs, and it's also easy and quick for the user to make a response either by phone or Internet," he says. "In the last three or four years, we've learned that most people do their research online, so getting back to them promptly is critical. Once a prospect has made an online inquiry, they are contacted personally as soon as possible.

As the company approaches its 25th birthday year in business, Spindel says he believes people are attracted to the PostNet concept, a one-stop business center for small and medium-size businesses, because it's "clean, professional, and has sane business hours relative to other concepts."
Published: January 29th, 2008
Share this Feature
Recommended Reading:
Comments:
comments powered by

Disqus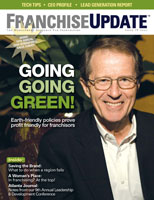 Franchise Update Magazine: Issue 4, 2007
In 2022 Empower Brands emerged when Lynx Franchising and Outdoor Living Brands united. Empower consists of JAN-PRO, Intelligent Office, FRSTeam,...
Tiger Pistol, the world's leading collaborative advertising platform, connects the power of brands with the knowledge and credibility of their...