Arby's Re-Ascendant, Step 1: Rebuilding The Foundation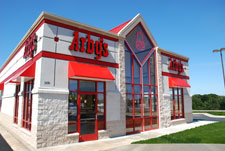 In July 2011, Atlanta-based private equity firm, Roark Capital Group, purchased Arby's Restaurant Group, Inc. The industry and media came abuzz about the future of Arby's--and if and how the brand would bounce back from four years of slumping sales and profits that were compounded by the economic downturn in 2008.
What wasn't public knowledge was the behind-the-scenes work that had been taking place for more than a year to restore the company's profitability and growth. Not even the second-largest quick service sandwich chain in the U.S., with more than 3,600 restaurants, can expect to sign franchise agreements based on brand recognition alone.
We recognized that many stores in the system, including corporate stores, needed a facelift to keep up with the competition. To bolster our remodel strategy and put more capital to work in the system, we developed a refranchising strategy that includes attracting multi-unit restaurant operators with access to capital to not only acquire and operate a group of restaurants but also to open new units and complete a remodel program. But before we could launch our refranchising efforts, we had to prove there was a reason to invest in the Arby's of the future.
Upon joining Arby's as president in May 2010, I immediately got to work on restoring the confidence of the many employees and franchisees who were affected by the downturn. Together, we had to work to rebuild consumer appeal before we could even think about attracting new franchise partners to grow our system.
Laying the foundation
To lead what essentially was a turnaround of the brand and make refranchising efforts feasible, we needed to develop a strong, clear vision for the Arby's of the future. Once that was established, effective communication and collaboration, from the top down, were essential to achieving our mission of a brand resurgence.
We first leveraged the expertise of our franchisees and employees by setting up informal "get to know you sessions." By traveling to visit with both large franchisees and single-unit restaurant owners, I learned a wealth of information about where we should focus our energy and strategies. They knew, from the ground level, what resonated with consumers and what didn't.
Throughout the process, franchisees needed to understand what we were doing to grow the business and gain their buy-in and trust. Most important, we needed to instill confidence throughout the system about our plans to grow Arby's. Through a weekly series of webinars, teleconferences, and e-mail communications, the executive team worked to firmly convey the growth plan to our franchisees and employees.
Of course, no plan can be executed properly without an excellent team of passionate and smart people. We developed a great leadership team that was highly accountable for growing the brand. With the help of Roark, we assembled a new Arby's board of directors composed of seasoned franchise and restaurant executives. The board is led by Chairman Jon Luther, a veteran of the restaurant industry credited, most recently, for leading the transformation of Dunkin' Brands. The team is collaborative and has been instrumental in the Arby's turnaround.
All of these efforts went a long way to boost morale through the system, a less tangible but immensely important goal. We make it a point to celebrate victories together, large or small, to show appreciation for all the hard work that goes into an undertaking like this. A team that can laugh together and enjoy one another's company is more likely to quickly work through the inevitable bumps in the road.
Getting back to basics
Whether you are part of a public or private franchise, large or small, you can never sacrifice the quality of what you're delivering to the consumer to appease your other constituents and investors. You must always innovate to meet consumers' changing lifestyles, and budgets, but you also have to remain true to the products and services that served as the foundation for your brand. We needed to innovate and reinvigorate our menu, but we did stick to what Arby's has always been known for: wholesome and tasty comfort food

.

Arby's is known for its Roast Beef and Beef 'n Cheddar sandwiches, but to attract new and different diners to Arby's staples and capture higher profits, we introduced Ultimate Angus, a premium, 100% Black Angus beef featured in freshly prepared sandwiches. Within months of the Angus sandwiches appearing on the menu, they accounted for 8 to 9 percent of Arby's overall sales.

A new national marketing and advertising campaign touting our new menu items, including the relaunch of our Market Fresh line and more extensive snack offerings, was integral in spreading the message to consumers and boosting our margins. Arby's was back on the map.

Of course, countless hours were spent mapping out the execution of the new menu items and local marketing strategy. Collectively, the team's turnaround efforts led to seven consecutive quarters of same-store sales increases. We were now ready to launch Arby's refranchising strategy.
---
Hala Moddelmog, president of Arby's Restaurant Group, was hired in May 2010 to lead the transformation of Arby's. She can be reached at hmoddelmog@arbys.com.
Published: November 14th, 2012
Share this Feature
Recommended Reading:
Comments:
comments powered by

Disqus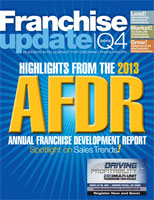 Franchise Update Magazine: Issue 4, 2012
Hub by Thryv is an end-to-end client experience platform custom-built for franchises. Its ready-to-use business apps help franchisees view their...
Prisma has reinvented the marketing supply chain with an end-to-end solution that makes it easy to design, customize, order, download, print, kit,...