Area Developers: How Do They Do It-and Why.
No Skills, No Brains? No Problem!

John D. Prince is a franchise owner on the grow. His current flags include Applebee's, Aaron's, Famous Dave's, and Hooters. His holdings are concentrated mainly in Utah, where, owing to the state's unique liquor laws, he also owns and operates three private sports bars. He got involved in Applebee's by necessity, when his Ponderosa Steakhouses were tanking in the early 1990s, and has steadily added new sites-and new concepts-ever since.

"I was a stockbroker, and on a fluke, and with absolutely no knowledge and no skills and no brains, I started in Ponderosa about 25 years ago," he says. "They ran their course, I think almost everywhere. We finally closed them, and it was a financially painful deal. I interviewed for two different concepts at the same time and was choosing between Ground Round and Applebee's. I was lucky there."

For Prince, still a manager at Smith Barney at the time, choosing a brand was about the numbers. "The way I chose Applebee's is that I had Ponderosas spiraling out of control, and I didn't have time to go everywhere on the earth to see what was good," he recalls. He looked for stocks that were trading at their highest price/earnings ratios or near their highs, or showing some market action. "I assumed that was the market's way of saying, 'Here's a concept that has some strength to it.'" He also asked lenders what they were lending on, what was on their short list of approved investments. One of the names that emerged was Applebee's. He interviewed for that along with four or five other contenders and landed it.

Prince says his organization's philosophy has been to identify the number one or two concepts in every category he thinks they could run. In casual dining that meant Applebee's (though not at the time), and in rent-to-own it was Aaron's. "Hooters clearly dominates its category," he says. "I don't how to define its category, but we know it when we see it, I guess."

Not all his concepts succeed. Ponderosa worked out quite badly in fact. He didn't do so well with Sonic Drive-ins either. "It was a good concept but didn't fit us for some reason. It was a different kind of culture," he says. He sold the business and kept the property.

In general, he says, the bigger a concept, the better and easier it is to run. "If it's bigger it's harder to finance, but if you ever get to the point where you can finance it, at least you've gotten to the point where everyone else can't look at it and say, 'I'm going to do that.'"

With Applebee's he signed up for seven units and now has 12, with two more in the works. "Every time we find a space we build there, but we don't have any other territory. So by necessity we have to step a little back every so often and wonder what else we should look at," Prince says. But only by necessity. "We probably wouldn't be doing anything more than Applebee's if our territory just went west as far as you could go and there were no Pacific Ocean."

And that's how he got into Hooters… well, sort of. "Hooters just happened the way everybody would think Hooters would have happened. The three of you are together one night, two of you have too many drinks and go into a Hooters and say, 'Why don't we have this?' The next day we were phoning them." It's been working out all right, he says, even in Utah.

Prince has 20 restaurants in all, 17 of which are franchises: 12 Applebee's (Utah plus a little outside), four Famous Dave's (Utah, western Washington, Alaska), one Hooters (Utah). His three private clubs, which he says are like sports bars, are creatures of circumstance. "Utah liquor laws are so peculiar that they can only exist here. We are not the least bit thinking we should take our private clubs and go off to some other state and turn it into a concept. It works in Utah because it's Utah." He also has seven Aaron's operating and three more under construction in a territory that includes western Washington, Reno, and Utah.

Opening those private clubs raised a few eyebrows at Applebee's, but it turned out fine. "Applebee's sent people out aplenty to see if we were a competing concept. And had we been in any state other than Utah, we would have been," he says. But he is in Utah, where the liquor laws create unique circumstances. "We wouldn't have done it if we didn't know it was okay," he says.

And before signing on with Famous Dave's he checked in with Applebee's. "They can't say no to everything," he says. "But we couldn't-and even if we could we wouldn't-open a Ruby Tuesday's or something like it," he says. "They care, and they have the right to care."

Having several different flags, similar or dissimilar, can pay off when it comes to real estate. "A lot of people are looking for the same size piece of dirt when they're opening stores," says Prince. One of the perfect situations is when an area developer buys a piece of land and puts two concepts next to each other. "We always would look for that if we could. We've imagined someday a moment where we could buy a piece of land and build an Applebee's, a Famous Dave's, a Hooters, and an Aaron's." He doesn't expect that to happen for several good reasons, but it's nice to dream-and it isn't 100% impossible.

"There's no end of other little efficiencies," he says. For example, while in Washington prospecting for Famous Dave's locations, he also can search for Aaron's sites. "The real estate agent can believe we're real because they've opened up sites already for us with Aaron's. Just the credibility factor I think helps," he says.

Prince says the usual way franchisees grow is to expand their existing concept (or concepts), but sometimes their area is tapped out, or the real estate too pricey or simply unavailable. At that point, an enterprising franchise owner will start looking around-or at least listening with intent. "That can be a dangerous moment," he warns. There are probably a lot more stories of people having something that was going pretty well who bought a second concept that was absolutely terrible, he says. "I'm guessing that people have done multiple concepts for years and probably more often than not it's a dumb idea."

Nevertheless, Prince does some serious listening of his own. Wherever the 80 or 90 Applebee's franchisees gather several times a year, other brands are a frequent topic of conversation. "How you find out about these things is somebody sitting around at the bar and saying, 'We're making a fortune in something,' and you think, 'Why don't we do that?'" So they all pretend not to be listening too hard-and make the call as soon as they get home.

"In a way we're always looking and in a way we're not really," he says. "There's no need to keep finding new concepts, except that you do." And since he started opening Aaron's stores, he's been presented with more opportunities. So how does he evaluate them?

"You've got to be able to think, 'This thing's not only going to be good, but when we sign this lease it will be good 10 to 15 years from now-or five years from now, so that when a reasonably bright person wants to buy it, there's a reason for them to believe this will still be good.'"

A Sense of Perspective

What was his master plan? How did he ever grow so large? "Totally by default. We never had a business plan. I don't begrudge a business plan or some model. That makes sense, obviously, but we had no grand design," says Prince.

"Remember, this all started when I had Ponderosas that were going upside down," he says. "I woke up one day having truly not paid attention to things and owing an awful lot. I had to get the Applebee's franchise going fast." What of his days and nights of constant struggle to meet monthly payments in the high five figures? "It's all completely changed," says Prince.

As he grew, large companies started offering him better and better deals. "GE Credit puts together amazingly attractive things," he says. And Merrill Lynch just refinanced a "Princely" debt of about $8 million that had been averaging near 9%-at 3.5%. "It's tied to a floating LIBOR rate, so who knows? But I think most people would take that exchange pretty fast," he says.

"So as you get bigger, and if you can keep wonderful people, you really can finance things more," he says. "That's another reason a good franchise is so subtly terrific. Merrill Lynch, I don't think, is going around to private restaurants in Salt Lake and doing $8 million refinancings."

Keeping It Real

All the managers at his company are rewarded on cash flow, not on a profit-and-loss statement. On a P&L, he says, paying off principal isn't a cost (only interest is), so it's not a true indicator of cash in/cash out. "I just want to know what comes out after all the cost. That's what we bonus ourselves on," he says. "All our incentives have been lined up exactly in the right direction: Everyone profits if we profit. They don't see me grabbing large hunks, small hunks, medium hunks or anything out of the till. It's all a percentage of cash flow. Everyone can trust each other, I think-and trust is a pretty big deal."

So is knowing exactly how much to draw out and how much to reinvest. "We make sure that the majority of any cash that we generate stays in the business. You just have to keep it in the business. We take about 38% out of the cash flow and the vast amount we leave in," he says.

Prince doesn't have partners in the traditional sense, but his director of operations and his CFO each have a contractual commitment to 10% of the company. "Those are the kind of partners I want. I want partners that actually do something," he says. They'll make an awful lot someday if the company ever stops growing and pays off its debt, he says.

He keeps costs down by outsourcing his 1,200 employees. He knows hiring can be a very costly headache if anything should go wrong legally, nor is an HR department inexpensive when things go right. "We literally lease our employees," he says. "That's been wonderful because [the leasing company's] whole job is to focus on every technicality of the law. We make out one big check every two weeks and they do everything."

His accounting department of seven or eight people does more than pay the bills. They also produce a financial statement each month for every entity. "We have to, if for no other reason than we bonus on cash flow. So we have to know what that number is. It's good discipline actually," he says.

Organizing Principal

In the beginning with Applebee's, Prince put all his interests into an LLC. (He said it didn't really matter because everyone made him sign personally for everything anyway!) As his fortunes improved, it became possible to isolate some parts of his business and have them guarantee new locations. Soon, national companies were eager to put up money for the land, the company, and the equipment-and let him form a separate LLC, without a personal guarantee. "That's only for Applebee's because the lenders have such a high regard for the probability of their getting paid back-and at fabulous rates," he says.

These developments have prompted him to split his holdings into many smaller entities, for all the obvious reasons. "If one goes down, maybe the other ones won't," he says. Now that's all about to change again-maybe. "We're beginning to toy with the idea that, slick as it is to have everything independent, it would be even more advantageous now if we had everything together. We think it might drive the costs down even more in terms of borrowing."

Gray Eminence?

When Prince started franchising, he was still working at Smith Barney. Out of necessity he had to build up a team of people. "When I retired a couple of years ago, I really agonized," he says. "Do I move into the office? Do I not? If I do, will it mess up some system that's working just fine right now?"

He didn't want to be looking over the shoulder of his CFO, or second-guessing his director of operations, but how exactly should he participate now that his days were wide open? He chose to be there, but keep a low profile. "I think the office staff just thinks somehow I parachuted in; I don't know," he says.

So as franchisors pitch brands and lenders throw dollars his way, how does Prince see his role today? "I think my job is to kind of just watch where we're going. There have been a lot of concepts that we could have done," he says. "My job is to really take a walk with myself when we're going into new concepts and say, 'Okay John, what do you know from the perspective of being in your sixties that these kids might not have seen yet in their thirties?'" And when it came time to do some pitching of his own, it was Prince who went to Applebee's, Hooters, and Famous Dave's, and convinced all three franchisors he was the person they wanted.

"What I seem to do more than anybody else is read The New York Times and The Economist, and fret over what bad things could happen. And should we have fixed or floating rates because George Bush is spending us into the pigpen anyway." But, he quickly adds, "I didn't say, nor do I think that I'm a wise thing. These kids have taught me more than I've taught them about running a business."

So what's next? More growth, apparently. "Really, either you grow or you cease. Once people don't think you're growing, they notice, and I'm convinced you start losing good people," says Prince. "The only thing that keeps managers around at some level is the thought that someday they can be an area manager," he says. "We have an expression, 'I want everyone to be happy on Christmas Eve.' You've got to have people who really are fulfilling their dreams, and if you're sitting there in a chain that isn't growing-and you need good people at every level-they don't see any way of growing, and it kind of decays from within. I think it's actually safer to keep growing."
Published: August 16th, 2004
Share this Feature
Recommended Reading:
Comments:
comments powered by

Disqus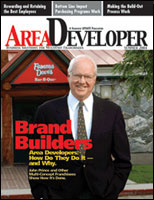 Multi-Unit Franchisee Magazine: Issue 3, 2004
Own a rewarding business and help children develop skills for life with The Little Gym, the world's largest children's motor skill development...
Cash Required:
$100,000
Another Broken Egg is an upscale breakfast, brunch and lunch restaurant that specializes in Southern-inspired menu options and signature cocktails....
Cash Required:
$250,000