At Goldfish Swim School It's All About People and Team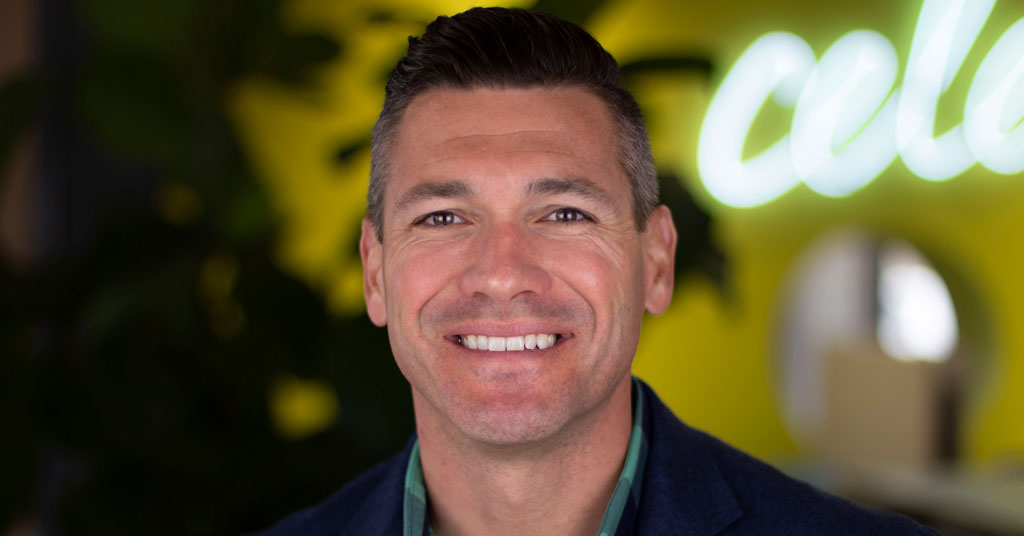 Chris McCuiston's journey has taken him from the baseball diamond to the kiddie pool.
Following a successful baseball career at Michigan State University, McCuiston and his wife, Jenny, founded Goldfish Swim School in 2006. The school provides swim lessons and water safety instruction for infants up to adolescents and today has 133 open locations in more than 30 states and Canada.
As CEO, McCuiston says his background in team sports and his business degree are critical factors in his success as a franchise leader, and that his people-focused approach has been a key part of building successful teams and relationships, from the corporate office to the franchisees.
"We put team culture at the center of everything we do. People are inspired, valued, and encouraged to grow," says the 42-year-old. "Being in an environment of people committed to making a difference continues to inspire me."
Of course, it doesn't hurt that the brand has a proven concept with state-of-the-art facilities, high customer service standards, and a proprietary learn-to-swim curriculum. But for McCuiston, success always comes back to people and a team approach. "We aim to hire top talent, putting the right people in the right seats," he says. "I cast the vision for the company and then get out of the way."
Like any passionate CEO, McCuiston is excited about the future, and his goal is to make Goldfish Swim School the largest swim school provider in North America.
So what's on the horizon for this growing brand? "We hope to have 260 schools operating by the end of 2024, and grow our international presence," he says.
What follows are excerpts from an extensive Q&A with him. For the full interview, see the digital edition of our Q4 issue of Franchise Update magazine. Next issue: Part 2 will cover operations, personal life, and the bottom line.
LEADERSHIP
What is your role as CEO? I have the honor of building a cohesive leadership team, casting a vision for the company, inspiring the franchise support team, building and maintaining a strong company culture, overseeing large brand relationships, and problem-solving major issues affecting the franchise business.
How has Covid-19 affected the way you have led your brand? Having dealt with operating a business during the pandemic, I've learned to lead with more compassion and empathy. I've also become more grateful for what we have, but with the desire to continue to do even better—whether that's being more efficient in how we operate and spend, or how we encourage new ideas from the team to improve their work/life balance or accomplish their goals and tasks.
Describe your leadership style. My style is leading with integrity, compassion, and trust. I cast the vision for the company and then get out of the way to let my team of hungry, humble, and smart professionals do what they do best and bring it to life.
What has inspired your leadership style? Playing sports as a child and then throughout college led me to acknowledge that I can't do everything on my own. You play your position, need to trust the rest of the team to do their part and play their position, and then all come together to go for the win.
What is your biggest leadership challenge? Harmony is a strength of mine, so I generally want to please everyone. In a franchise, unfortunately, you can't always say yes. There are rules and there is a way we ask our franchisees to do business, so sometimes you need to have a hard conversation to make sure everyone is aligned.
How do you transmit your culture from your office to frontline employees? We build a strong culture and a healthy organization by building a cohesive leadership team, creating clarity with that team, reinforcing that clarity, and then over-communicating that clarity. We need to be an example and make sure that everyone understands the purpose of why we exist.
How can a CEO help their CMO develop and grow? Quite simply, the CEO can hire a rock star CMO, provide them with the necessary tools for success, offer them opportunities to grow and build their skill set, and then support them when they need it. You hire a leadership team to execute your vision. So if you've hired the right person for the right seat, you won't need to do much beyond trying to provide them opportunities to see extraordinary results.
Where is the best place to prepare for leadership: an MBA school or OTJ? I never went to MBA school, so I would have to say OTJ. However, having great mentors and coaches throughout the years is a huge advantage in helping you become a great leader.
Are tough decisions best taken by one person? How do you make tough decisions? Tough decisions must be communicated by one person, but those decisions are often made by a cohesive leadership team that discusses all options before the decision is communicated.
Do you want to be liked or respected? With my harmony strength, I would like to be both liked and respected. However, if I have to choose, I would prefer to be respected. Not everyone will like my decisions, but I hope that they will be respected.
Advice to CEO wannabes: Enjoy the ride, and pay attention along the way! Everything you learn to become a CEO will help you lead your teams once you get there.
MANAGEMENT
Describe your management style: I am fortunate enough to have a great president to oversee day-to-day management. I would describe my management style as compassionate with high expectations. I'm compassionate but expect extraordinary results. We have a great team that should be able to accomplish amazing results if we can stay humble and execute for the greater good of the company.
What does your management team look like? We have a highly competent leadership team that's a mix of franchise veterans and people who have had no previous franchise experience before Goldfish. They have a great passion for our mission and a skill set that helps us lead and grow. We aim to find people who get their roles, want their roles, and have the capacity to get it done.
How does your management team help you lead? Our management team is amazing at offering up their perspectives, sharing their experiences, and then discussing way to solve problems before communicating that to our company or franchise system.
Favorite management gurus: Do you read management books? Favorite management gurus and authors include Patrick Lencioni and Gino Wickman. Both have shaped the way we lead and manage our organization.
What makes you say, "Yes, now that's why I do what I do!"? It has to be when a child goes from being deathly afraid of the water to one day not wanting to get out of the water because they love it so much.
Published: January 27th, 2023
Share this Feature
Recommended Reading:
Comments:
comments powered by

Disqus
At Celebree School, our child care franchise delivers a safe, nurturing, friendly, state-of-the-art learning environment that fosters a solid...
Cash Required:
$250,000
The Walk-On's Sports Bistreaux delivers authentic Louisiana flavors and a winning guest experience for friends and families alike. With a commitment...
Cash Required:
$500,000