B-Different!: Building Success by Trusting His Gut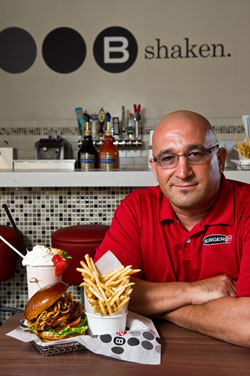 One of Charles Haney's favorite things about his new Burger 21 restaurant in Voorhees, N.J., is a wall sign that he believes lists all the best ways to succeed. One, he says, defines who he is: "B-different."
"When I was thinking about franchising, I'd looked at several systems, but when I went into a Melting Pot restaurant in California, everything--the food and non-food features--felt right. It was different from anything else out there. It spoke to me," he says. "When I went down to see the franchisor in Florida, that felt right too, because we shared the same passion and enthusiasm for the brand."
In 2007, Haney, a Boston native who sold his RainSoft water treatment company in Rhode Island after 10 years, opened a Melting Pot fondue restaurant in Atlantic City--and, along with his wife Wendy and their children, moved to New Jersey, her home state.
Haney, who describes himself as a people person who believes that human capital is the key to success in business, was not deterred by the economic downturn that hit just as he was starting his new venture. Combining his energy and natural salesmanship with a great location, a reliable staff, and a strong brand, his business has improved each year.
With administrative help from his wife, Haney spends much of his time finding and developing a great staff. He interviewed 800 people before handpicking a crew of 60 for his Melting Pot restaurant. In 2010, he was named Franchisee of the Year and had become a die-hard advocate for franchising.
"I'm all about systems," says Haney. "A company like Front Burner Brands puts a system into place with checks and balances, training manuals, and marketing for you. I'm able then to put my strength--growing people and building teams--in there."
Outside of franchising, he adds, "You're trying to wear too many hats. With the franchises I've chosen so far, they've taken the guesswork out and let me do what I do best." He plans to open another restaurant as soon as he finds one different enough to suit him.
One year, his Melting Pot restaurant raised $35,000 in nine weeks for St. Jude Children's Research Hospital, making it the top fundraiser in the system for the hospital. From there, Haney was named co-chair of the national St. Jude fundraiser for The Melting Pot. "I have three children, so this cause really meant a lot to me. I've been to the hospital several times, donating blood and platelets. We continue to support them," he says, adding that philanthropy is consistent with his beliefs about life and people.
When Mark Johnston, president and chief concept officer at Front Burner Brands told him about a new burger concept that he and his brother Bob, the company's CEO, were planning, Haney wasn't very interested. "I thought that burgers didn't sound unique. It wasn't for me, and we didn't speak of it again until I visited the first one they opened in Tampa," he says. "I walked in and I was blown away. They had nailed it--from the atmosphere to the décor to the energy--and I hadn't even tried the food yet."
Once he'd tried the gourmet burgers, he began to "beg" for a franchise--even before Front Burner began franchising, he says. Earlier this year, he opened a Burger 21 in Voorhees, N.J., the first outside of Florida, on the same site as his third brand, Rodizio Grill, a Brazilian steakhouse based in Sandy, Utah.
Haney plans to open more Burger 21 restaurants in New Jersey, in tandem with new Rodizios, if he can. "By the end of the year, I expect to have two more locations. My four-year plan for Burger 21 is to open 15 new restaurants," he says.
Haney has no immediate plans to open additional Melting Pots. "The Melting Pot is such a specialty restaurant that you want to strategically place them, not build one on every street corner. There's one in Philly and another 90 minutes north of here. We are doing well financially with our restaurant and have no plans right now to grow."
Haney considers himself a motivator and visionary and makes no apologies for doing things his way. "I get advice from lawyers and accountants and am willing to pay people that know more than I do, but at the end of the day I'm going to go with my instincts," he says. "I march to my own beat."
That's also his advice for would-be franchisees. "Big risk, big rewards," he says, admitting that he makes some people--especially his in-laws--nervous with his approach to business and life. "Once they see there's a method to my madness, most people relax."
The family man says his fondest wish is to someday work with his children. "That would be the ultimate reward. They already know what I do. I bring one of them with me for manager's meetings sometimes," he says.
That wish just could come true. One of Haney's proudest moments came when his son Adam was graduating from kindergarten. During the ceremony, Adam stepped forward on his tiptoes, as instructed, to the microphone to say his name and what he wanted to be when he grew up. "Most of the kids said things like policeman or superhero," Haney says. "Adam said, 'I'm Adam Haney and when I grow up I want to work with my daddy at The Melting Pot.'"
Name: Charles Haney
Title: President
Company: ABL Brands Inc.
No. of units: 1 The Melting Pot, 1 Burger 21, 1 Rodizio Grill
Age: 35
Family: Wife Wendy; children Adam, Brandon, and Leah (as in ABL Brands)
Years in franchising: 6
Years in current position: 6
Personal
First job:
Delivering the newspaper.
Formative influences/events:
There have been several influential people along the way. I met Malcolm Norwood, who owned several barber shops, when I was in middle school in Boston. He was an older gentleman who took a liking to me and spent several years coaching me and teaching me life lessons. Even today, 20 years later, we have a great relationship.
Key accomplishments:
I was Franchisee of the Year in 2010 for The Melting Pot Restaurants and co-chairman of the Franchise Steering Committee for 2010-2012. I really enjoyed working with other franchisees from across the country and the franchisor on every topic from marketing to food quality. It was a great learning experience and a good opportunity to offer feedback. I'm also proud of our contributions to St. Jude Children's Research Hospital.
Biggest mistake:
Cheating on my girlfriends in high school (laughing).
Smartest mistake:
I met my wife, Wendy, in Cancun, Mexico. I broke the rule about not carrying on a relationship with someone you met in Cancun. She was from New Jersey and I was in Boston. That was Spring 1998. Three months after meeting her, I moved to New Jersey. Fifteen years later, she's my best partner in business and in life.
Decision I wish I could do over:
Nothing really that I'd do over. I've learned something from every single mistake I've made.
Work week:
8 days a week.
How do you spend a typical day?
Visiting the restaurants and meeting with managers.
Favorite fun activities:
I enjoy spending time with my family at the Jersey Shore in Ocean City.
Exercise/workout:
This question is motivating me to go back to the gym.
Favorite tech toys:
My car, an SL63 AMG--I love nice cars.
What are you reading?
Rich Dad Poor Dad by Robert Kiyosaki.
Do you have a favorite quote?
Fake it till you make it.
Best advice you ever got:
Earn respect, never demand it.
What gets you out of bed in the morning?
Knowing that everything I have done is not good enough.
What's your passion in business?
I love growing people. Regardless of the type of business you own, your team must come first. Show them appreciation and have fun.
How do you balance life and work?
By keeping everyone happy.
Last vacation:
In August, we were on North Captiva Island in Florida. It was paradise, so we're buying a place there.
Person I'd most like to have lunch with:
Donald Trump. I love his kick-ass business style. He's direct and to the point, no-nonsense. In fact, I downloaded a ringtone with his voice that says, "This is Donald Trump telling you to have an ego, but please keep it in check when leaving my friend a message."
Management
Business philosophy:
Have passion for what you are doing and show appreciation to your team. Think big and live large.
Management method or style:
I do it with humor, all while being serious.
Greatest challenge:
Aligning myself with others who share my same level of passion to grow.
How do others describe you?
Fun and direct.
One thing I'm looking to do better:
To be a better coach, father, and husband.
How I give my team room to innovate and experiment:
I constantly tell them I will give my advice but the decision is ultimately on them, so they should make it count.
How close are you to operations?
I receive daily reports from every manager and meet with them weekly.
What are the two most important things you rely on from your franchisor?
Moral support and fun annual reunions.
What I need from vendors:
To look at our relationship as a partnership and treat it so.
Have you changed your marketing strategy in response to the economy? How?
Yes, we've gotten more involved in the community and focused on grassroots marketing along with traditional media.
How is social media affecting your business?
I believe it is something you need to be on top of but don't think it is a key driver.
How do you hire and fire?
We hire team members who display genuine hospitality and never drag our feet when it's necessary to fire someone.
How do you train and retain?
We have daily team member meetings and ongoing training for employees. We stay strict with brand standards and maintain the quality of the brands I have chosen.
How do you deal with problem employees?
Coach first, then fire.
Fastest way into my doghouse:
Lack of integrity.
Bottom Line
Annual revenue:
$8 million.
2013 goals:
To open more businesses and to get on the cover of a magazine.
Growth meter: How do you measure your growth?
Every day, I get reports that show guest numbers, sales for the day, labor costs for the day, and whether we're up or down both in guests and sales. We also look at the same day, year over year.
Vision meter: Where do you want to be in 5 years? 10 years?
I'd like to have 15 more businesses in 5 years.
How is the economy affecting you, your employees, your customers?
It hasn't.
Are you experiencing economic growth or recovery in your market?
Yes. Our business continues to grow since opening up The Melting Pot in 2007.
What did you change or do differently in this economy that you plan to continue doing?
More marketing--it is the backbone of every business.
How do you forecast for your business in this economy?
We look at our numbers daily and know that we will grow.
Is capital getting easier to access? Why/why not?
Yes. Cape Bank in New Jersey has become a great partner and shares my vision for growth.
Where do you find capital for expansion?
See above.
Have you used private equity, local banks, national banks, other institutions? Why/why not?
I believe local relationships are better. Cape Bank has been a great partner.
What are you doing to take care of your employees?
We offer annual parties and incentives. And just saying "Thank-you" goes a long way.
How are you handling rising employee costs (payroll, healthcare, etc.)?
My payroll's not up. I manage my business the same way, with the same percentages on payroll line that I did when I first opened. The same is true of all of my controllables. Of course, we don't know how the new healthcare laws will affect us yet.
How do you reward/recognize top-performing employees?
With trips, money, a day at the spa. You have to understand what makes people tick and use that to your advantage to move mountains together.
What kind of exit strategy do you have in place?
Nothing yet. I'm having too much fun.
Published: January 14th, 2014
Share this Feature
Recommended Reading:
Comments:
comments powered by

Disqus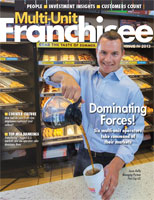 Multi-Unit Franchisee Magazine: Issue 4, 2013
The opportunity to grab a slice of the pie and partner with Perkins Restaurant & Bakery, a tried and true concept, is ready for the taking for...
Cash Required:
$600,000
With 500+ restaurants in development worldwide, Wayback Burgers is America's favorite hometown burger joint and one of the world's fastest-growing...
Cash Required:
$200,000