Best of the Best: Franchisee of the Year Winners Tell How They Do It
Franchisors recognize the best performers in their system each year with a Franchisee of the Year award. We spoke with four recent winners--different-sized, in different industries, and in different parts of the country.
Common denominators among these winners include excelling in the following areas: 1) financial (sales/revenue volume, profitability), 2) adherence to system and operational standards, 3) client/customer satisfaction, 4) HR (employee training, customer service), 5) contributions to and participation in the system (mentoring and leading), and 6) community involvement and service. And one important trait they all share is their passion--for their business, their brand, and their people.
Alan and Harriet Bleiweiss
Signs Now
"Re-peat" Winners
It's two years in a row now for Alan and Harriet Bleiweiss, owners of the Signs Now center in Hollywood, Fla.--the first time Signs Now has had a Franchisee of the Year "re-peat." The couple, who celebrate their 24th wedding anniversary in April, met at their 10-year high school reunion. Yes, met: they didn't know each other in high school.
Their business had a slow start too before turning successful: when they opened their Signs Now store in August 2004, repeated hurricane warnings shut them down for all but 10 of their first 30 days. They quickly bought a generator and it's been full speed ahead ever since.
They had no previous experience in the sign business--she was a hotel catering manager and he was a vice president of development for a nonprofit--nor had they ever worked together. Bu they worked hard and learned fast. "We came into this business with the will and the interest to succeed," says Alan. "We put a lot of effort into our process, how we go about approaching customers."
He took the corporate training while Harriet managed the homestead. "They teach you some basics and do the best they can. But once you get into the field and start working with people, that's where you really learn," he says. In the beginning, he walked shopping centers, introducing himself to the community, dropping cards, all very grassroots. Today, he says, "A lot of what we do is referrals, a lot of return work."
In addition, they employ direct mail, e-blasts, and, of course, vehicles wrapped with lettering that serve as moving billboards. They're also involved with nonprofits: kids in distress in Broward County, churches, synagogues, golf tournaments, and more. No TV or radio, though.
"You can't wait for your phone to ring or someone to walk in your door," says Alan. "You have to be out there, aggressive, work hard, stay current on technology, stay current on pricing, and produce a good product."
Social media has been a mixed bag for the couple. Harriet attended a Facebook class, but that turned out to be unproductive. For their business, "I think it's a huge waste of time. Google AdWords has been a much better thing for us. As soon as we got involved, emails started coming and the phone started ringing," says Alan. "Google is great. I work directly with them and I've seen results. We got two inquiries today we wouldn't have otherwise."
Their normal clients are small to medium-sized companies that can't afford the big marketing firms. "So we step into that role," says Alan. "We don't experience our clients as sign buyers, but as marketing partners. We work very closely with them to help them stand out and hopefully succeed. We want them around for a long time--their success is ours. It's not just a commodity."
To accomplish that, they have their own graphic designer on staff, says Harriet. They also take on jobs other franchisees would never think of taking on, like large construction projects or hotels. "Big projects bring bigger profits," says Alan. "We've done signs 55 feet high by 35 feet wide on the sides of garages." And, since print machines max out at 16 feet, these signs must be seamed and put together.
Twice a year they meet with their peer performance group of about half a dozen other operators with similar volume and problems to brainstorm solutions. The meetings are held at each others' stores, where they can see differences, meet the staff, and share financials in their search to improve their business.
Winning the award in consecutive years has given them added credibility among their peers, and they often receive a query or phone call if someone is looking for help. "We'll spend some time, send them information, and point them in the right direction," says Alan. They also participate in the brand's list-serv discussions. "We jump in with our experience," says Harriet, who adds that new and potential franchisees with questions are often sent their way. Such is the price of success.
Founded in 1986, Signs Now provides professional, high-quality global sign and graphics products for a diverse clientele. The brand has nearly 200 franchise locations in the U.S., Canada, and the U.K.
Jim Snyder
Donatos Pizza
It's All About "Best"
Jim Snyder, who operates a Donatos Pizza restaurant in Bellefontaine, Ohio, also won his second Franchisee Partner of the Year award--18 years after winning his first. He also won the company's Promise Light Award in 1994, given to franchisees who best represent Donatos' mission to promote goodwill through products, service, principles, and people.
"I don't know that I do anything different today than I did in 1993," Snyder says. "Every single day I'm out there to build on the Donatos promise: 'To serve the best pizza, and make your day a little better.'"
Before becoming a franchisee, he worked for Sears in the appliance service business for 27 years in a variety of different roles. "I reached a point of burnout and was looking for something else to do. Donatos had just started announcing they were going to do franchising. I decided I would look into it."
Shifting to franchising and giving up a weekly paycheck was a "huge step," says Snyder. "I had a 27-year security blanket on top of me with benefits. It was a tough decision to walk away from that. I took the plunge and laid my money on the line. It's been very rewarding in many, many ways--the freedom that I have, the flexibility of owning my own company, piloting my own ship."
The customer service skills he acquired at Sears have been a big boost to his success with Donatos. "I'm concerned with impressions--when they open the box, in our dining room, or the cleanliness of the store. Everything, all bundled up, has to be right," he says. "If the customer has a great experience, chances are they're going to come back and bring other people."
Snyder says it's all about being best. "Best Quality Pizza Group is the name of my company. I came up with that name before I turned the key in the door or made my first pizza." Although he has one store today, he did have two for several years, one hour apart, before deciding to concentrate on a single store. "I felt like I wanted to put all my eggs in one basket," he says. And boy, is it working for him.
Many of his customers work at the nearby Honda plant or local suppliers and have a limited time for lunch. So Snyder began offering a lunch buffet with eight different pizzas. The idea quickly took off. The buffet "has been a really excellent tool," he says. "They only get half an hour for lunch, so they want a product that's ready. The neat thing about it for us is that it's prepared ahead. We just load it, which frees us up so we can mingle with the guests. Getting full interactions with guests is a real positive. It's one of the things my store has become known for."
Local insurance salesmen don't book any appointments on Wednesday night (buffet night), and local sports teams and families are frequent visitors, he says. It's also a great marketing tool since customers can try new items they normally wouldn't take a chance on.
"Sampling is so worthwhile. I'd almost rather sample than do a coupon drop," he says. "It's an opportunity to get something they wouldn't necessarily order--like a Hawaiian pizza with almonds and cinnamon. They wouldn't normally try those, and my sales for that one are higher than average." And when Donatos rolls out a new product, he puts that on the buffet to build awareness.
Community involvement is a huge part of his success in Bellefontaine. "I'm involved in any way I possibly can--local schools, fire prevention with the fire department, and Halloween contests for pumpkin decorating where I'm there as a judge. I get my face known," he says. Marketing is "something I have learned to love and thrive on," says Snyder. "If you're not outside of your store you're missing opportunities."
And it's paying off at the register. "We're all rocked by the economy today," he says. "For the most part over the 19 years I've been doing this my sales have inched up a little bit every year." And despite the slowdown at the local Honda plant following the tsunami in Japan, his sales were up about 7.4 percent in 2011. "We're quite proud to say we're accomplishing that in this economy."
Founded in 1963, Donatos Pizzeria has nearly 200 restaurants in 5 states and is approaching $200 million in system-wide sales.
Jeff Cohen & Raffi Iskenderian
ShelfGenie
Dynamic Duo
After opening their doors only two years ago, Boston-area ShelfGenie franchisees Jeff Cohen and Raffi Iskenderian were named Franchisee of the Year. "Raffi and I worked together in financial services, financing for home improvement contractors. We saw the good, the bad, the ugly in the home improvement space," says Cohen. And the duo believed they could do some good.
Before financial services, Iskenderian had been a licensed contractor and Cohen had spent about 10 years in strategy consulting. "Raffi had a much more entrepreneurial background," says Cohen. "We both ended up getting MBAs along the way, so we had a good amount of on-the-ground experience coupled with institutional training. It's been a really good mix for us."
Cohen says he's primarily responsible for pre-sales activity, while Iskenderian handles everything that happens afterward. "I have sales, marketing, accounting, finance, and franchisor relations, and Raffi manages installers, product quality, interacting with the factory, measurements, and follow-up. He probably has done more installations than anyone in the system. We're big enough now so he's training other installers for ShelfGenie."
The partners financed their venture from their personal funds, and got an SBA loan "somehow," says Cohen. Today they have five territories, a couple of employees, six independent designers/sales people, and four independent installers--and are looking at ways to get bigger: by expanding geographically, or by adding products, either through ShelfGenie or adding complementary business lines such as refinishing cabinets, tiling, bathrooms, etc.
"We're aggressively trying to grow our territory, spending a lot on marketing and getting the word out," says Cohen. They're doing a lot of mass marketing, including TV, newspapers, Valpak, direct mail books, and shows. One marketing challenge, he says, is "People don't know you can retrofit your existing cabinets, so it's educational."
They must be doing something right--a lot, in fact. Cohen is the Northeast regional leader for the brand's monthly meetings, and since winning the award he's been fielding more calls from other franchisees asking about their marketing practices.
Entering their third year, the partners are leveraging referrals and testimonials from their customer base. "We're just on the cusp of making a big dent there," says Cohen. "If you give a customer a wonderful experience, they'll be willing to give you more." But, he cautions, "That only works if they see great value the first time."
One plus, he says, is that "The franchisor has a website with an interactive showroom, before and after pictures, so we're leveraging a lot of that from the franchise system." Also, he says, "We have a wonderful relationship with the franchisor, which allows us to give a lot of helpful, constructive input."
The management team at Shelf Genie was another plus for the partners. "They shared a lot of the same values and philosophy we had: hungry, aggressive, honest, ethical, very analytical as well having big dreams. If you're not dreaming big, you're not going to get big."
Marietta, Ga.-based ShelfGenie designs, builds and installs custom-built Glide-Out shelving systems that fit into existing cabinets in the home. The company expected to grow to 150 to 175 franchises by the end of 2011.
The Avalanche Group
Twin Peaks
Mamma & Papa University Grads
The Avalanche Food Group turned in a gold medal performance in 2011, earning them the Franchisee of the Year Award from Twin Peaks. At press time, Avalanche (composed of three brothers and a close family friend) had one Twin Peaks location open near Houston since August 2010, and a second scheduled to open this past December. The group plans to open five more Twin Peaks restaurants over the next six years in the Houston area.
"We're no strangers to the restaurant industry," says Ricky Rosa, company COO and the youngest of the three brothers. Their parents, originally from Sicily, emigrated to Brooklyn, and in the early 1970s moved to Houston. "Everywhere they landed on their feet, they decided to have a child," he jokes. The eldest brother, Joe (CFO, real estate, finance), was born in Sicily; middle brother John (director of operations) in Brooklyn; and Ricky in Houston; and Andrew Thomas is the CEO, responsible for branding and marketing.
"As brothers, we all grew up in the restaurant business, from dishwasher to busboy. Mamma and Papa University--that's where we were grounded, that's our roots," says Rosa. Their parents operated an Italian restaurant in the 1970s and '80s, moving from casual to white tablecloth. For nearly 20 years, 1988 to 2006, their father operated an Italian restaurant in Houston, but… "My father was diagnosed at an early age with Parkinson's, which left my brother and me running the restaurant," he says.
Meanwhile, they were following their own entrepreneurial juices. In 2000, Ricky, along with John, opened a pizza place in the Houston suburb of Sugar Land. In 2008 they opened a Mexican restaurant in Needleville (pop. 2600), a small farming town in Fort Bend County, about 40 miles southwest of Houston.
In November 2009, they signed on with Twin Peaks and opened their first store in Webster, 3 miles from NASA's Johnson Space Center. "It's going really well," says Ricky, who was busy preparing to open their second Twin Peaks restaurant in mid-December, about 4 miles from Reliant Stadium, home of the Houston Texans football team.
Sports and community involvement have played a large role in Ricky's and John's lives, both personally and professionally. As a teenager, Ricky spent 10 years as a ballboy and equipment assistant for the Houston Rockets during the Hakeem "The Dream" years, when the team won two NBA championships (1994 and 1995).
He's continued to combine his passion for sports and restaurants. After his relationship with the Rockets, Ricky and John got involved with the Houston Oilers football team from 1993 to 1996, when the team left Houston to become the Tennessee Titans. In 2000, when the Houston Texans came into existence, a friend in the new team's marketing department asked if they wanted to get involved. Duh. Since 2002, when the team joined the NFL, they've been shuffling in the footballs to the refs--and in 2004, they got to work the Super Bowl (New England 32, Carolina 29).
Do they leverage all that? "Absolutely," he says. Not only do they wear the orange vests and hear the coaches and players, they network informally through the locker room. They also host the Danieal Manning ESPN radio show every Monday night from their Twin Peaks store in Webster--complete with Monday Night Football-related specials.
Then there's the Brothers Factor. "The chemistry we have is what makes us successful," he says. "First of all, we communicate. Second, we understand each others' roles and differences." That means disagreeing, criticizing, and in the end respecting the decisions each makes.
On the employee side, "We have a great team, and we open our restaurants around people. We identify the right operators and managers and build accordingly. It's a group effort that takes a whole team. It starts at the top with the Twin Peaks concept," he says. "Who you bring in makes or breaks the company. When you hire the best you don't have to worry as much about managing. They manage themselves, which allows us to focus on execution and the quality of the brand."
As an employer, "You take care of the people who take care of you. You have to have your employees buy in to you as an individual. At the end of the day, you're the company," he says. "We take great pride in brand and in the restaurants we've operated. At the end of day it's your integrity as individuals, as people, and as a business."
Founded in 2005, Dallas-based Twin Peaks has 16 restaurants, 10 in Texas and the rest in Kansas, Nebraska, Oklahoma, and New Mexico.
Published: February 13th, 2012
Share this Feature
Recommended Reading:
Comments:
comments powered by

Disqus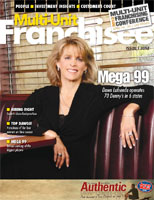 Multi-Unit Franchisee Magazine: Issue 1, 2012
The hottest new franchise is here (literally 150°). Perspire has developed, formulated and tested the most superior infrared sauna studio model...
Bonchon is an internationally recognized Korean Fried Chicken concept. Bonchon means "my hometown" in Korean, and represents our...
Cash Required:
$250,000