Betting on American Ingenuity
Entrepreneurial spirit will drive a slow recovery
Long ago, when I was a newly minted junior analyst at a local investment firm, a grizzled veteran noted that it was pointless to be in the investment business if you weren't a long-term optimist. To me, that time-worn piece of advice continues to ring true. Operating from this mantra, I've spent my entire career believing that whatever short-term morass the economy or the market found itself in could be fixed (eventually) by the drive and ingenuity of the American entrepreneurial spirit. I'm hopeful that this time will be no different--although I admittedly find my optimism being severely tested. In nearly 30 years in the business, I've never witnessed such a complex array of issues at play.
The U.S. has pulled itself back from the brink of apparent catastrophe countless times in its economic history. Will we be strong enough to do so again? My suspicion: Yes... eventually. However, the process of getting there is likely to be fitful, perhaps frightening, and nowhere near as predictable as any of us might like.
The challenges
Most of the challenges facing us are well documented:
Excessive levels of debt throughout the pipeline--from national governments around the globe to state and local municipalities. Consumers also have far to go in reliquifying their balance sheets. Unwinding debt bubbles historically has been a tricky, time-consuming process with few politically expedient options for repair. Cutting spending, increasing taxes, or some combination of the two are the only ways to truly address the issue.
High unemployment and low capacity utilization remain problematic. Amazingly, corporate America moved quickly to "right size" itself when the Great Recession hit in 2008. Discretionary and not-so-discretionary expenses were cut to the quick--but at what long-term cost to global competitiveness? Historically, we would expect to see capacity utilization, employment, and sales numbers much firmer than they are at this point in a suspected upturn. Yet many businesses appear reluctant to spend until more reliable signs of organic (i.e., nongovernment stimulated) demand emerges. We need to see some real progress in pro-business legislation (e.g., R&D tax credits, accelerated depreciation) to effect meaningful change here.
Managements have been frozen into inaction, as industry after industry has come under the scrutiny of Washington. Companies are trying to sort through the potential impact to bottom lines, as well as any changes to consumer behavior that might be driven by the altered playing field. Until regulatory uncertainty lessens, CEOs likely will find it difficult to expand plants, rehire workers, or buy competitors.
Aging demographics in industrialized nations are pressuring health care and pension costs. Moreover, equity markets are feeling the impact as aging participants adopt more conservative asset allocations (i.e., pouring money into bonds and bond funds).
Public asset markets are likely to remain volatile, as a growing percentage of trades are done by institutional houses using quantitative models. Allowing computers to shift massive pools of capital from one investment to another will almost assuredly lead to more "blips" like the 500-point swing day back in May. Given how widely such occurrences are reported, volatility like this can weigh on consumer psyches--even for those who don't directly participate in the markets.
The opportunities
In contrast, opportunities seemingly have been less widely communicated:
Many large companies are in great shape, with high cash levels, lean cost structures, and solid earnings.
High-end consumers--whose psyches and spending habits are much more tied to the stock market than to any other factor--are spending again. Companies such as Starbucks and Apple, as well as luxury auto dealers, are reporting big sales increases. Plus, U.S. aggregate net worth remains at record levels, despite how dispirited we tell the pollsters we are.
Many overseas markets are booming, particularly among many emerging markets where expanding middle classes and rising incomes are driving consumerism.
Interests rates remain low, a scenario beneficial to those wanting to refinance or issue debt. Low rates are also beneficial to government entities trying to keep a lid on deficits. While it's no secret that it's more difficult today to qualify for loans, many still are. In addition, tougher qualification standards are healthy for the system over the long haul.
The future
Here's where a leap of faith comes into play: I believe there are still scores of individuals and companies waiting in the wings for a chance to get on with the business of doing business. Furthermore, I anticipate that all the cash that's been stockpiled will start burning a hole in corporate pockets once Washington stops rewriting the ground rules, and confidence firms that final demand is not set to again tail off.
While the economy's upward trajectory may be more (perhaps much more) muted than in prior upticks, I believe things will start moving as business confidence in the environment improves. Retooling the economy to profit from new industries and technologies takes time. And while it currently may seem a somewhat mind-numbing exercise to try predict how it all will play out (especially given the bevy of new regulatory and tax constraints many industries will be under), betting on American ingenuity and spirit over the long haul historically has been a wise undertaking.
Carol M. Clark, CFA, is a partner and investment principal of Lowry Hill, a private asset management firm that provides proprietary investment management and financial services to families, individuals, and foundations with wealth greater than $10 million. The firm manages approximately $6 billion in assets for nearly 300 families and more than 60 foundations from offices in Chicago, Minneapolis, Naples, and Scottsdale. She welcomes questions and comments at cclark@lowryhill.com.
Published: November 1st, 2010
Share this Feature
Recommended Reading:
Comments:
comments powered by

Disqus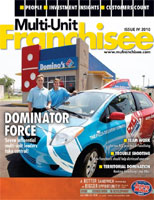 Multi-Unit Franchisee Magazine: Issue 4, 2010
The hottest new franchise is here (literally 150°). Perspire has developed, formulated and tested the most superior infrared sauna studio model...
When simplicity is the essence of your business model, clients and owners benefit. Clients want a predictably wonderful experience with every visit....
Cash Required:
$100,000